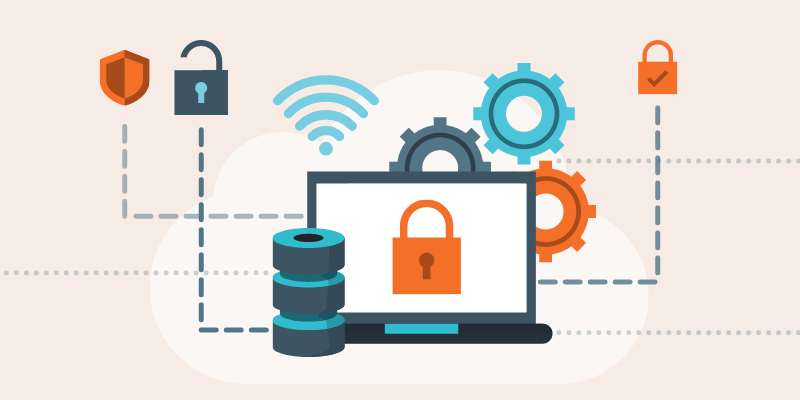 Secure Remote Access: Technologies, Tips & Solutions
Regardless of industry, there are a plethora of reasons why users need remote access computer software installation. The most secure remote access software (like RDP, VPNs, Splashtop, TeamViewer, GoToMyPC, ZoHo, and LogMeIn) can protect remote teams in a variety of situations, allowing them to work effectively and stress-free while:
• Accessing work files from remote desktops (like their homes);
• Providing department employees with work from home options;
• Faster and more efficient remote troubleshooting capabilities;
• Additional peace of mind alongside firewalls and malware detection.
Multiple steps need to be taken to implement secure remote control and protect enterprise systems and data resources. In this article, we will discuss the potential security risks of remote access software and take a look at the most secure solutions in the market. We also offer some tips that will help you set up secure remote access.
What Technologies are used for Secure Remote Control and Access?
It is not possible to implement secure remote control and access with a single technological solution. Secure remote access requires multiple technologies working together to protect an organization's data resources and systems when they are accessed by users in other physical locations. Following are some of the most effective methods of securing remote access.
Virtual Private Networks (VPNs) – VPNs establish an encrypted tunnel through which users can securely access sensitive information from any location. With a VPN, a user can initiate a connection from a public WiFi hotspot and still transfer and access data securely.
Zero Trust Network Access (ZTNA) – A ZTNA solution requires authentication before every transaction. No assumptions are made regarding the security of a connection no matter where it originates and all connections need to be authenticated before access is granted.
Endpoint Security – Endpoint security is a term that encompasses multiple activities revolving around maintaining a secure environment for remote access. It includes installing antivirus and malware protection as well as patch management to close any security gaps. Policies regarding how remote access can be used and whether sensitive information can be stored remotely are also part of endpoint security.
Single sign-on (SSO) – Users use a single set of credentials in an SSO implementation which minimizes the complexity and risk of storing multiple passwords.
Network access control (NAC) – Managing network access is a critical component of implementing secure remote access. It is done using an approach that combines endpoint security, two-factor authentication, user education, and enforcement of access policies.
---
Is it safe to use remote access software?
The post-2020 world has seen a major increase in businesses' secure remote access software deployment in their department workflow. For those interested in the top secure remote access software for their organization, there are a few things to consider.
Here are some important factors to note:
• Security protection capabilities;
• Compliance standards;
• User-friendliness;
• How it interacts/is compatible with firewalls.
Below we'll discuss how to choose the right remote desktop software for secure access to fit your needs. Providing access to your private network servers (via RDP deployment or otherwise) can leave you feeling vulnerable to a threat — especially if you're sharing access with a 3rd-party entity that you don't know very well. For those who've operated a computer and required a support technician to control their computer, those feelings of anxiety will be familiar.
Remote access is integral to conducting business in the modern era, and when adequate security protocols are put in place to protect servers and clients alike, sensitive data is protected from unauthorized access. Check out some overlooked remote access software security issues to make note of:
•

VPN Endpoints:

Encompasses accidentally clicking into an unsafe website, connecting to unsecured WiFi networks, or unintentionally downloading malicious software;


•

Poor authentication:

Passwords that aren't encrypted(or are too easy to guess), along with single sign-on procedures that make it easy to hack into;


•

Old devices:

Certain devices on the network(LAN, WAN, etc) may lack updated operating systems or don't have security software installed;


•

Home computers:

Organizations allowing employees to work from home are vulnerable since it's unclear what devices the remote user operates.
---
The Risks of Poor Remote Access Security and Tips to Avoid Them
Remote access presents multiple security risks that can negatively impact an organization and could be used by tech support scammers. The risks come from external actors intent on planting malware or compromising systems as well as from oversights made by internal users.
We offer some tips that can help companies enact strong remote access security in the battle against the evolving techniques of advanced cybercriminals. These techniques can also be applied to securing remote access from an individual's mobile devices.
Following are some of the most common issues faced when implementing remote access and methods to enhance security.
1. The risk: Insufficient knowledge – Users need to be educated regarding their individual role in protecting computing resources and how to effectively use the technical security solutions available.
PRO TIP: Educate users regarding security and risk prevention
All personnel involved in remote access need to be educated about the potential business risks of poor security. This includes customers, employees, and members of remote technical support teams. Teams need to be on the same page and follow the approved set of security procedures to protect corporate resources from the risk of cyberattacks. Organizational security guidelines should be defined and shared with all parties.
Everyone needs to understand the dangers and likelihood of attacks from cybercriminals as well as the steps they can take to prevent them from occurring. Taking the risk of cybercrime seriously is the first step to implementing the policies and practices necessary to protect an organization's computing environment and data resources.
2. The risk: Poor device hygiene – Individuals who sell a personal device that may have contained corporate data or access points without properly sanitizing its disks expose the organization to security risks.
PRO TIP: Implement automatic clipboard deletion
Information is stored in your computer's clipboard when you are copying and pasting across apps or documents. If this data is not deleted from the clipboard, it can later be accessed by unauthorized users. This puts sensitive information at risk and can compromise security, especially when using remote sessions. Automatic clipboard deletion is available in some remote access solutions and should be enabled as an additional safeguard for data resources.
3. The risk: Insecure software solutions – The software used to provide remote access may not comply with a company's security standards. This can put sensitive data resources at risk and enable intruders to infiltrate internal networks.
PRO TIP – Deploy verified secure remote access solutions
The remote access solution implemented by an organization needs to provide enhanced security to protect corporate data resources. All data transmission using the remote access tool should be encrypted with at least the Advanced Encryption Standards (AES) 256-bit protocol. Lack of encryption should be enough to rule out a specific remote access solution from consideration.
Some security features to look for in a remote access solution include the ability to use two-factor authentication to ensure the identity of potential users. Another strategy is to lock machines when a remote session terminates and require authorized personnel to initiate a new session. Security can also be strengthened by enforcing idle timeout controls to reduce the chance that unauthorized users are using a session.
4. The risk: Personal mobile devices – Enterprise data resources stored or accessible through personal devices like phones, laptops, or tablets may be put at risk by not being encrypted or protected sufficiently.
PRO TIP – Enforce strong remote access standards
Users should only be allowed to access company resources from a personal mobile device using an approved solution. While there are many remote access solutions available, letting users choose their method of connectivity does not promote strong security. Companies need to standardize the choices users can implement for remote access from personal mobile devices.
Issuing company-owned mobile devices designed specifically for business purposes is another more expensive solution.
5. The risk: Shared and weak passwords – Sharing passwords, using weak passwords, or reusing the same password across multiple devices can put data assets at risk.
PRO TIP – Educate users and institute strict password controls across the organization.
Trivial passwords that can easily be hacked open the door for cybercriminals to run rampant through corporate IT infrastructures. Users need to be educated on how to create and manage strong passwords. The use of a password manager may be helpful to address the challenges of maintaining multiple strong passwords.
Password controls should be implemented across all remote access solutions that enforce strong password standards. These controls should also require passwords to be changed regularly. The minor inconvenience of updating passwords will prove worthwhile by the enhanced security the practice provides.
6. The risk: Missing software patches – Users may not install the patches required to keep their software updated and protected from newly discovered security flaws.
PRO TIP – Institute a strong and centralized software update policy
Users cannot always be trusted to perform all of the software updates necessary to fully protect their systems or mobile devices. The updates may slow them down and not provide new features that interest them. Organizations need to push updates from a centralized team to ensure that all security patches are installed as soon as they become available. This can be done during off hours to avoid impacting the daily activities of the user community.
7. The risk: Phishing attacks – Sophisticated teams are trying to trick users into clicking on links in phishing emails that will result in malware being installed or introduced to the computing environment.
PRO TIP – Educate users on the dangers of phishing attacks
Phishing teams become more sophisticated and the level of education provided to a company's users needs to keep pace. A major problem with phishing attacks is that they target all employees, even those who are not directly involved in IT support. This means everyone in the organization needs to be fully trained on how to spot potentially malicious emails and how to avoid inadvertently falling victim to an attack. Suspect emails should be addressed by an internal security team and lessons learned from studying the attack disseminated throughout the company.
8. The risk: Vulnerable or missing backups – Data that is not backed up or backed up using insecure methods risks the loss of the information or its access by unauthorized actors. Lost or stolen unsecured backup media can provide cybercriminals with easy access to a company's most sensitive information.
PRO TIP – Regularly schedule backups using a secure methodology
Backups offer critical protection against outages and unexpected data loss. They need to be regularly scheduled and monitored to ensure that all machines have valid backups to use in the event of a restore. The backup tool should employ advanced encryption techniques to keep the backed-up information safe. Strong physical controls regarding the storage of backup media should also be enforced.
These security issues are exacerbated by the challenges of working from home and the expanded attack surface remote work presents to potential attackers. Companies can find it difficult to implement a secure remote access solution that adequately protects enterprise data. We hope that the suggested tips can help companies enact strong remote access security in the battle against the evolving techniques of advanced cybercriminals. These techniques can also be applied to securing remote access from an individual's mobile devices.
Features that offer secure remote access experiences
While the above elements should be a priority, there's no need to lose sleep from anxiety around protecting your business. Now we'll share several of the best remote access secure software tips to enhance security against cyber attacks, increase efficiency, and boost productivity.
1. Implement role-based access to prevent unauthorized use
Role-based access allows administrators to control which users are allowed into specific areas of your network. Granular controls can be configured based on variables starting from the user and device they're permitted to access, to IP addresses, to the time of day users can access. Administrators can quickly define groups and users within the software, saving time and stress regarding who has network access.
2. Centralized multi-factor authentication confirms the identity
One typical scenario where attackers gain entry to a network is caused by poor authentication practices — such as weak password requirements or 0 multi-factor authentications. When attempting to secure large networks supporting multiple devices/users, it's critical that each user is authenticated.
Multi-factor authentication requires soft tokens, SMS tokens, and challenge-based tokens to confirm user identities prior to permitting access to the network. Weak passwords are a fast and easy way for hackers to infiltrate, attach malware, and steal data without even being noticed right away. Strong authentication protocols also require users to reset passwords and put strict ordinances on password creation.
3. Manage permissions more effectively by whitelisting applications
When a company is contemplating the safety of remote access, their thinking often revolves around application utilization. Many may know about blacklisting — an instance when users do not have access to a "list" of specific applications. However, there's also an equally effective measure called "whitelisting". When an application is whitelisted, it means that users can only utilize it when specified by an administrator. Whitelisting is a great option because it restricts access to resources that users shouldn't be able to utilize — thus better defending against any dangerous applications.
4. Administrators can have total oversight when they log all sessions
Remote access can be an even safer process when administrators log any and all remote sessions — including video sessions. Pretty much anything can be logged, which means admins can identify security vulnerabilities, catch breaches, and prepare for audits. Comprehensive documentation procedures are critical to any network security system.
5. Experience security on every corner with compliant remote access
As a business, you understand the regulations necessary to stay compliant across the globe … but are you confident that your organization's vendors are compliant? Implementing thorough secure remote control software designed to exceed basic-compliance standards with stronger encryption and more stringent authentication ensures your business, and the vendors you work with, are protected.
When you lack adequate compliance, your organization's network becomes extremely vulnerable. Your company should always ensure the secure remote PC access software you select provides all following compliance measures (especially for those working as a global entity).
---
Deciding on the top most secure remote PC access software for your business
Ensuring that your remote access software is secure eliminates unnecessary stress while boosting the productivity of your remote team. When shopping for the right access remote secure software, be sure to check out secure remote access software reviews, it's remote secure access software management claims information — as well as it's compatibility with multiple operating systems, platforms, and devices.
There are a plethora of brands to choose from (LogMeIn offers secure remote access software)… and there are many other options like Splashtop, TeamViewer, GoToMyPC, and ZoHo — with many supporting a variety of operating systems like iOS, macOS, and more.
No matter your platform or industry, enlisting powerful, productive, and secure remote access software will be one of the best investments your business can make in the evolving landscape of remote work.
---
Seven software solutions for secure remote access
Remote desktop software has multiple uses in the modern business world. Employees working from home need to use this type of software to securely access work computers. Centralized technical support teams also use this software to access and resolve issues with customer computers remotely.
We present our seven top picks for remote desktop software based on security, features, and other criteria to help you choose the right solution for your business needs.
TeamViewer
Short Description
TeamViewer is a mature remote desktop solution that has been on the market since 2005. It's our selection as the best tool for team collaboration. TeamViewer's collaborative, communication, and presentation features address the needs of any size team requiring remote access.
Some of the tool's more attractive features include the ability of users to collaborate using built-in text messaging and video conferencing capabilities. Online whiteboards and interactive screen sharing help teams work efficiently and solve problems promptly. Cross-platform support makes TeamViewer a great choice for taking remote control of users' machines or conducting online meetings and providing interactive education to a diverse user community.
Security
TeamViewer employs secure data centers to process customer information to minimize the risk of data breaches or unauthorized access. Sessions are protected using both RSA public/private key exchange and end-to-end 256-bit AES session encryption.
Additional protection is provided against brute force password hacking attempts. Passwords are encrypted using the Secure Remote Password (SRP) protocol.
---
LogMeIn
Short description
LogMeIn was established in 2003 and was an early proponent of the software as a service (SaaS) delivery model. Currently, the company provides cloud-based computing solutions to over two million global users.
LogMeIn has all the tools users need in a remote desktop solution and supports accessing systems remotely from Windows, Mac, and mobile devices. Features include remote printing, easy file transfers, screen sharing, and the ability to use multi-monitor displays.
Security
LogMeIn Pro has additional security features designed to appeal to business users. Bank-grade SSL/TLS (OpenSSL) security is used for all communication between the host and clients. Strict authentication ensures that only authorized users can access the host computer.
---
ISL Online
Short description
ISL is an abbreviation of the internet services layer, which was developed in 2001 when the company was established. ISL Online offers remote desktop support software in over 100 countries and consistently receives good reviews from the user community.
The tool is ideal for remote support teams that need to collaborate with customers in real time. Some of its features include the ability to reboot devices remotely, install software, and share screens over high-speed connections. ISL supports virtually any type of device and is compatible with the Windows, macOS, Linux, Android, and iOS operating systems.
Security
Customers can grant remote support technicians access to their machines using an online portal, live chat, or a mobile app. Secure connections to unattended computers enforce two-factor authentication and use 256-bit AES encryption for safe data transfer.
---
Zoho Assist
Short description
Zoho began in 2005 with inexpensive office software like a web-based word processor and CRM tool. Today, the company offers a complete line of software designed for the needs of small businesses. The roster of products includes Zoho Assist which makes our list because it offers valuable remote access features and low prices.
Strong reviews from the user community support our selection of this remote access tool which provides the ability to simultaneously work on multiple monitors. Users can engage in video or voice chat and record sessions for future review, training, or to provide evidence during audits.
Security
Zoho Assist enforces 2FA authentication for an additional security layer. As a web-based service, there is no software to install or upgrades to worry about. All events are logged and can be accessed and used for administrative purposes. The tool is compatible with firewalls and uses SSL and AES 256-bit encryption to keep data transmission secure.
---
RemotePC
Short description
RemotePC is a remote access solution developed by IDrive Inc. The company has been supplying remote access, cloud storage, and online backup solutions since 1995.
This access tool facilitates activities like dragging and dropping files between computers, printing documents remotely, listening to audio from remote machines, and collaborating on shared whiteboards. Users can access any computer from devices running the Windows, Linux, macOS, iOS, or Android operating systems.
Security
RemotePC doesn't require any software installation and protects all data transfers using secure AES-256 encryption. Access can be obtained using a one-time unique key or implemented as an always-on feature that allows fast remote connectivity at any time.
---
Parallels Access
Short description
Parallels is another established company that has been around since 1999. They offer multiple remote tools including a virtual solution. We like the company's Parallels Access application which has a friendly and intuitive design meant to appeal to mobile device users.
Parallels Access' interface is one of its most noteworthy features. The interface has been explicitly designed for mobile devices. This eliminates the cramped feeling of many apps that have been modified to fit smaller mobile screens. The interface makes it easy to perform all the activities required during remote access sessions like transferring files between devices.
Security
Parallels Access employs SSL data security and 256-bit AES encryption for secure data transfer between devices. Users can configure security to meet their specific usage scenario. The company offers 24/7 customer support over live chat to quickly resolve issues.
---
Splashtop
Short description
Splashtop provides users with an extensive variety of features that promote secure remote control and access. The tool supports the Windows, macOS, iOS, and Android operating systems and employs an intuitive and easy-to-use interface.
With Splashtop, users can access and manage remotely located unattended computers from any device running its app. Multiple machines can be connected, providing instant access for teams supporting unattended remote machines.
---
Security
Splashtop uses multiple security measures to keep data transfers safe and protected from unauthorized users. The tool implements intrusion detection to rapidly identify potential network attacks. The cloud services are hosted by Amazon Web Services (AWS) with its comprehensive security that includes DDoS protection, encryption, and customizable firewalls.
Splashtop enforces device authentication and supports 2FA for additional protection. Data transmission uses 256-bit AES encryption and TLS. A nice feature allows remote technicians to blank the screen of a connected device to keep its information private.