Sharing a screen with other users who are currently in various locations is commonly referred to as Screen Sharing or Desktop Sharing. In this review of screen sharing software, you will find information on 10 best screen sharing software including their pros and cons, pricing, features, supported OS. This comprehensive guide will assist you in selecting a tool, whether it be a paid or free screen sharing software, that suits your requirements and may be helpful in preventing embarrassing situations during screen sharing.
1. Zoom
Best for: for businesses of any size.
One of the best software for screen sharing is Zoom. Zoom maintains a video connection over networks by altering quality according to the network's capacity. This is especially helpful for screen sharing on Zoom, which this app makes simple regardless of the situation. The participants can also utilize the presentation tools on the mobile app to co-annotate or share documents.
Price:
Free Plan – up 100 users, a 40-minute limit.
Pro Plan – $14.99 per host per month, up to 30 hours of meeting time.
Business and enterprise plans – $19.99 per host per month.
Supported OS: Web, Windows, macOS, Linux, iOS, and Android devices.
2. Microsoft Teams
Best for: Microsoft 365 users.
MS Teams is one of the best screen sharing apps that offer a range of features, such as private chats, text chat conferences, chat rooms, and face-to-face video screens. With the software you can conduct presentations, share your desktop on Teams, and also use a shared whiteboard. Additionally, members can also start an event and invite people to join either individually or in groups.
Price:
Microsoft Teams offers a free version that comes with certain limitations, like meetings having at most 100 participants with a 60-minute limit per meeting and 5 GB of cloud storage per user. However, the paid version offers a wide range of features and starts at a cost of $4-$12.50 per user/ per month. If you want to save your budget, you may consider this free screen sharing software.
Supported OS: Web, Windows, macOS, Android, and iOS.
3. Slack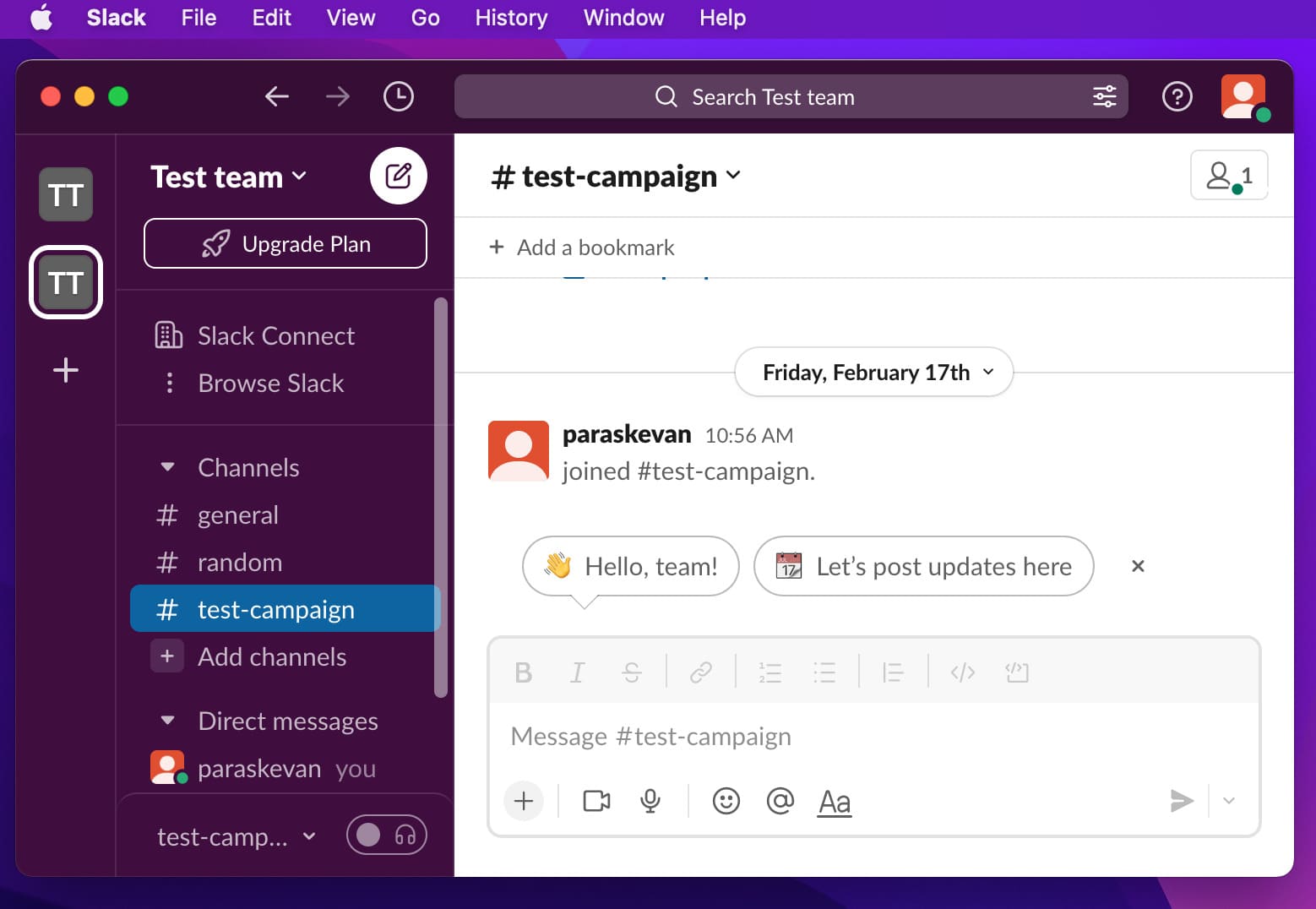 Best for: One of the top screen sharing apps for integrating with other remote collaboration tools.
Slack is a cloud-based instant messaging and collaboration platform designed for teams to communicate and work together. Its main features include team chat, file sharing, video and voice calls, screen sharing, and the ability to create channels for specific projects or topics. Slack is used by a wide range of businesses, non-profit organizations, and educational institutions, from small startups to large enterprises.
Price: Slack is a free application, but you can subscribe to a premium version beginning at $6.67 monthly for a group and can accommodate up to 50 individuals on video calls.
Supported OS: Web,Windows, macOS, Linux, iOS, Android.
| | |
| --- | --- |
| | |
| It provides the speaker with access to a whiteboard and screen drawing features during the meeting. | Slack has a weak search system that requires improvement. |
| It provides you with video channels and text-based ones for a more established mode of communication. | There's a limit of 15 people per call unless you are on a subscription plan. |
| Slack has very good customer support in case of any inquiries. | |
4. GoToMeeting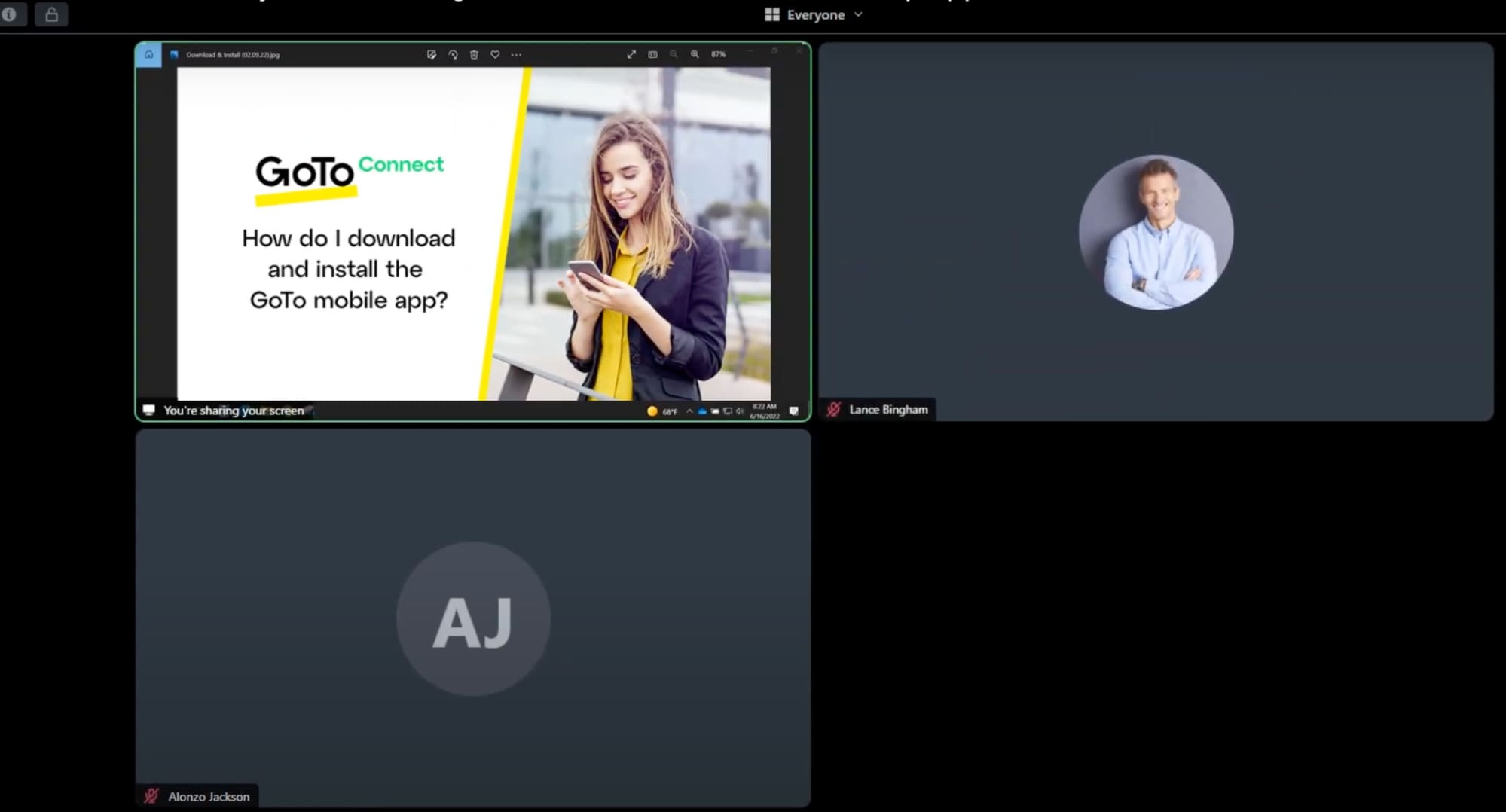 Best for: video conferencing to schedule meetings.
GoToMeeting is a web-based platform that provides video conferencing and screen-sharing capabilities for remote meetings and collaboration. Some of its features include high-definition video conferencing, dial-in numbers, and virtual backgrounds.
Businesses of all sizes, educational institutions, and non-profits frequently use the platform to hold online meetings, seminars, and training sessions. It is also well-known among remote employees, sales teams, and customer service agents who communicate and work with people in various locations.
Price:
GoToMeeting has a free version that allows a maximum of three attendees per meeting, and it also offers different paid membership packages. The most affordable of these is the Professional plan, which costs $14 per organizer monthly and accommodates 150 attendees per session. The Business plan costs $19 per organizer/ per month and allows a maximum of 250 attendees per session. Lastly, the Enterprise plan can be customized specifically for bigger enterprises with certain requirements.
Supported OS: Windows, Mac, Android, and iOS.
| | |
| --- | --- |
| | |
| Calls can be recorded and stored locally or directly in the cloud. | For companies with large teams, GoToMeeting may be more expensive than some alternative video conferencing systems. |
| It offers a transcription feature that is useful for recording meeting minutes. | GoToMeeting's free edition only permits meetings with a maximum of three people, which may not be enough for bigger teams. |
| GoToMeeting offers high-definition video conferencing. | |
5. Join.me
Join.me screen sharing software. Source: Join.me
Best for: GoTo family users.
Join.me is a web-based video conferencing and screen-sharing platform that enables real-time collaboration. It is a part of the GoTo family. Its main features include video conferencing, screen sharing, whiteboarding, and remote control. A wide range of organizations, remote teams, sales professionals, and educators use Join.me to effectively conduct virtual meetings and collaborate with colleagues and clients across the globe.
Price:
Join.me has a free plan that offers basic features and allows up to 10 participants in a meeting. So, you can use it as a free screen sharing software.The Pro Plan costs $30 per month and allows up to 50 participants in a meeting, while the Business Plan costs $50 per month and allows up to 250 participants in a meeting.
Supported OS: Web, Windows, Mac, iOS, and Android.
| | |
| --- | --- |
| | |
| Join.me supports mobile devices, enabling participants to join meetings from their smartphones or tablets. | It offers a basic set of features, which may not be sufficient for more complex collaborations or virtual events. |
| It is affordable and accessible to small and medium-sized businesses. | Join.me does not offer built-in recording features. This can be a disadvantage for businesses or organizations that need to record meetings for later use or review. |
| This screen-sharing software provides a whiteboarding feature that allows users to collaborate and brainstorm ideas visually. | |
6. Demodesk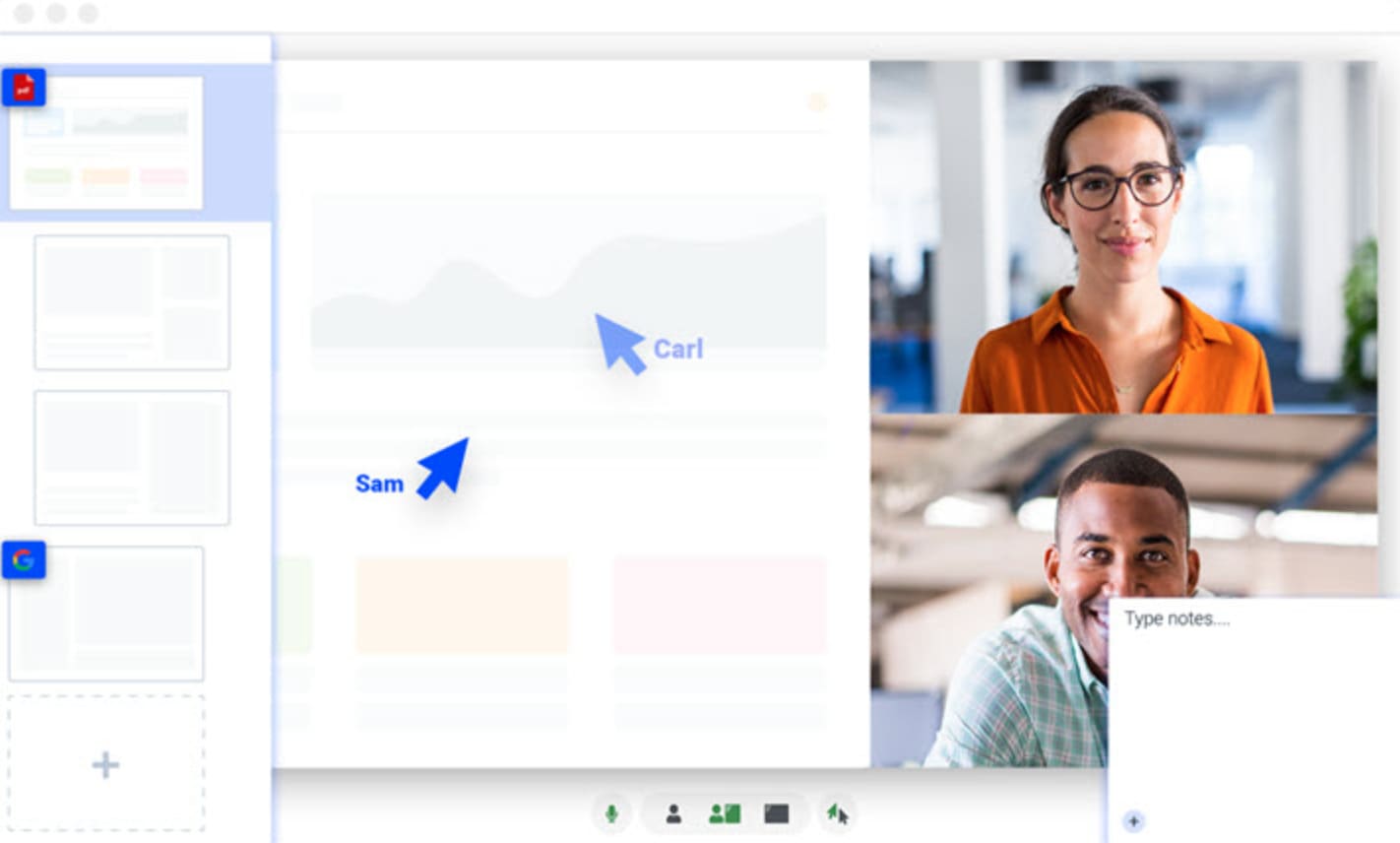 Demodesk screen share software. Source: Sourceforge
Best for: sales teams, especially those that conduct frequent sales meetings or demos with potential customers.
DemoDesk is a web-based platform that offers a range of features for businesses to showcase their products or services through video demonstrations. Its main features include screen sharing tools like video recording and editing, screen recording, call-to-action buttons, and analytics.
Some services that make use of Demodesk include startups, SaaS companies, e-commerce businesses, and digital marketing agencies. It is particularly useful for businesses that want to showcase their products or services to potential customers and generate leads through engaging and informative video content.
Price: Demodesk offers three different subscription plans aside from the free 14 days trial. These include the Basic Plan, which costs $99 monthly and accommodates 5 team members with 50 GB of storage, and the Growth Plan, which costs $199 monthly and can accommodate 10 team members with 200 GB of storage.
Lastly, the Premium Plan costs $399 monthly and includes 25 team members with 1 TB of storage.
Supported OS: Windows, Mac, and Linux.
| | |
| --- | --- |
| | |
| DemoDesk is user-friendly, making it easy for businesses to create professional-looking product demos and tutorials. | DemoDesk is primarily designed for creating product demos and tutorials, so it may not be suitable for businesses that require more advanced video editing features. |
| It offers a range of customization and editing tools, including text overlays, music, and subtitles, allowing businesses to create highly personalized videos. | DemoDesk is expensive and can be too costly for smaller businesses. |
| With its screen recording feature, you can capture your desktop screen and add voiceovers, making it easy to create engaging product demos. | |
7. Skype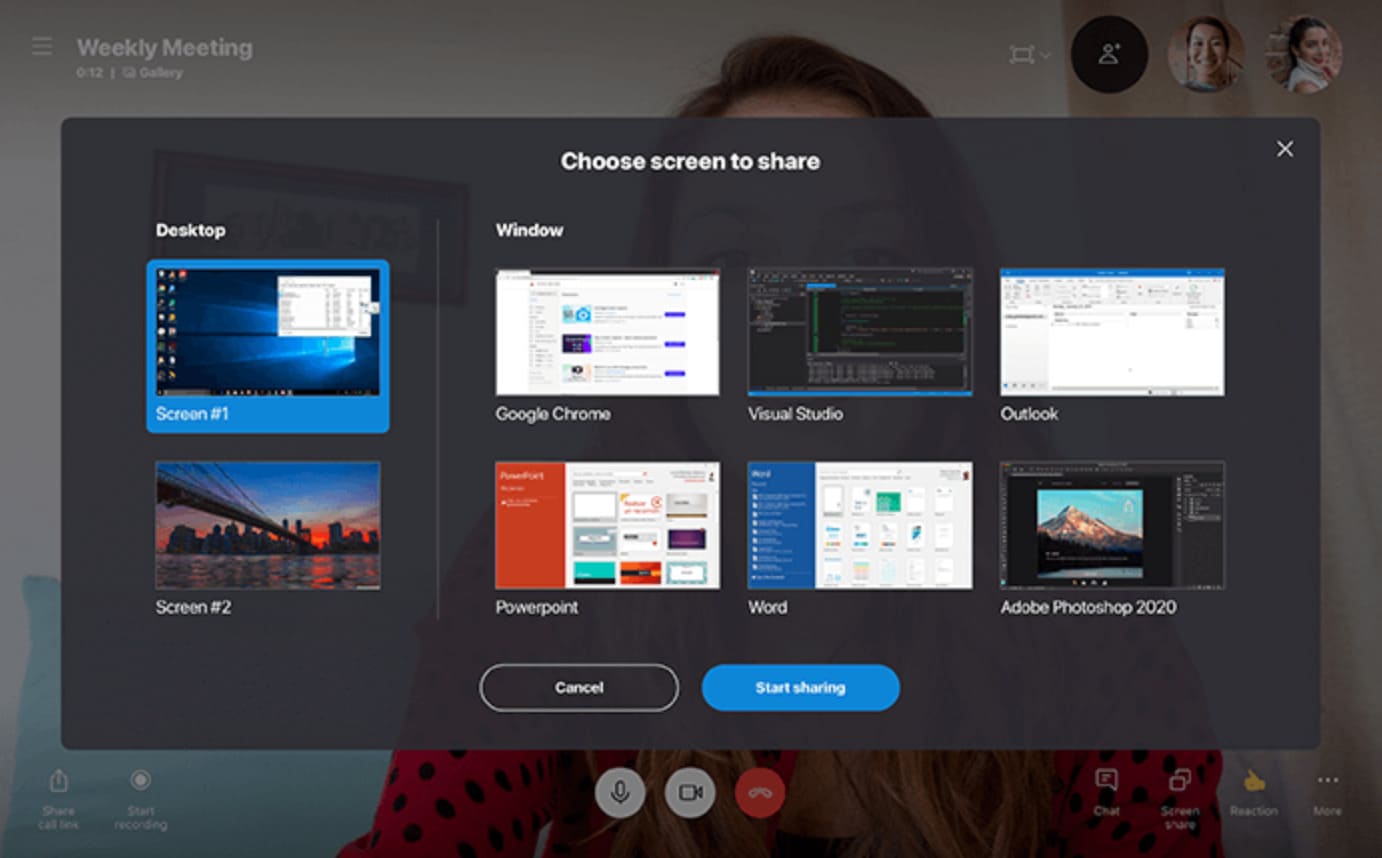 Skype screen share software. Source: Skype
Best for: Small groups.
Skype is also one of the best screen sharing apps that allow users to make voice and video calls, send instant messages, and share files with other Skype users over the internet. Skype for Business is part of the Microsoft 365 suite. Some of the main features of Skype include screen sharing tools like group video calls, call recording, and the ability to call landlines and mobile phones for a fee.
Individuals and businesses worldwide use Skype for various purposes, including personal communication with friends and family, remote work meetings, and online tutoring sessions. It is particularly popular among long-distance couples, digital nomads, and people who work from home.
Price:
Skype has a free version that has basic but limited features, although there are different paid versions. These include Skype for Business, ranging from $5 to $35 monthly, and Skype number, which is a virtual phone number that allows you to receive calls from mobile phones or landlines. The pricing for this service varies depending on the country or region where you want to receive calls.
Supported OS: Windows, Mac, Linux, iOS, Android.
| | |
| --- | --- |
| | |
| Skype has a simple, user-friendly interface that is easy to navigate, even for those who are not tech-inclined. | Some of its more advanced features, such as call recording and group video calls, require a premium subscription. |
| Skype has high-quality voice and video calls making it a popular option for business meetings and interviews. | |
8. Webex app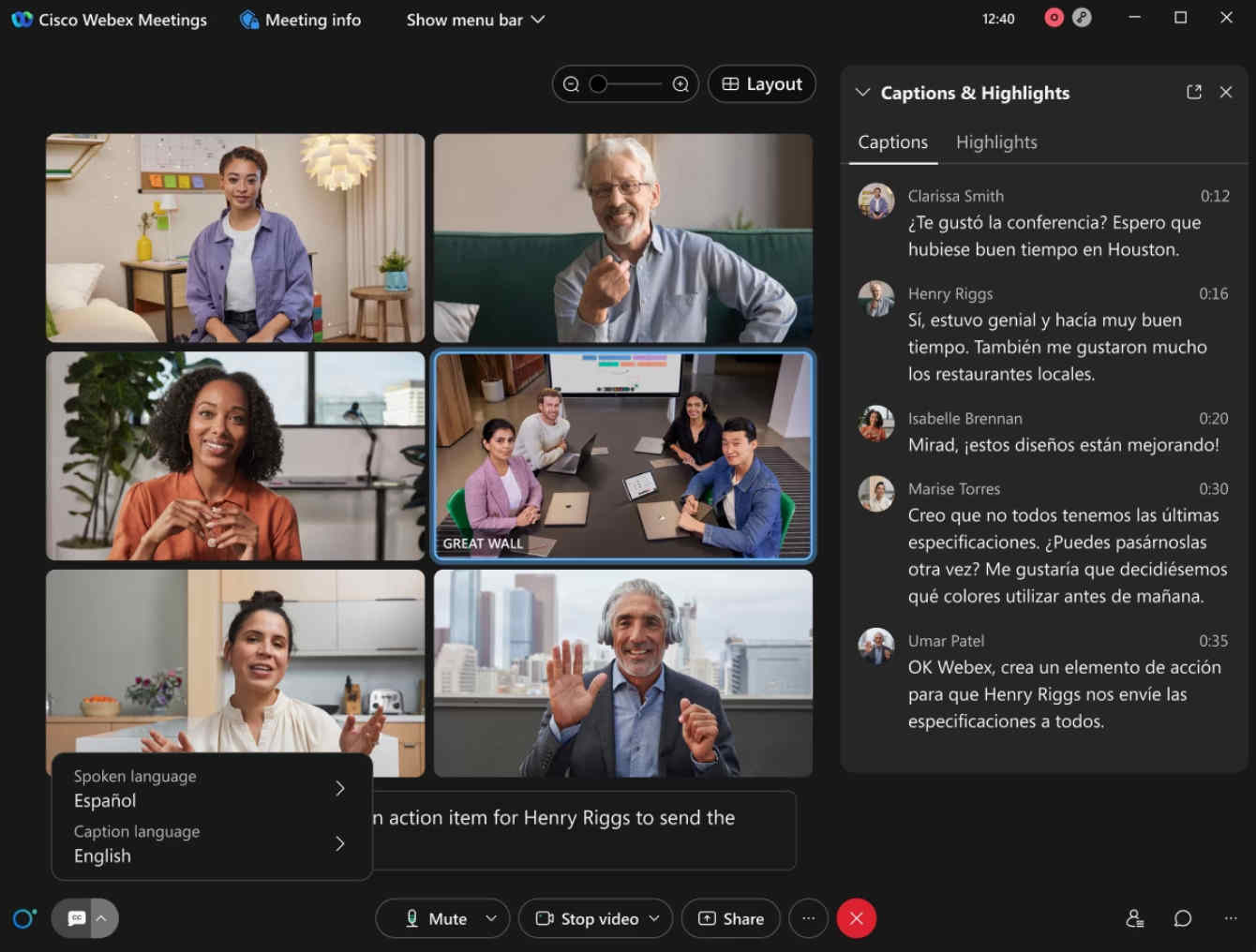 Webex app software. Source: Webex
Best for: large-format sessions.
Webex is a video conferencing and collaboration platform that allows users to connect and communicate remotely. Its main features include screen sharing tools like video conferencing, file sharing, virtual whiteboarding, and recording.
It is well-liked by businesses that employ remote workers because it lets employees communicate and engage with one another regardless of location. Also, the ability for teachers to communicate with students in real-time makes Webex a popular choice for webinars and online training sessions.
Price:
The free version of Webex only supports 50 people at each meeting. However, the paid versions include Webex Starter for small teams at $13.50 monthly per host and up to 50 participants per meeting and Webex Plus at $17.95 monthly per host and up to 100 participants per meeting.
Other plans include Webex Business at $26.95 monthly per host and up to 200 participants per meeting, and Webex Enterprise, which is customized based on the specific organization and can accommodate up to 1000 participants per meeting.
Supported OS: Windows, Mac, Linux, Android, and iOS.
9. Google Meet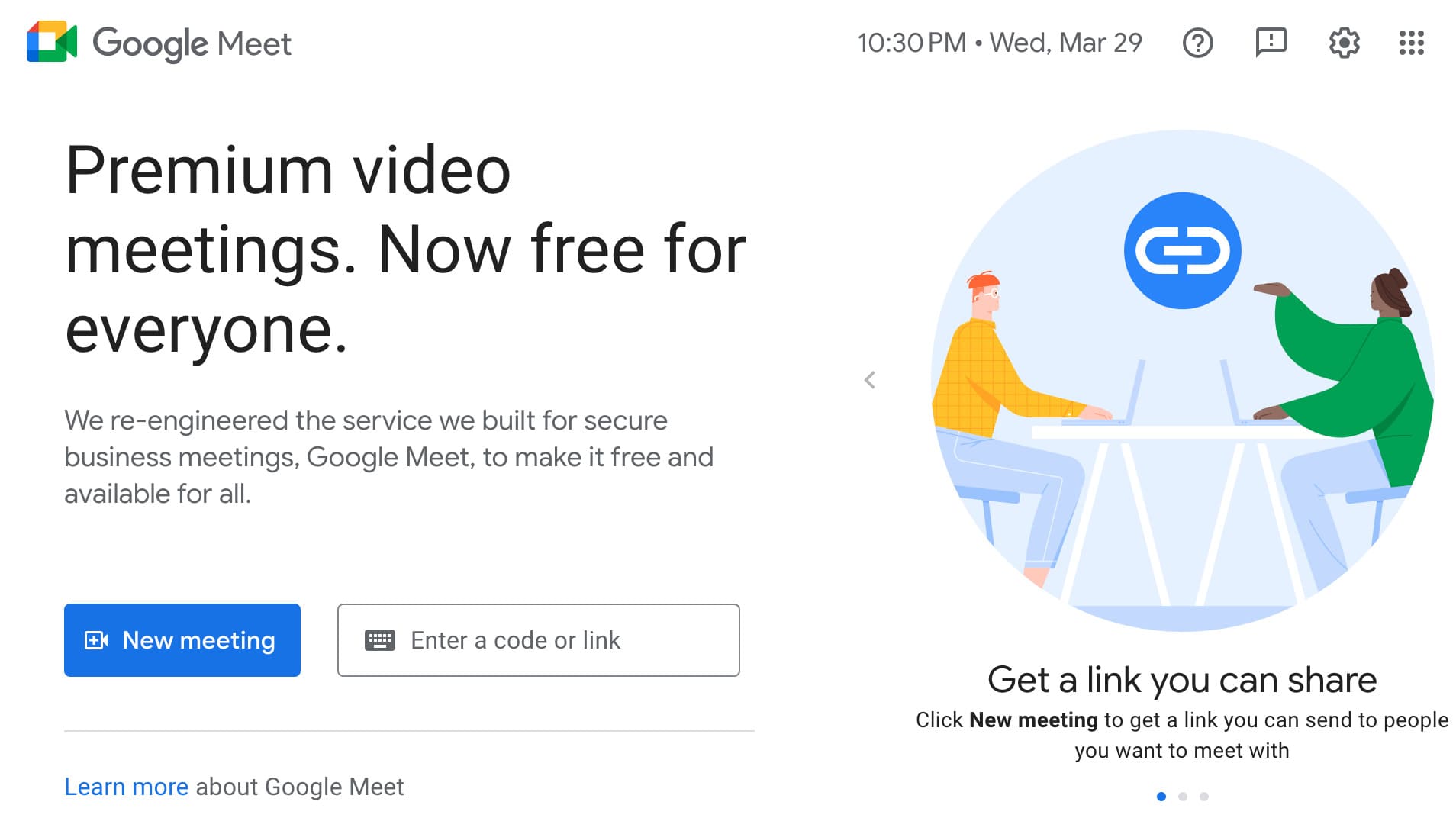 Best for: Google ecosystem users.
Google Meet is the best free screen sharing software that allows you to hold virtual meetings, webinars, and video calls. The main features of Google Meet include screen sharing, live closed captioning, chat messaging, and the ability to record meetings for future playback. It's also commonly used by educators and students for virtual classrooms and online learning, as it integrates seamlessly with other Google tools like Google Classroom and Google Drive.
It comes with a free screen share software feature, and each meeting may have up to 100 attendees and last up to 60 minutes. Google Meet offers several subscription plans such as G Suite Essentials for $8 per user per month, which can have meetings with up to 300 people, and G Suite Enterprise for $25 per user per month, which can hold meetings with up to 250 people.
Supported OS: Web.
| | |
| --- | --- |
| | |
| It has a good user interface that allows you to easily set up and join virtual meetings. | Its customization options have a limit and make it difficult to tailor the platform to specific needs. |
| It supports large meetings with up to 250 participants, making it suitable for large organizations. | You can only use this screen-sharing software if you have a Google account. |
10. Windows Quick Assist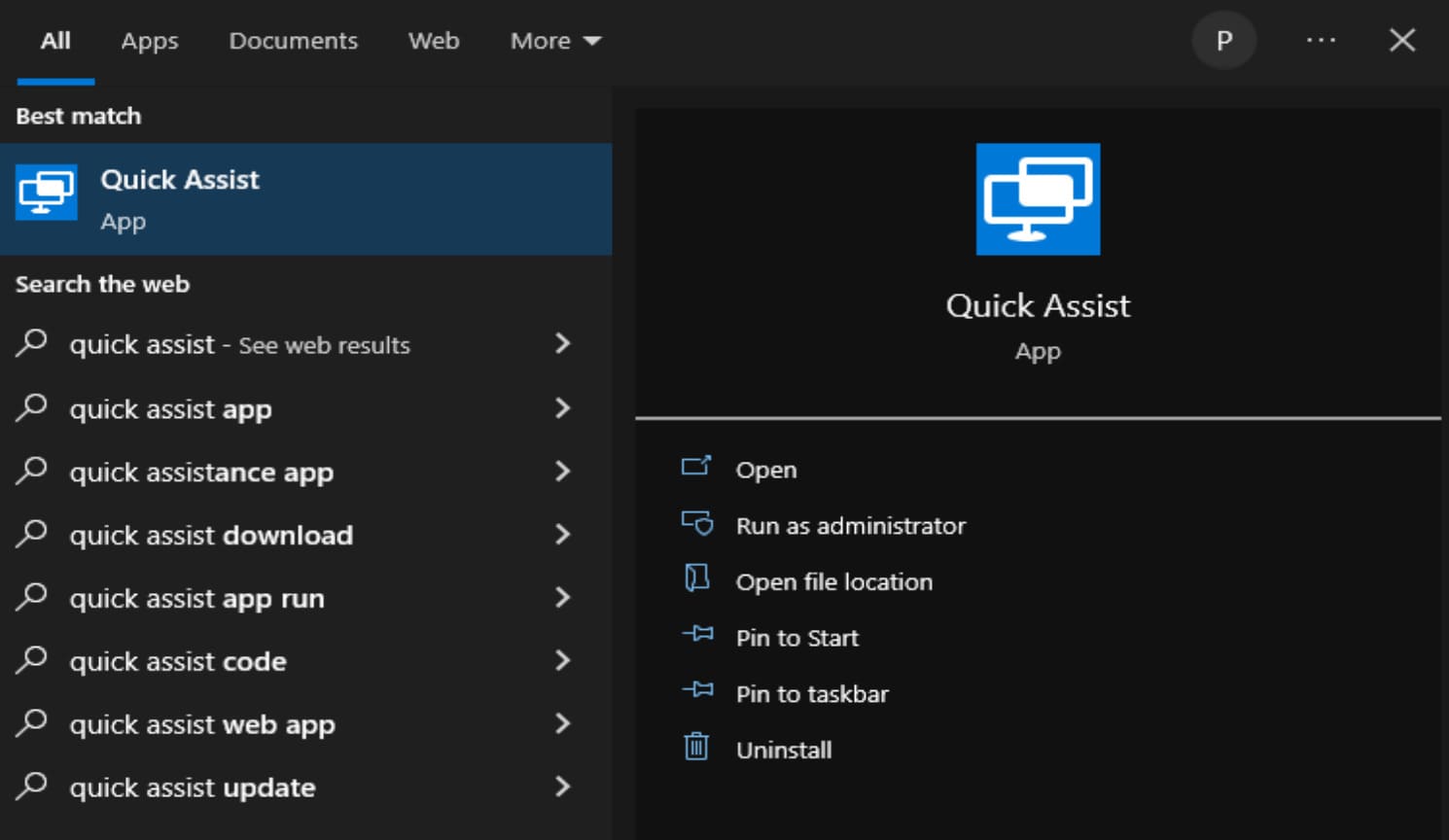 Best for: Windows PC users.
This is the best free screen sharing software and remote control system that offers you the opportunity to help family and friends with technical issues. However, only Windows 10 and later editions support this remote control system. It helps you to remotely access and control a computer for troubleshooting, maintenance, and support purposes.
In addition, you can use Windows Quick Assist to transfer files, talk, and also temporarily turn off the remote connection while sharing control of a machine. For this screen-sharing software to work, both the helper and recipient must have Windows 10 or later editions installed, and both must have a Microsoft account.
What's more, the program offers a safe and dependable way to remotely access and operate a computer, and it is free to use.
Supported OS: Windows.
| | |
| --- | --- |
| | |
| It is user-friendly and doesn't require any technical experience. | It requires a stable network connection on both ends of the users to effectively use Quick Assist. |
| There is no need to download or install any software since it's built into Windows. | Windows Quick Assist is only available on Windows 10 and later versions. |
| There is no cost associated with using Windows quick assist. | |
What To Look For In The Best Screen Sharing Software
To make your search easier, here's a list of vital factors to consider when searching for the best screen sharing software that meets your needs.
1. Ease of Use
An ideal screen-sharing application will be simple to use, understand, and master. Oftentimes, managing meetings online can be more difficult than managing meetings in person.
2. Collaboration Features
To make it simple for the team to communicate, ensure that the screen-sharing tool you use has certain unique features. Some of these features include presenter switching, shared annotation, and screen recording.
3. Device Compatibility
The best screen sharing software is compatible with a wide range of devices and operating systems. As such, you'll be able to attend meetings while you're on the go and also remain updated. Also, in cases where your coworkers probably use different devices, it facilitates collaboration with your team members during a pitch or team meeting.
4. Integrations
The integrations that a desktop sharing program provides are an additional important feature to keep in mind. The software ought to be able to upload recorded sessions to the cloud to save you time and add your booked meetings to your calendar so you can simply stay organized. These integrations can make your job seamless and cut down on the time it takes.
5. Pricing
The majority of screen-sharing applications offer both a free and a premium edition. The latter typically contains extra features like no time limit and more participants, amongst others. The paid editions of these applications usually involve a monthly or annual subscription. However, you should ensure that this fee is within your budget before choosing an application.
How to Avoid Embarrassment: Etiquette of Screen Sharing
Online meetings are more relaxed than in-person interactions, yet there are still certain formalities that shouldn't change, especially when utilizing a screen-sharing program.
• Do a practice run first

. It's a good idea to practice before the meeting if you're using a certain screen-sharing program for the first time or haven't shared your screen in a while. This would prevent the attendees from waiting around while you sort things out in the middle of the meeting.

• Get your desktop organized

. If you want to share your entire screen, clear the visual clutter. Minimize or close unnecessary windows, then clear your desktop of any confidential files. If you're sharing a window, separate the tabs that aren't necessary and move them to a different window.

•

The

media you want to share should be ready

and available. You should just need three clicks to access anything you need to share during the meeting.

•

Turn off notifications

and quit any open programs. Sometimes, it can be frustrating to receive notifications while using screen sharing.

• Invite attendees to get ready

. Share a how-to guide or link with the attendees in advance so they can be ready. This is necessary if you're giving a presentation in a meeting with attendees who aren't familiar with screen sharing or one that calls for attendees to share their screens as well.
Frequently Asked Questions
Is there a free screen-sharing app?
There are several free screen-sharing programs available that allow you to share your screen with others in real time, such Google Meet, Quick Assist, free pricing plans of Zoom, Slack, Microsoft Teams. These apps offer a variety of features, such as the ability to share your entire screen or specific applications, as well as chat and video conferencing capabilities.
How do I share my computer screen with others?
Sharing your screen with others can be accomplished through various methods, depending on your needs and the tools you have available. Here are some general steps to follow:
•

Choose a screen sharing tool

•

Start a screen sharing session

•

Select what to share

•

Start sharing

•

Manage the session

•

End the session
Which software is best for screen sharing?
There are many screen-sharing software options available, and the best one for you will depend on your specific needs and preferences. Some popular screen-sharing software to consider includes Zoom, Skype, Google Meet, and Slack, amongst others.