Sharing screen in Microsoft Teams is a powerful tool that allows you to hold presentations, share important notes or distribute useful audio files with colleagues.
In this guide, we'll walk you through how to screen share in Teams on desktop or mobile devices.
Configure Essential Screen Sharing Options in Teams Admin Center
Before sharing your screen in Teams, the administrator needs to activate the following options from the Teams admin center:
• Permit participants to give or request admin control
• Implement a per-user policy (allow external participant to request or give meeting control on Teams)
• Permit PowerPoint sharing on Teams
• Permit Whiteboard sharing and collaboration
• Allow participants distribute shared notes
First, join a meeting and click on the Screen sharing icon that appears at the top or bottom of your window page.

Next, select the Share button at your meeting controls. You can choose to share a PowerPoint presentation, a tab, a window, a Whiteboard, or your entire screen. The next window displays all the apps you have open, and you'll be able to make your choice. You can also share a second monitor screen if you have more than one connected.
| | | |
| --- | --- | --- |
| | | |
| | Display your entire screen, including device notifications and desktop activity. | You want to present multiple windows. |
| | Share one screen without having to share your device notifications or desktop activities. | You want to present one screen and protect your privacy. |
| | Share a PowerPoint presentation or file other participants can interact with. | You want to carry other attendees along and want them to interact with the PowerPoint presentation at their own pace. |
| | Work with other participants in real-time. | You wish to attach meeting notes and sketches to meetings |
After choosing an action, your screen automatically begins to share with other participants.
Once you are done, click 'stop sharing' at the bottom tab on the call.
Share Content on a Mac
Before sharing your screen on a Mac, you'll need to grant Microsoft Teams the permission to record your device's screen. You can always address permissions anytime. Go to Menu > System Preferences > Security & Privacy.
On the prompt page, select system preferences.
Go to screen recording and select Microsoft Teams.
Return to Teams, and start sharing your screen.
If you're using the Teams application on the web, you'll need to grant your browser permission to screen record.
How to Share Your Screen in Microsoft Teams Chat
Sometimes, you want to share your screen from the Teams chat. This option is available on the Windows and macOS app. For mobile devices, you'll need to begin a video call before you can access the share button.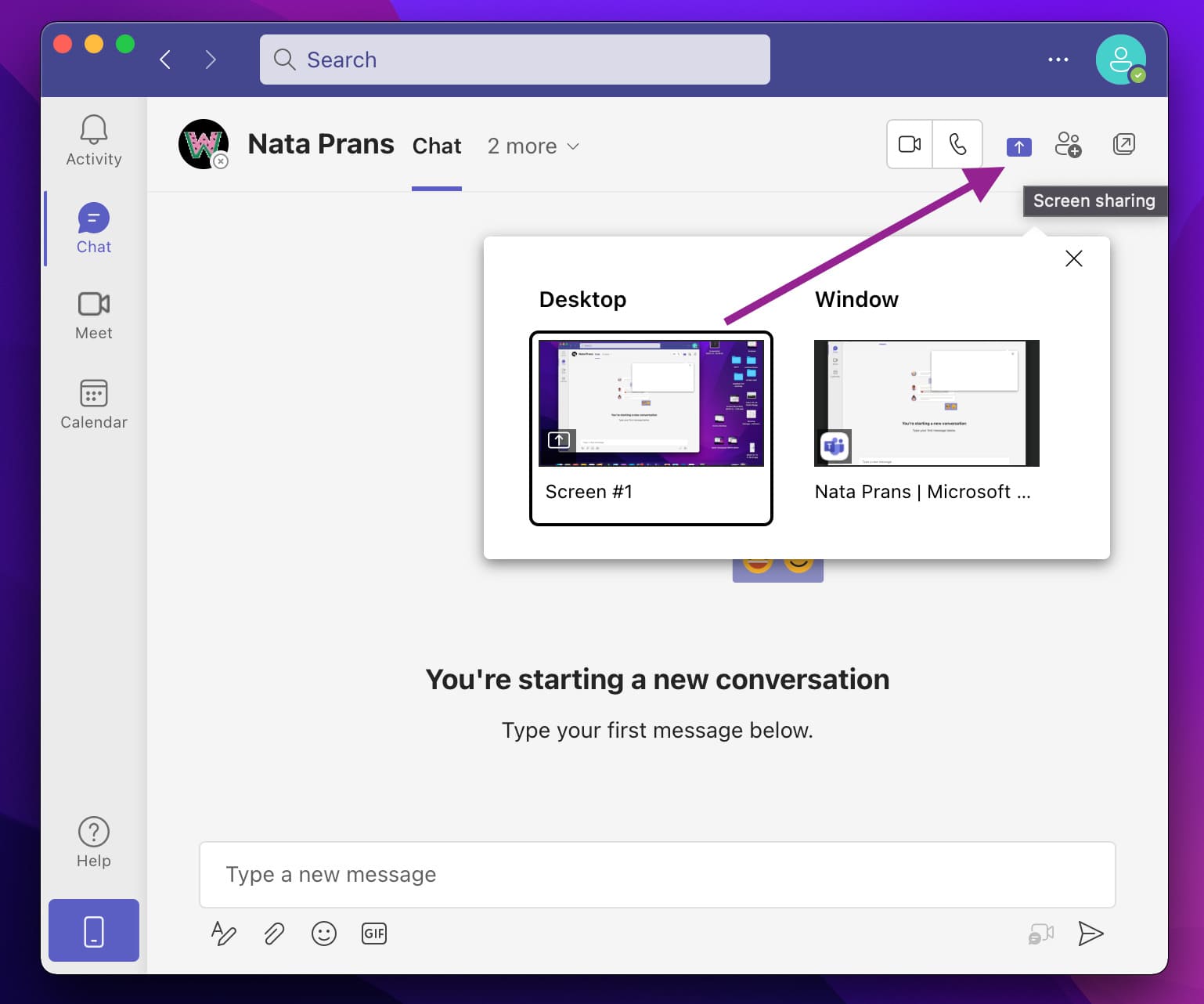 Click on the Screen sharing icon at the bottom or top of your window.
Select 'Screen 1' or any of the apps listed under 'Window', depending on the screen you need.
After selecting your preferred option, screen sharing will begin immediately.
To stop sharing your screen, click the 'stop presenting' button at the top bar.
How to Include Computer Sound When Sharing Your Screen
Using the share feature, you can stream audio clips and videos from your computer to other meeting participants during a meeting.
To share your sounds, click the Share content Share screen button in the meeting controls window and enable computer sound. Once done, all audio sounds from your computer will be audible during the call.
Although this guide covers iOS, the steps are the same for Android devices.Here's what you need to know.
On the call, tap the three dots at the bottom of your screen.

Select the 'Share' option. Your device may request you allow Teams to record your screen, so grant this permission.

Select start broadcast. Call members will only see the Teams app until you switch to the screen you want to present.
Once you're done, return to the Teams app and click 'Stop broadcasting' to end screen share.
How to Stop Sharing Screen on Microsoft Teams Shortcut
To stop sharing your screen, simply use the keyboard shortcut: Ctrl + Shift + E. In addition, to start sharing your screen during a Teams call, you can also use the keyboard shortcut: Ctrl + Shift + E.
Because both key combinations are the same, you can use this to toggle between starting and stopping the screen share feature on Teams.
FAQ
How to share screen on Teams browser?
Open your Teams on the web and ensure you've allowed your browser to record your screen.
Once you've given permission, return to the Teams window and select the Share Content Share Screen button.
Click on the 'stop sharing' option at the bottom of the tab to stop sharing your screen.
Why can't I share my screen on Microsoft Teams?
You may be unable to share your screen in Teams for different reasons. Some of the common reasons include unstable internet connection, an outdated browser version/app, no permission to share your screen, large data consumption by irrelevant apps, and poor display resolution.
How do you draw freehand on Microsoft Whiteboard?
Enabling the freehand app in Teams is as easy as four steps:
On the Microsoft Teams sidebar, select the app's icon.
Look up freehand.
Add the Microsoft Whiteboard and freehand by InVision app on the sidebar to enable the feature.
Click on 'Sign in' and input your InVision details. Don't have an account, click on sign up to create a new one.
How do I enable Microsoft Whiteboard?
The Microsoft Teams Whiteboard feature is available on the web, windows, iOS, Android, and Surface Hub devices. Here's a brief guide on how to enable the Whiteboard feature:
On the admin center homepage, search for Whiteboard in the top right search bar
Select Whiteboard settings from the list
Turn on the Whiteboard feature for your entire team and click save.
To share a Whiteboard during a call, click the share icon and select Microsoft Whiteboard. Once the board picker opens, select from an existing list of boards or create a new one for the call.