How to Remotely Control an iPhone in 2023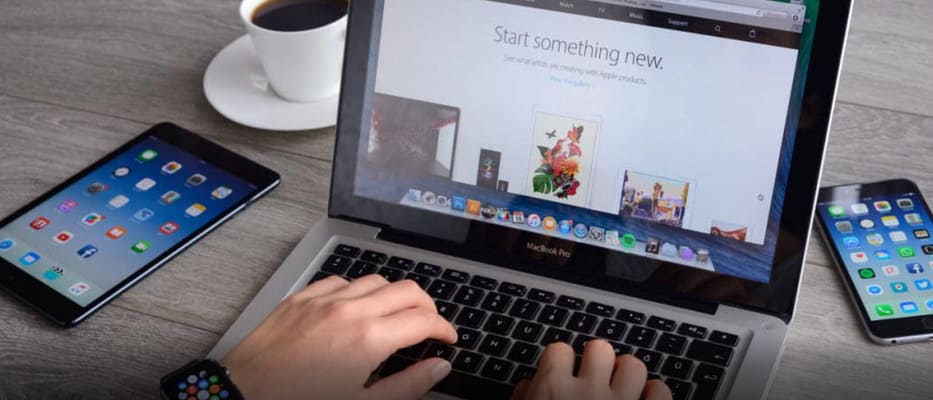 From this article, you can learn how to control iPhone from Mac, PC, or mobile device. Let's have a look at several different methods of using native OS functionality and third-party software to access your iPhone remotely and safely exchange files with it.
We also demonstrate how to use your iPhone as a remote control for Apple TV. We'll discuss all the strong points and functional capabilities of every method you can use to control iPhone from Macbook, so you will have no problem choosing the right one for your specific needs.
How to Remote Control iPhone from Mac or iOS
Apple introduced the Switch Control feature with the release of iOS 7 in 2013. The functionality added by Switch Control was originally intended to help users with disabilities control their devices. Anyone can use Switch Control to gain access to another Apple Device as long as both devices are logged into the same Apple account and on the same network. You can use the following technique to remote control an iPhone from any device running iOS or macOS.
How to remotely access iPhone from another iPhone or iPad
Make sure that the iPhone you want to control and the iOS device that will do the controlling are connected to the same network or else Switch Control won't work.
Log in to iCloud on both devices using the same Apple ID.

On the controlling device, navigate to

Settings > Accessibility > Switch Control

.

Select

Switches

from

Switch Control

to configure a new switch.
Choose

Add New Switch

and select a source.

Using the new switch's

Switch Control

menu, choose

Device

.
Choose the

Use Other Device

option.
Locate the iOS device you wish to control and select

Connect

.
You can now remotely access iPhone from another iPhone.
How to control iPhone from Mac
The following procedure allows you to establish remote iPhone control from a computer running macOS.
Both devices need to be on the same network and you need to be signed in to the same Apple ID.
Enable Switch Control to allow remote control iPhone from Mac. Click the Apple logo and choose

System Preferences > Accessibility > Switch Control

.

Go to the General tab and select

Enable Switch Control

.
Enter your password when prompted.
Go to

Devices

on the

Switch Control

panel.

Select the iPhone you want to control from the list. Once selected, you will be able to see the device's screen from your computer.
Click on the iPhone you want to control remotely and click

Connect

.
After completing all the steps, you can control iPhone from Macbook easily.
iPhone remote control for Apple TV
You can use an iPhone or iPad as a remote control for Apple TV. You just need to set up the Apple TV remote control app for iPhone in the iOS Control Center.
The Apple TV remote may be already added to Control Center if you are running iOS 13 or later. If not, it's easy to add with the following steps.
Open

Settings

on the iPhone or iPad.
Select and tap

Control Center

and see if the Apple TV Remote is part of the

Included Controls

part of the page.
If you need to add the Apple TV Remote, add it from the

More Controls

section by tapping the plus sign to the left of the item.
Perform these steps to use the Apple TV Remote app.
Open

Control Center

on your iOS device by swiping up or down depending on your iOS version.
Tap the Apple TV Remote button at the bottom of the screen.
The first time you use the remote you need to select your Apple TV from the list and provide the four-digit code shown on the Apple TV screen.
Now you have the option to control your Apple TV with the TV's physical remote control or to use iPhone to remote control with the iOS app is a quick two-step process.
How to Remotely Control iPhone from PC on Windows or Linux OS
Controlling iPhone from other Apple devices is a pretty straightforward process. You might want to remote control iPhone from a PC running Windows or a Linux machine. This can be done though it is more complicated and requires the use of third-party apps for remote iPhone support or browser extensions.
Multiple solutions and remote control iPhone apps are on the market that offer various features and functionality. They all perform the same core functions, but their interfaces, prices, and feature sets differ.
Following there are some solutions to control iPhone from PC.
Chrome Remote Desktop
Chrome Remote Desktop is yet another 'yes' answer to the 'can you remotely control an iPhone?' question. The main advantage of this solution is its ability to remotely access devices connected to different WiFi networks.
Just log into the same Google account on both your iPhone and the device you're going to control it from, and Chrome Remote Desktop will connect them no matter how far you are or which OS your local device is using. The steps we're going to show you are universal for all platforms.
Before you start, you should update Chrome to the latest version and install the Chrome Remote Desktop app for iOS on your iPhone or iPad. Once you have completed these prerequisites you can use the following steps to use this free iPhone remote control app.
Log into your Google account
Go to the Chrome Remote Desktop web page.
Click the arrow to

Set up remote access

.

Download the Chrome Remote Desktop extension and add it to Chrome.
Create a name for the computer and click

Next

.

Create a PIN of at least 6 digits that will be used when connecting remotely.

Launch the Chrome Remote Desktop app on the iOS device you want to control.
Select the PC from the list of devices in the app and enter the PIN to establish connectivity.
You can now control the iPhone from your PC.
Remote control iPhone from PC with remote access software
Today's market offers a vast number of various solutions you can use to access and operate your iPhone over a distance, e.i. Zoho Assist, Anydesk, TeamViewer, or Splashtop. As their operation principles are very similar, let's have a look at one of them as an illustrative example. Here are the steps you need to follow to establish a remote connection using Zoho Assist.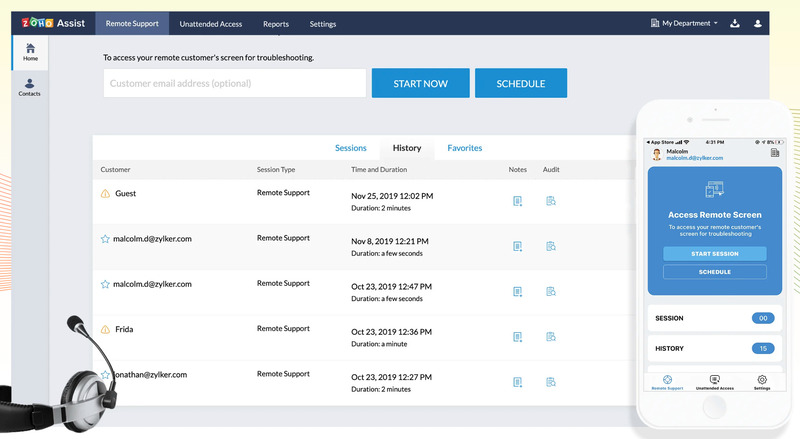 How to control iPhone remotely with Zoho Assist
Download and install the Zoho Assist iOS Technician app on the iPhone or iPad that will control the remote device.
Install the Zoho Assist Customer app on the device you want to control remotely.
Open the Zoho Assist Technician app and initiate a remote session.
Share the session ID details with the remote user to enable them to join the session.
After the remote user joins the session, you can access and control your PC on Windows or Linux from your iPhone.
How to Remote Access iPhone from Android
A VNC server offers another option for remote control of an iPhone from an Android device. Unfortunately, this method involves jailbreaking your iPhone, a step that many users don't want to take. Each iteration of the iOS operating system makes it harder to jailbreak your device.
Another issue with using a VNC server is that the software often does not support newer versions of iOS.
How to connect to an iPhone from an Android device using VNC Viewer
Tap

WiFi

on your iPhone's

Settings

.
Use the information icon to identify the iPhone's IP address.
Download and install VNC Viewer on the Android/ PC device.
Launch the app on the Android or Windows device and tap the

+

icon to add a connection to the iPhone.
Enter the iPhone's IP address and the name of the device.
Tap on

Create

.
Tap

Connect

to establish the connection between Android/ Windows and iPhone.
Conclusion
As you can see, the correct answer to the 'can you remotely control an iPhone?' question may vary according to your expectations. For close-range access in the same WiFi network, the best remote control iPhone is the native Switch Control feature you can use to fully control your phone without having to touch its screen. For long-distance connection, you will need to choose a third-party remote access tool.
Depending on the level of remote access and control you need, the free solution using the Chrome browser may be adequate. If more functionality is required, you should consider a tool like Zoho Assist, TeamViewer or Anydesk.