The Best Software to Remote Support iPad in 2023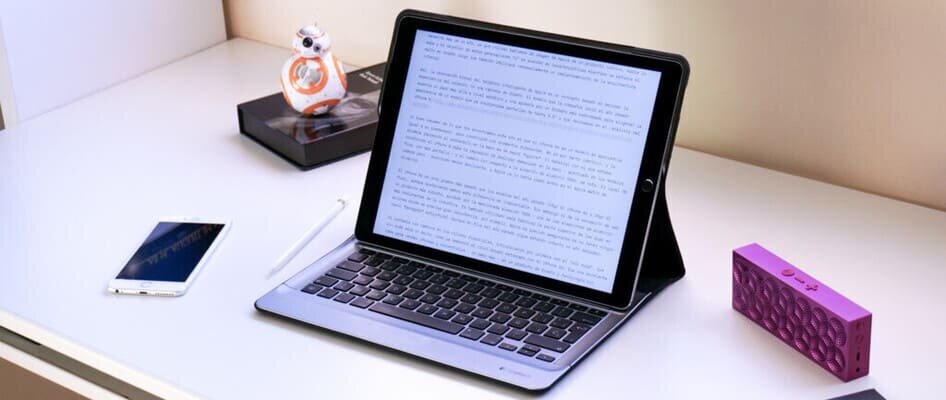 In the modern era, IT professionals must have the ability to support multiple mobile devices (like tablets, phones) without the limitation of distance being a hindrance. With the constant influx of advancement in mobile technology, remote support software must strive to keep up.
For iOS devices in need of tech support, the most effective way of resolving issues on customer devices is with reliable iPad remote support apps.
Keep reading to discover the best of the best software providing remote support for iPad/iOS. The tools we discuss help users easily control and access iOS devices from PCs, iPhones, macOS, and more.
1. HelpWire
HelpWire is one of the best remote support software solutions that can be customized to fit the specific needs of your business. This app can forward iOS devices across any network, allowing tech support specialists to troubleshoot and resolve issues without delay.
Developed with advanced port redirection technology, HelpWire is a distinct iPad remote support software. With HelpWire, you can provide tech remote support for iPad just in a few steps:
On the customer side:
• Connect a malfunctioning iPad to your computer via USB. Start HelpWire.
• Log in to your HelpWire account and wait for a support specialist to start the session. Now you can describe your issue via a live chat.
On the side of the tech support specialist:
• Connect to the client's iPad over the Internet using the HelpWire app.
• Access the device as if it were physically attached to your PC.
• Fix the problem and disconnect from the iPad.
HelpWire's Top Features:
•

Fantastic customer service:

HelpWire permits clients to have devices repaired without leaving their homes. Happy customers are recurring customers… and recurring customers equals more revenue for your business;
•

Ultra-secure connections:

Advanced traffic encryption ensures reliable protection for all customer data during data redirection over a network connection;
•

Competitive edge:

Remote support capabilities give businesses a major edge over their competition—driving more growth opportunities for your business;
•

White labeling option:

For those looking to implement remote support tools, white-labeling allows users to deliver solutions under your brand name;
•

Software customization:

For organizations needing specific functionality to complement their workflow, we're here to help with a customizable solution able to adapt to practically any platform or USB device.

Price: Free to use

---

2. Zoho Assist

The cloud-based remote assist iPad support app, Zoho Assist, helps your organization support customers via on-demand web-based remote sessions. Establish unattended remote access to control PCs, laptops, mobile devices, and servers effortlessly from any distance.

In just a few clicks, users can establish secure connections for more effective remote support solutions.

Zoho Assist's Customer App allows end-users—in just one easy click—to share their screens with a support professional. Additionally, end-users can transmit files using the clipboard, and take advantage of the chat feature to communicate with technicians providing iPad remote assistance (or otherwise.)

Zoho Assist's remote iPad support works as follows: The iPad, or otherwise is remotely operated by a support professional while the end-user watches everything taking place on the device (in real-time.)

IT technicians then provide the end-user with a 9-digit "Session Key", which ensures that the remote session is a safe and protected connection. Once the end-user (a customer dealing with iOS device issues, for example) uses the key to enter the session, they have the option to share their screen with the remote technician.

Zoho Assist App Top Features:

• File transferring;
• Instantaneous chat;
• Session scheduling;
• Multi-monitor navigation;
• Administrative operation functionality;
• Video/voice chat;
• Reconnection and reboot capabilities;
• Instantaneous remote support.

| | |
| --- | --- |
| | |
| | Delays can happen—leading to longer lead times around issue fixes; |
| Connections are easy and reliable; | A reliable and consistent internet connection is necessary (even a momentary drop can cause system issues); |
| Zoho Assist can navigate and manage multiple monitors; | Remote call connection can fail. |
| File transfers via the app are safe and simple. | |

Price: Starting at $11/per month

---

3. ISL Light

ISL Light is a remote support iPad tool allowing users to share their iPad device's screen with a remote technician..

ISL Light gives organizations the ability to invite clients to support sessions by sending them a unique ISL Light session code. Once the code is entered successfully, the tech can access, view, and control remote computers or provide remote assistance iPad support. Conveniently, operators can initiate remote support sessions from a live chat (feature included with a license.)

This remote session configuration only requires the end-user to click on the provided link to connect—eliminating the need for a session code. Along with allowing organizations to remotely support iPads, iPhones, desktops, and more. They can also transfer an active remote session to a different technician via email invite.

ISL allows businesses to personalize the app with their own logo and brand colors. Additionally, this Apple iPad remote control tool provides 2-factor authentication, AES 256-bit encryption, and advanced customization options (such as White-labeling for large enterprises.)

ISL Light Top Features:

• iOS screen sharing in real-time;
• Remote access to computers, mobile phones, or tablets using WiFi/3G/LTE;
• Remote screen viewing;
• Multi-monitor switching capabilities;
• Screen resolution adjustment/configuration;
• Remote mouse and keyboard control;
• Transfers commands like Ctrl+Alt+Del to the remote computer;
• Alternates between left/right mouse clicks;
• Instantly resume remote connections after a reboot;
• Text and chat capabilities.

| | |
| --- | --- |
| | |
| 24/7 availability on systems where users may not always be present; | The configuration and customization UI isn't the best; |
| Easily check system status information like CPU, memory, and disk space; | The chat interface is too simplistic; |
| Fast and easy file transferring. | Always on' viewing of machine status information (without explicitly connecting) isn't permitted. |

Price: from $469/per year.

---

4. QuickSupport and the TeamViewer app

TeamViewer Mobile Device Support allows support teams to solve mobile device troubles easily and efficiently. As long as the customer installs the TeamViewer Quick Support app on their iPad device, techs can use a computer, smartphone, or tablet to access and fix their device.

TeamViewer QuickSupport mobile app permits users to receive remote support on their mobile devices from any computer. Once end-users install the QuickSupport mobile app, they can provide their unique ID to the support technician.

The assisting specialist can then send a connection request that end-users must accept for the support session to begin.

From there, end-users can share their screens with a live support technician, chat with the technician, and transfer files between them—technicians can even enable push settings.

Top features of TeamViewer QuickSupport:

• iOS 11(and up) devices can broadcast their screens;
• Screen share with any mobile device, laptop, or desktop computer;
• Chat functionality;
• Remote support techs can:

• See device information;
• Transfer files back and forth;
• Add email accounts;
• Push Wi-Fi settings;
• Import iOS Configuration Profiles;
• Record iPhone/iPad screens;

• Exceptional security standards encompas 256 Bit AES Session Encoding, and 2048 Bit RSA Key Exchange.

| | |
| --- | --- |
| | |
| Non-commercial use is free; | Requires a fast and consistent Internet connection; |
| Multi-platform OS support (including IoT devices); | Commercial use requires licenses and is expensive; |
| Allows training sessions for up to 25 members; | |
| Drag-and-drop file sharing over multiple locations; | Non-compatible with proxy servers. |
| Status indicating if/when a device is being accessed remotely; | |
| Easy install and updating—no router configuration necessary; | |
| IP chat, video, and voice communication options; | |
| Share app windows or full desktops; | |
| Excellent customer support. | |

Price:
Teamviewer QuickSupport (for Clients) — Free;
TeamViewer (for technicians) — starting at $50.90/per month

---

5. BeyondTrust Remote Support

BeyondTrust Remote Support is an excellent option for remotely accessing and fixing iOS devices. Enterprises can dramatically increase the reach of their service desk with BeyondTrust's iOS Customer Client. Employees and end-users with popular iOS mobile devices get the exceptional support they need to stay more productive on the go.

Support reps can offer a secure and protected chat experience, co-browse websites and apps on the end-user's mobile device, view screenshots captured by the end-user, and even send status updates to mobile employees/end-users via the BeyondTrust Rep Console.

BeyondTrust Top Features:

•

Secure session chat:

BeyondTrust's real-time chat function helps tech support pros communicate with mobile users to better understand the issue, view system information, transmit files, and more;
•

Screen co-browsing:

BeyondTrust users can watch the same websites and web apps that end users are actively viewing on their mobile devices. This opens up the opportunity for fast guidance and more effective troubleshooting;
•

Screen snapshot viewing:

End-users can share screenshots they've taken of their problems with the support technician, giving the latter better insight into how to best find a solution;
•

Push web updates:

Support reps can push URLs to end-users with key status updates and system configuration profiles that quickly resolve issues.

Price:
Free trial;
$2,097/per year once the trial expires

---

6. Splashtop SOS

Another beloved remote iPad support software is Splashtop SOS. Simple and easy-to-use, Splashtop lets users record remote support iOS sessions, share their screens, and tap-and-drag files. This app can also perform unattended access.

Additionally, this convenient iPad remote assistance app offers a wide range of tools for initial fault detection. Users can also (quickly and easily) utilize the on-screen keyboard by tapping on the bottom of the iPad's screen.

Splashtop SOS Top Features:

• On-demand remote access to Mac, iOS, Windows, and Android;
• 24/7 Unattended access to Mac, Windows, and Linux computers (via SOS+10);
• Unlimited Screen sharing;
• Remotely access and see iOS screens in real-time;
• File transferring;
• Remotely restart and reconnect;
• User management configuration options;
• Custom branding capabilities;
• PSA tool integration;
• Licensed per technician;

Price: from $47.90/per month

---

7. Chrome Remote Desktop

Google created the Remote Support Tool to provide remote users with one-time access codes to connect and troubleshoot a desktop. This app lets IT professionals quickly and effectively resolve end-user issues without the need to be physically present.

Chrome Remote Desktop provides exceptional accessibility and performance, making it a great option to access a remote desktop on Mac, Windows, and Linux operating systems. While CRD doesn't offer the exact same functionality, it's a decent (and completely free) remote access method. Regarding support contexts, Chrome Remote Desktop's Remote Support Tool adapts exceptionally well.

Alternatively, CRD lacks convenient functions like remote printing, drag-and-drop file transfers, and live chat… meaning it also lacks the efficiency that other competitor tools offer. CRD users also can't access live support if an issue occurs.

All things considered, while Chrome Remote Desktop is a user-friendly option, it lacks features that are vital in a variety of business applications.

Price: Free

---

8. GoToAssist

LogMein's GoToAssist remote support app lets customer support teams resolve mobile device issues quickly and effectively. Lightweight, fast, and smooth, it offers an option between a modern web browser or desktop console.

End-users running iOS 11(or newer) can support the GoToAssist app, and enjoy screen-sharing capabilities to remote view any iOS 11+ iPhone or iPad devices. The simple plugin lets support technicians access and see an end-users (be it a customer or team member) screen via a modern web browser or desktop application.

GoToAssist Top Features:

•

No downloading necessary:

End-users can share screens and provide access to their devices without downloading any extra software;
•

Camera sharing:

Support technicians can watch the end-user's screen in real-time;
•

Mobile compatibility:

GoToAssist mobile allows fast and frictionless support for on-the-go customers and agents;

| | |
| --- | --- |
| | |
| Per account, GoToAssist provides unattended remote access for up to 10,000 machines (far more than many of its competitors allow); | Not cost-effective for small enterprises that don't need to access thousands of unattended machines; |
| Technicians can perform many support tasks without end-users having to download software on their device; | Organizations must pay for both tech support functionality and unattended computer acces; |
| Users can access unattended machines from a desktop or web-based platform. | There are subscription add-on fees for mobile functionality. |

Price: $69/per month

---

9. AnyDesk

AnyDesk is a beloved remote desktop tool helping users access files on any device (and across numerous locations.) AnyDesk offers a lightweight option that only requires about 2.8 MB of space on your device. In spite of its minimal size, this app acts as a high-performance recording and collaboration vehicle.

One feature that sets AnyDesk apart is its connectivity speed. A small, portable file must be installed to run the program, thus enabling users to share control of mouse or keyboard devices.

Users can also share desktop screenshots, and enjoy thorough security measures. For example, to establish a successful remote connection, access codes of local devices must be shared with the remote machine.

AnyDesk Top Features:

• File transferring capabilities;
• Remote printing capabilities;
• Wake-On-LAN feature.

| | |
| --- | --- |
| | |
| Compatible on all major mobile platforms; | Not cost-effective for small enterprises that don't need to access thousands of unattended machines; |
| | Organizations must pay for both tech support functionality and unattended computer acces; |
| Lots of keyboard shortcuts; | There are subscription add-on fees for mobile functionality. |
| No time caps on sessions; | Low-quality video recording. |
| Lightweight installation file; | |
| Fast connectivity thanks to low latency. | |

Price: from $9.90/per month

---

10. ConnectWise Control

ConnectWise Control Support bridges the gap between organizations and their end-users by providing the ability to access iPadremotely—which is essential for any help desk software.

Companies can offer remote computer support with ConnectWise Control without the technician needing to be physically present. Additionally, ConnectWise Control helps users access onsite work computers from remote locations (like their home.)

The app's functionality allows technicians to view remote iOS mobile device screens (if the mobile device has the app installed), allowing technicians to guide end-users through troubleshooting methods, email configuration, and more.

Even though ConnectWise Control doesn't have ticketing functions like most classic help desk software, the app delivers easy remote access for both businesses and customer service use cases—while creating a more streamlined system.

A recent development was uncovered when ConnectWise Control's developers revealed a cloud-based version that drastically simplifies security requirements.

ConnectWise Control Features:

• Users can host/join remote support and unattended access sessions via the existing ConnectWise Control instance;
• Remotely control and management of computers and workstations;
• Offers convenient features like transmitting commands to remote devices, chatting with end-users, and more;
• Broadcast iPhone or iPad screens with other (iOS 11+) devices;
• Easily provide remote support to on-the-go end-users;
• Easy file transferring.

| | |
| --- | --- |
| | |
| Deployment of standalone or via group policy is easy; | The new UI feels cumbersome compared to the previous version; |
| | Customer support isn't always the fastest/easiest; |
| Command-line tools are very powerful; | Company information sometimes gets lost to backend databases; |
| Available 3rd-party add-ons; | Changes made via the port don't update. |
| Convenient meeting functions. | |

Price: from $24/per month

---

The most frequently seen features in apps that remote control iPads, iPhones, and other devices are:

• File sharing;
• Screen sharing;
• Screenshots;
• Unattended remote access/control;
• Multi-monitor navigation;
• Chat/messaging support.

Comparison of the best iPad remote support software

| | | | | | | | | | | |
| --- | --- | --- | --- | --- | --- | --- | --- | --- | --- | --- |
| | | | | | | | | | | |
| Does it have file transferring capabilities? | | | | | | | | | | |
| | | | | | | | | | | |
| | | | | | | | | | | |
| Can it transfer sessions? | | | | | | | | | | |
| | | | | | | | | | | |
| Does it have real-time chat capabilities? | | | | | | | | | | |
| | | | | | | | | | | |
| Is there a trial version available? | | | | | | | | | | |

FAQ

GoToAssist was acquired by the Boston SaaS company, LogMeIn, in 2017. This acquisition took place via a merger with Citrix that encompassed all GetGo products (including GoToAssist.)

LogMeIn has a healthy user-base of 10 million+ active users, investing their efforts into supporting "work from anywhere" organizations and their teams.

Users can enjoy iPad remote control with HelpWire:

Step 1:

Customers can connect their iPad device for repair via a USB port on a computer running HelpWire;

Step 2:

Customers log into a HelpWire account using the computer and wait until a support tech joins;

Step 3:

Once the remote session initiates, the client can explain their problem using the live chat function;

Step 4:

Specialists can then connect to the iPad via a network connection, gaining total access to its contents and functionality;

Step 5:

Technicians can then resolve the customer's problem remotely, then disconnect from the iPad/iOS device.

Yes. Zoho Assist works on iPads using the native Zoho Assist app, or the web browser app (available for iPhone, iPad, and Android devices).

Or…

The tech can send the customer a session key directly.