Modern computing environments are increasingly becoming multi-platform to address business objectives and personal preferences. Technical staff members are expected to provide assistance to a diverse user community with activities that include things like Apple remote support, help with Windows machines, and installing Linux distributions.
The increasing preference of mobile devices for business use can pose a challenge for a company's information technology (IT) support department. The ability to provide remote support for iPhones and other iOS devices is essential. Teams need tools for the remote support of iOS devices like iPhones and iPads to assist users in resolving problems.
This article looks at the best software solutions for iOS remote support.
1. HelpWire
HelpWire takes a unique approach to iPhone remote support by employing advanced port redirection technology to visualize iOS devices. The tool forwards virtual copies of network-connected iOS devices, allowing them to be accessed from any location. Technical teams can diagnose and resolve user issues with their iPhones or apps remotely, saving everyone time and money. HelpWire is an easy to use and install solution that provides customers with an extensive set of features.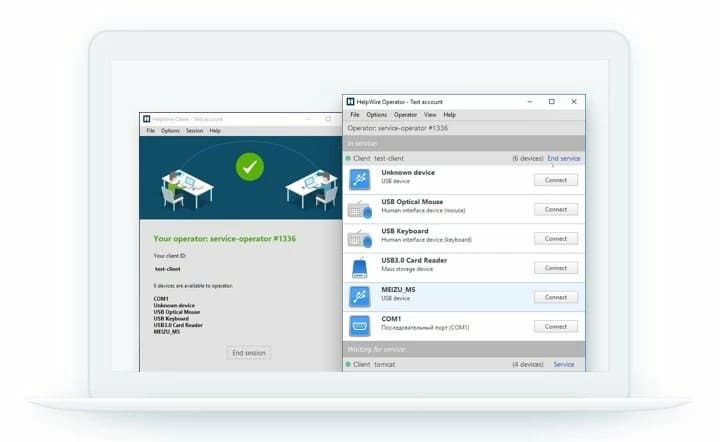 Features:
• Secure connectivity:

HelpWire's advanced traffic encryption is designed to keep customer data secure when devices are redirected over a network.

• Quality customer service:

HelpWire enables support personnel to address issues with client machines remotely. Customer satisfaction is increased because users don't have to travel or wait for tech support.

• White labeling:

The white labeling option lets you customize HelpWire's interface to display your company's name or logo.

• Software customization:

HelpWire can be customized to add functionality to help you meet your business objectives.
Price: Free to use.
2. ISL Light
ISL Light is a versatile iOS remote support solution that lets users easily share their screens with online technicians. The tool also lets a user control a Windows, Mac, or Linux machine from an iOS device. Businesses can customize the tool's interface with white labeling and the ability to add brand colors and logos.
Secure connectivity is established using AES 256-bit encryption and two-factor authentication. A unique code generated by the software enables technicians to invite users to support sessions by sending them a link. Email invitations can be sent that enable the transfer of active sessions to other operators to facilitate team productivity. ISL Light has been translated into 20 languages and is widely used in over 100 countries around the world.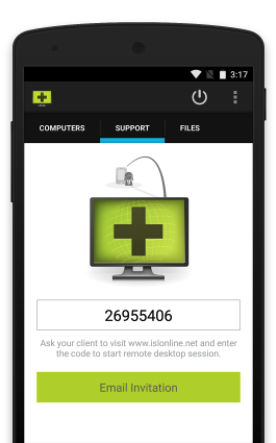 Features:
•

Real-time remote iOS screen sharing and viewing.

•

Supports switching between multiple monitors.

•

Adjusts screen resolution automatically.

•

Connect to remote machines via WiFi/LTE/3G.

•

Control and send commands to remote computers.

•

Instantly resume connections after rebooting remote machines.

•

Supports text chat with remote user.
| | |
| --- | --- |
| | |
| Unattended access for accessing systems without users being physically present; | Configuration and customization is complex and can be difficult; |
| Fast file transfers between connected systems; | A connection is required to display the status of always-on machines; |
| Status information on remote machines is easily available to the remote technician. | Features a rudimentary chat interface. |
Price: Plans start at $469 per year for cloud instances.
3. BeyondTrust Remote Support
BeyondTrust Remote Support, formerly known as Bomgar, allows teams to provide iPhone remote assistance and maintain the productivity of a mobile workforce. The tool expands the capabilities of customer service personnel, letting them share a user's screen, watch as apps are installed or run, view screenshots taken of the iOS device, and chat over a secure connection. Technicians can use the BeyondTrust Console to push notifications to a company's mobile users, keeping them informed while working remotely.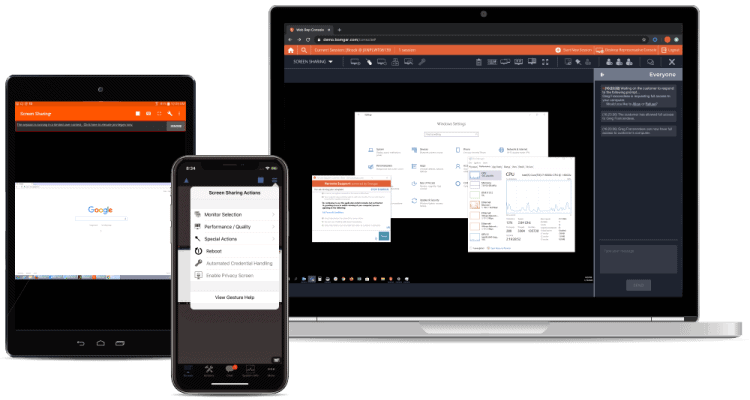 Features:
• Screen Co-Browsing

– With the BeyondTrust iPhone remote support app, support reps can view the same apps and websites currently in use on an iPhone or iPad. This allows for streamlined problem resolution and satisfied customers.

• Screen Snapshot Viewing

– End users can take screenshots of their device's screen to share with the support team.

• Secure Session Chat

– Real-time chat can be a big factor in identifying and resolving user issues. The ability for the user and the support team to communicate and share files and information leads to quicker problem resolution.

• Push Web Updates

– URLs can be pushed to end-users by the support team to provide system configuration files or status updates about the problem currently under review.
Price: $2097 per year for cloud deployment. A free trial is available.
4. TeamViewer Quicksupport App
The TeamViewer QuickSupport app enables technicians to provide remote assistance to iPhone users who have the program installed on their mobile devices. Users needing remote support just need to download and install the app before contacting their company's helpdesk.
With the mobile app installed on their iPhone, users can receive support from their company's technical team from any location. The app generates a unique ID that users share with the support technician. Connectivity is established via a connection request made by the technical team and accepted by the remote client.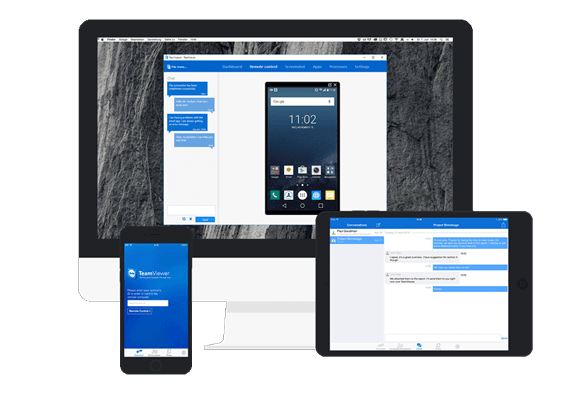 Features:
•

Excellent security with 256-bit AES encryption and 2048-bit RSA key exchange.

•

Screen sharing to other mobile devices or computers.

•

Real-time chat.

•

Screen broadcast supported for iOS 11 and higher.

•

The functionality of this iOS remote desktop app enables users and support staff to:

○

Transfer files;

○

Push WiFi settings;

○

View device information;

○

Record the screen from an iOS device;

○

Add and modify email accounts;

○

Configure devices using imported profiles.
| | |
| --- | --- |
| | |
| Non-commercial use is free; | Can be an expensive choice for large commercial installations; |
| Share files by dragging and dropping across multiple devices; | Inability to share large files; |
| Supports multiple operating systems and a wide range of endpoints including IoT devices; | |
| Easily installed without any router configuration; | Needs steady and fast Internet connectivity. |
| Communication options include video, chat, and VoIP; | |
| Team training sessions can be established for up to 25 members; | |
| Excellent customer support; | |
| Complete desktops or app windows can be shared remotely. | |
Price:
TeamViewer QuickSupport (for Clients) – Free;
TeamViewer (for technicians): from $50.90 per month.
5. Zoho Assist
Zoho Assist gives technical staff the ability to remote control iOS devices via on-demand support sessions. It's a cloud-based tool that employs a web interface so it can be accessed from any network-connected location. Secure remote support sessions can be established in a few seconds. Centralized support teams can use the unattended remote access capability of Zoho to manage an organization's servers and mobile devices efficiently.
An easy-to-use and clickable interface lets end-users share screens with the support team. Files are easily transferred in both directions and real-time communication with the technician speeds up problem resolution. Support personnel can remotely control an iOS device while the client observes their actions on the iPhone or iPad.
Security in the Zoho Assist customer app is enforced with a nine-digit session key provided to the customer by the remote technician. The customer uses this key to establish the session and can then choose to share screens with the support team.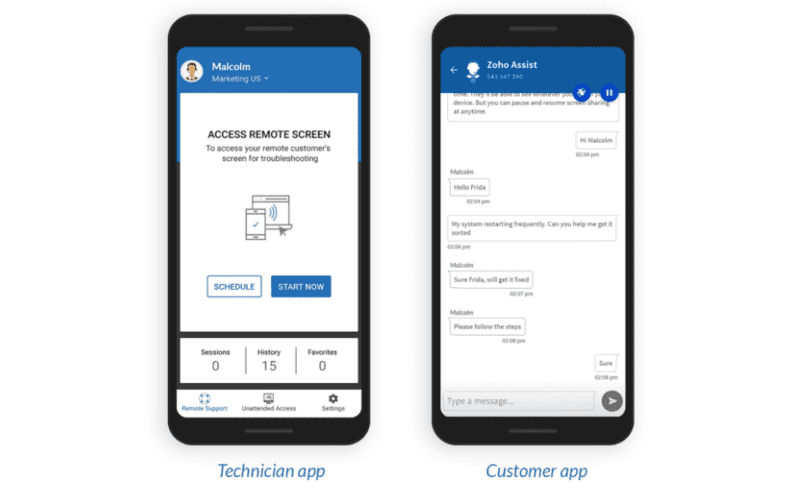 Features:
•

Instant establish remote support sessions.

•

Perform unattended administrative functions.

•

Transfer files.

•

Voice, text, and video chat.

•

Remotely reboot and reconnect to devices.

•

Multi-monitor navigation.
| | |
| --- | --- |
| | |
| Easily to establish connectivity; | Users may experience lag; |
| Multiple-monitor navigation support; | Remote calls can experience connectivity problems; |
| Secure and simple file transferring functionality; | Continuous Internet connectivity is required to ensure system stability. |
| Intuitive and user-friendly interface. | |
Price: Subscription plans start at $10 per month.
6. AnyDesk
AnyDesk is another popular iOS remote support solution that's great for accessing files and documents from a desktop, laptop, or mobile device. It offers users a lightweight app for recording sessions and collaborating remotely with colleagues.
After installing the small portable file, AnyDesk provides fast and reliable connectivity. Session security is implemented with access codes that are required to establish a connection. Screenshots can be shared among users and mouse or keyboard control can be performed by remote support teams to assist with problem resolution.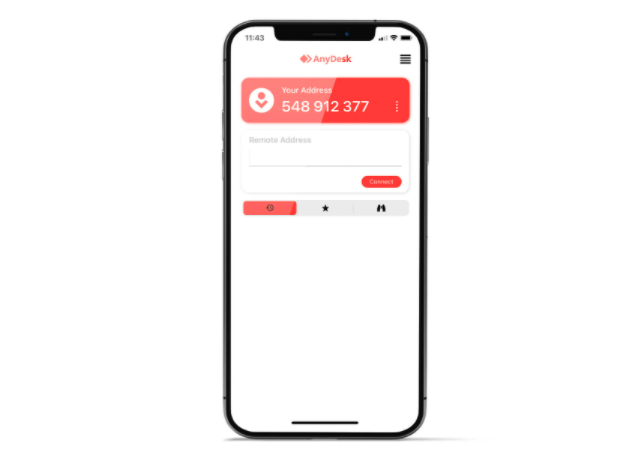 Features:
•

Wake-on-LAN functionality.

•

Supports remote printing from mobile devices.

•

Transfer files between desktop and mobile platforms.
| | |
| --- | --- |
| | |
| All major mobile platforms are supported by AnyDesk; | Requires installation of an app on your device; |
| Sessions are not time-capped; | Low-quality video capture; |
| Fast connections with low latency; | Copying and pasting items can be unreliable; |
| Lightweight installation file; | Remote desktop resolution varies. |
| Extensive keyboard shortcuts and a user-friendly interface for enhanced productivity. | |
Price: Plans start at $9.90/mo.
7. Splashtop SOS
Splashtop SOS offers end-users and support teams a convenient method of performing iOS remote support. Sessions are established on-demand and can be initiated by an end-user. The client accesses sos.splashtop.com to get a 9-digit session code. Support technicians use the Splashtop Business app and the code to securely access the remote hardware.
All the capabilities iOS remote support teams need to service a mobile workforce are available in Splashtop. Unattended access is available to update apps and schedule devices to be restarted. Technicians can share user screens to assist with problem resolution, share files by tapping and dragging, and access an on-screen keyboard on your iOS device.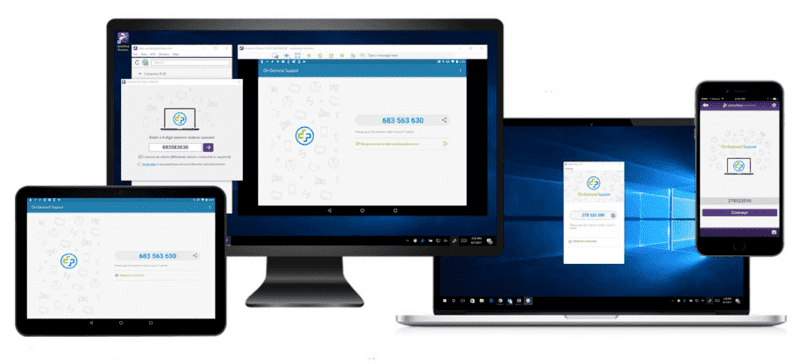 Features:
•

Supports on-demand access for Windows, macOS, iOS, and Android devices.

•

Remote reboot and reconnect functionality.

•

Enhanced collaboration with unlimited screen sharing.

•

Unattended remote access to macOS, Windows, and Linux machines.

•

Real-time viewing of remote iOS device screens.

•

Transfer files and manage users from the tool.

•

Per technician licensing to control costs.

•

Custom branding is available.
Price: Help desk plans start at $17 per month.
8. ConnectWise Control
ConnectWise Control Support links clients and support technicians, providing the means to remotely assist iPhone and iPad users as part of an overall remote help desk strategy. The tool enables mobile employees to access important files and apps from any location. It can also be used by centralized teams to support a mobile workforce and resolve problems remotely. This speeds up issue resolution while saving time and money.
End-users simply need to install an app on their mobile device and grant permission for the support team to view a tablet or iPhone's screen. The company is moving toward a cloud-based infrastructure that simplifies the security requirements when implementing ConnectWise Control. Businesses and help desks both benefit from the functionality of this remote iPhone support tool.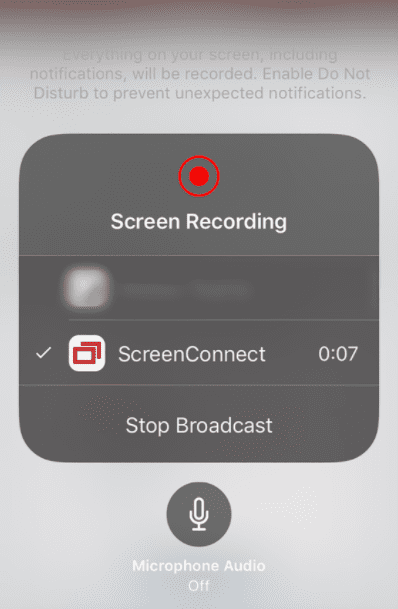 Features:
•

An existing control instance can be used to host or join attended or unattended remote support sessions.

•

Technicians can chat with users, transfer files, and send commands to their devices.

•

Remote workstations and computers can be controlled from a central location.

•

iPad and iPhone running iOS 11+ can broadcast their screens.
| | |
| --- | --- |
| | |
| The software can be deployed on a standalone or group policy basis; | It can be difficult to resolve support issues; |
| Many third-party add-ons add functionality to the tool; | Changes made in the portal are not reflected in the company information stored in the tool's backend databases; |
| Upgrading is a simple and streamlined process; | Users may prefer the older user interface over the new version. |
| Functionality to host and manage online meetings; | |
| A powerful command-line tool is included. | |
Price: Support team plans start at $39 per month.
9. Chrome Remote Desktop
Chrome Remote Desktop is a free solution that can be used to provide iOS remote support. Secure connectivity is ensured with one-time access codes shared between a user and the support technician so issues can be diagnosed and resolved without a physical visit to the equipment.
Chrome Remote Desktop supports accessing Windows, Mac, and Linux machines from any platform that supports the Chrome browser. The mobile apps that run on iOS and Android devices offer reduced functionality, but still provide an effective method of accessing remote desktops.
While the free features may be enough for some usage scenarios, the lack of some functionality makes it an inappropriate solution for other organizations. No support for remote printing, live chat or drag-and-drop file transfers makes the tool less effective in some cases. You can still transfer files, but need to use Google Drive to share them.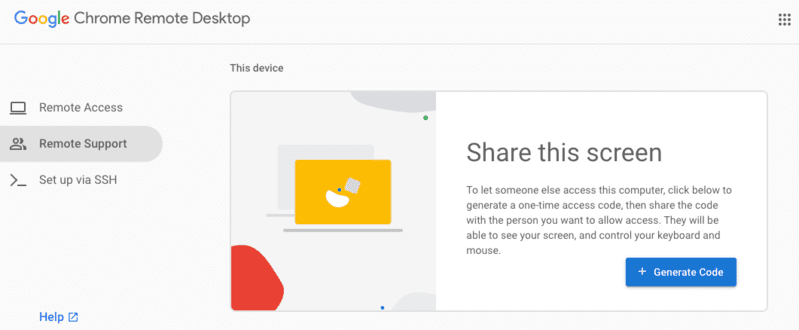 Features:
•

Simple remote access solution from all platforms.

•

Secure connectivity with a one-time access code.

•

Mobile app to connect to desktop while on the go.
Price: Free.
10. LogMeIn Rescue
LogMeIn Rescue helps improve customer satisfaction and loyalty by offering remote support for iOS, Android, and macOS devices. User problems with iPhones or iPads can be easily resolved with a remote web session.
LogMeIn can help centralized support teams perform remote support for iOS devices. They can demonstrate features to new users, configure settings on remote devices, and take control of a device to streamline problem diagnosis and resolution.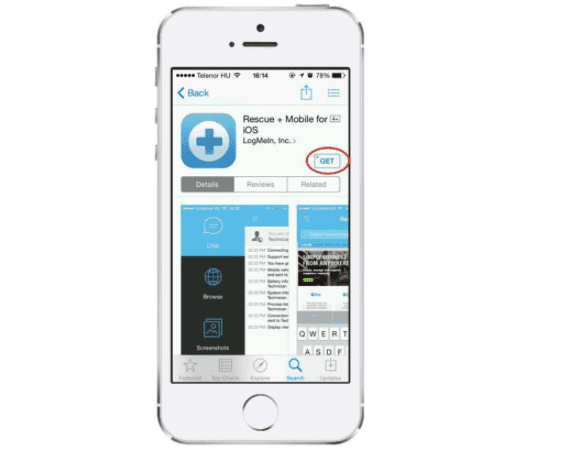 Features:
•

Customers can share screenshots automatically by uploading them to a connected support specialist.

•

System information can be pulled directly from the device using LogMeIn.

•

Tech support members and users can use the co-browsing option to work together in a browser window to address the issue efficiently.
| | |
| --- | --- |
| | |
| Improved customer satisfaction is driven by faster resolution of end-user problems and more efficient training solutions; | The interface can be complicated for new users; |
| Lowered costs by reducing onsite technical support calls and streamlining ticket resolution; | Minimal report capabilities; |
| Enhanced support team productivity by enabling multiple remote support sessions to be opened simultaneously. | Short timeout when sessions are not in use. |
Price: Plans cost $108.25 per month.
Comparison Table of the Best iOS Remote Support Apps
The following table compares the best remote iPhone support software solutions to help you decide which may work for your situation.
FAQ
AnyDesk and other remote tools are only secure if users take the necessary precautions to protect their credentials. If credentials are protected, encryption and other security measures in the software will keep the connections safe.
The following procedure illustrates how to use the HelpWire app to remotely access an iOS device.
The client attaches the affected iOS device to the computer running HelpWire via a USB port.
The client then logs into the HelpWire account and waits for a support specialist to initiate a session.
The client uses the live chat feature to describe their problem to the support team.
The technician accesses the iOS device over the network. The same functionality is achieved as if the device was locally attached to the technician's computer.
The support specialist resolves the problem and terminates the session.
Yes, ISL Online is safe to use as long as you maintain control over who can access your devices. ISL Online has extensive security features built into the software and has passed multiple third-party audits and penetration tests. The tool offers a secure method of performing remote iOS support.