Are you looking for great remote desktop software, but all you can find are the apps that ask you for money even before you download them? The HelpWire team understands your struggles! That's why we've gathered a list of TOP 17 remote desktop tools for MacOS.
However, some of those apps are not entirely free. They have a free premium trial that allows you to test their features and decide if you like the application. So, we've splitted this article into 2 parts: entirely free applications for personal use and software with a free trial for business purposes.
Top Picks for Free Remote Desktop Software on Mac
There are dozens of RDP tools, but only a few allow free personal usage. We've tested all free and freemium tools to gather you the best options. Some remote desktop apps for Mac are free for personal usage, while others provide just necessities for free or offer a long trial period. If you need remote desktop services for business purposes, check another part of the article.
1. TeamViewer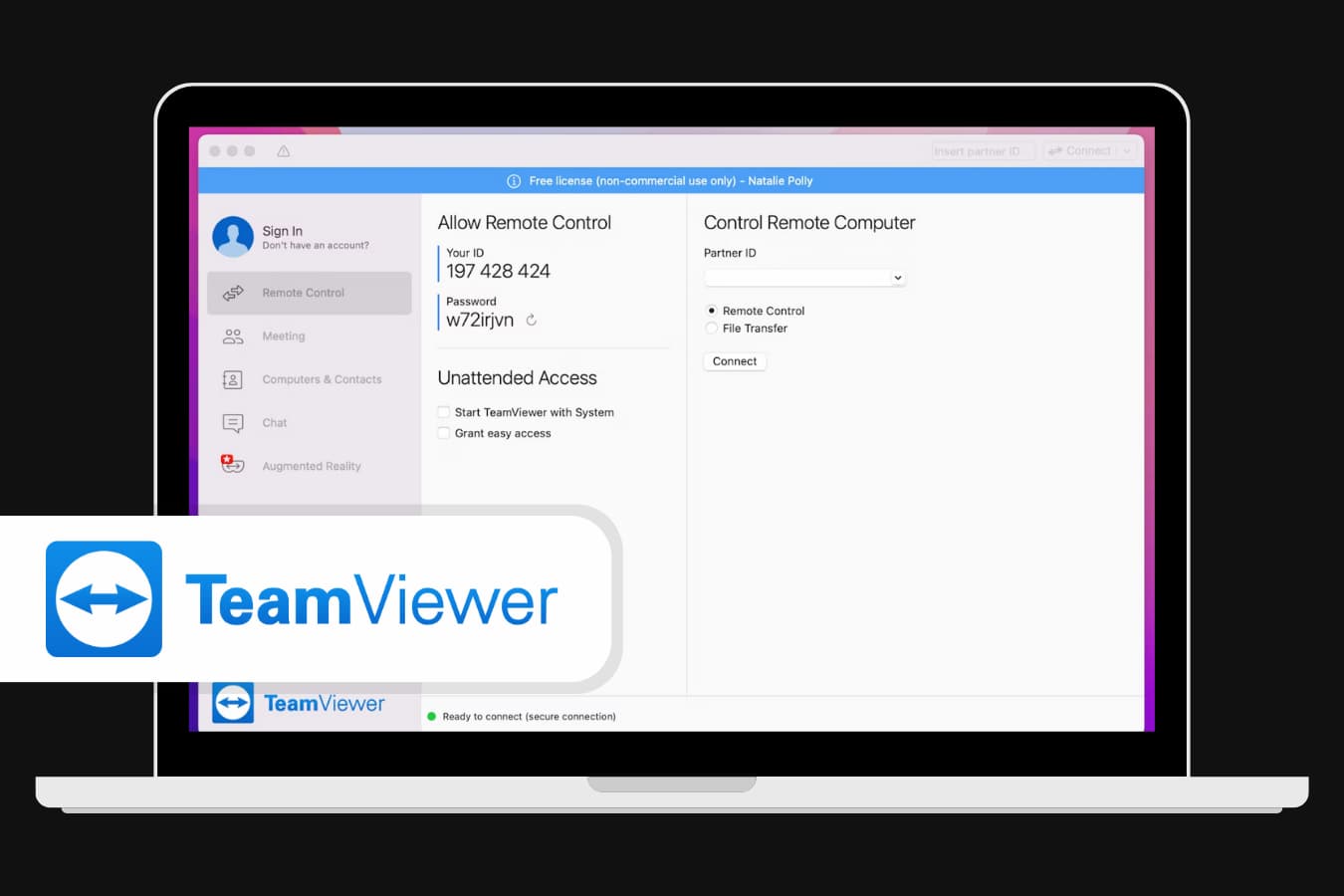 TeamViewer the first and most popular free remote desktop Mac app that works with all common systems. It's available even for mobiles on Android and iOS. You can get remote access to your Mac from a Windows computer or your mobile and vice versa. You'll get full device control, including file transfer, in-session automation, and remote printing.
☝ Pay Attention:
It has a user-friendly interface, so you'll figure out how to use this application within minutes. Simply install TeamViewer on both devices and link them in the app. It's free for personal usage, but business users should use one of the affordable paid membership options.
2. Microsoft Remote Desktop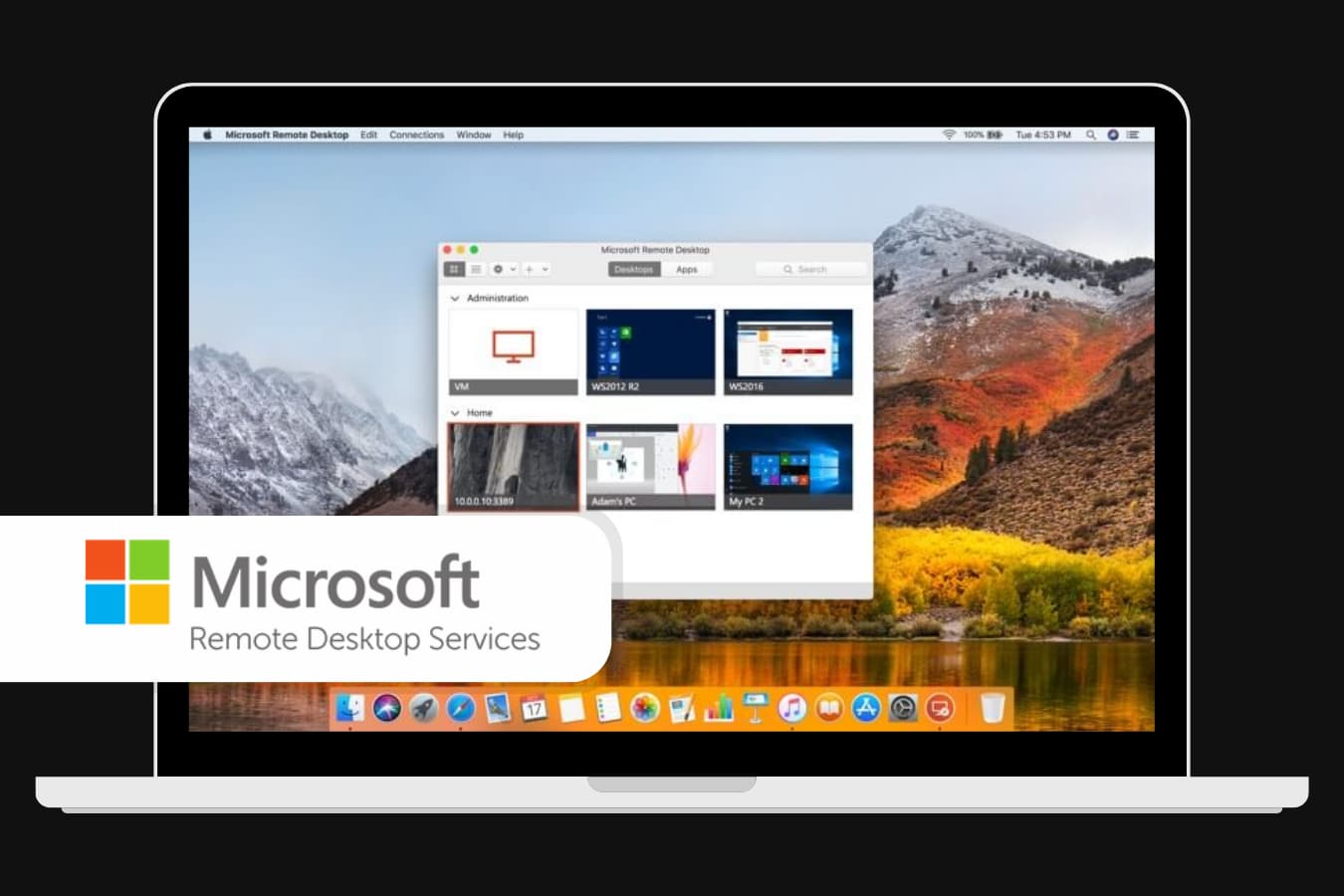 It's one of the best free RDP for MacOS and Windows. As the name suggests, this application is a part of the Microsoft ecosystem, allowing you to access and control Windows-based devices remotely.
It's compatible with Windows, MacOS, iOS, and Android. To enable remote access, run the app Microsoft Remote Desktop on a Windows computer. After this, launch it on another device and enter login credentials and IP address.
☝ Pay Attention:
This tool allows you to freely manage files and even run applications as the admin, which makes it one of the best RDP clients for Mac that is giving all the necessary features for free. Just make sure that you run up-to-date systems, especially Windows.
3. Chrome Remote Desktop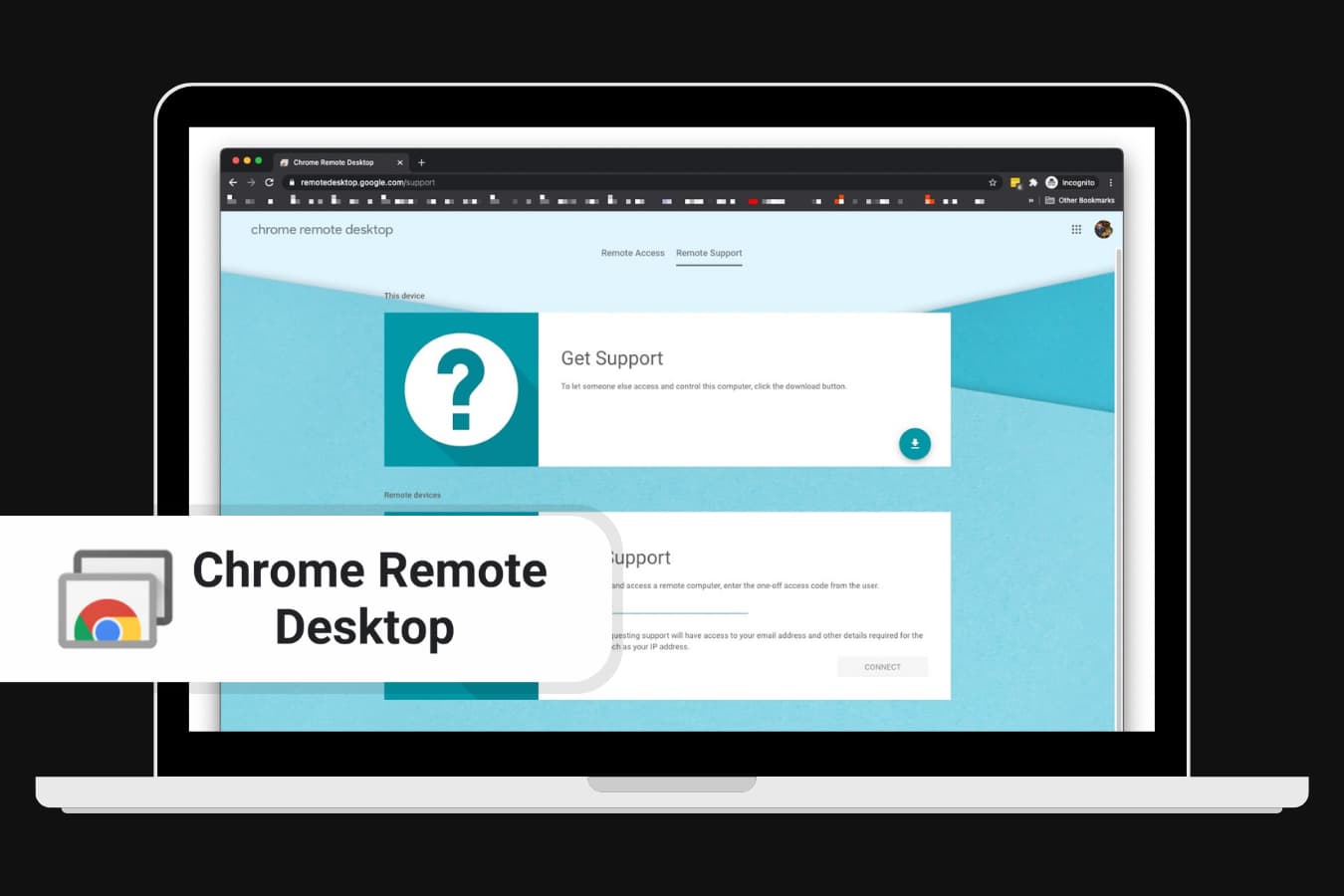 Another great free remote desktop software for Mac. You don't need to install it as a separate app, you can run it as a Chrome extension. It uses the latest open web technologies like WebRTC, so you don't need to worry about safety.
You can access your Windows computer remotely with full file access and provide tech support to your family and friends. Ensure that both devices have a Chrome browser with this tool and sign into the same Google account.
4. AnyDesk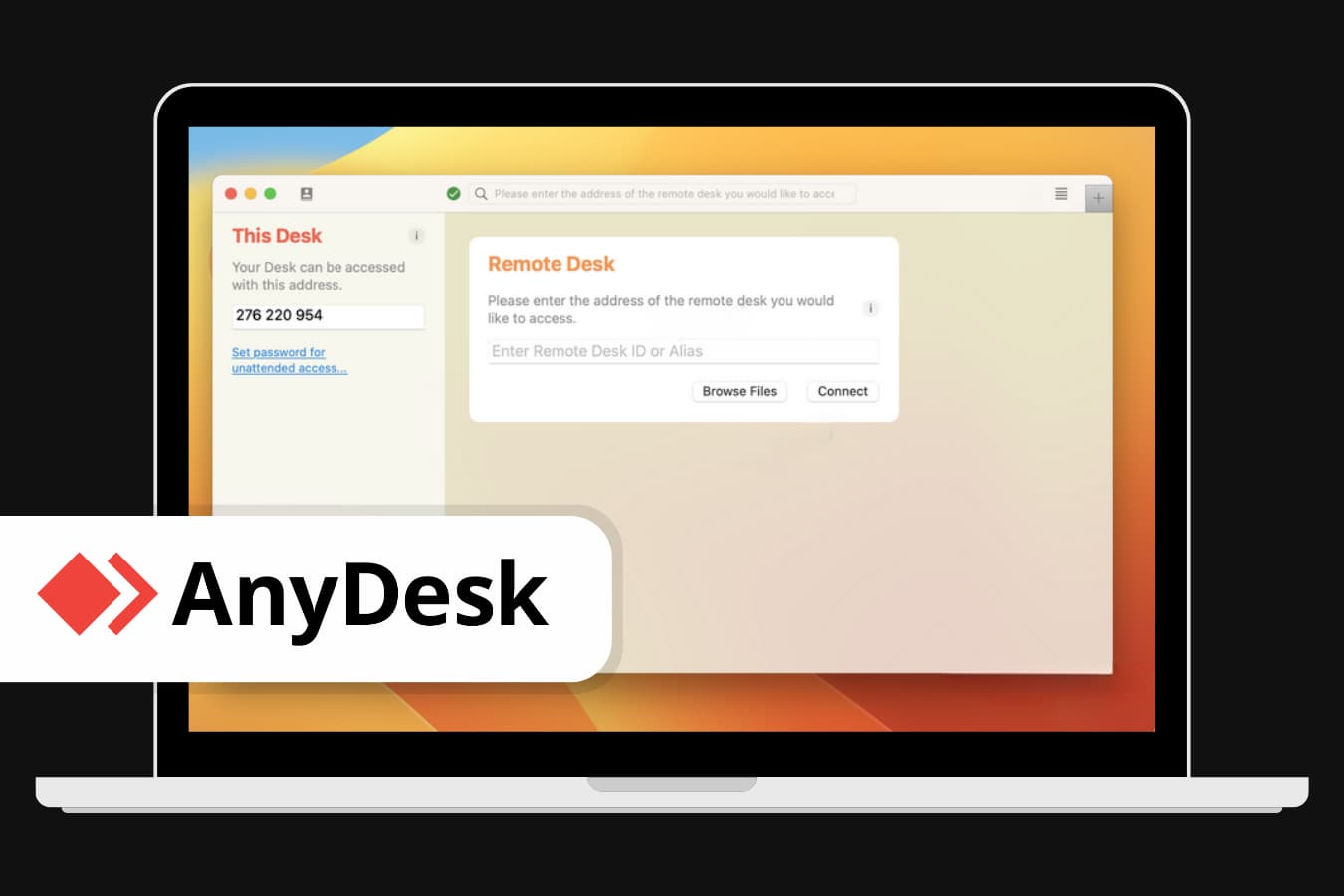 You can find this tool in any list of free remote desktops for Mac for a good reason. It's a great tool that works on all common platforms. To launch the remote access, install AnyDesk on both devices, set login and password on the first (client) device, and share these credentials with the owner of the second device. Once they paste it, the client confirms the connection.
☝ Pay Attention:
From that moment, in the free version, you'll get full remote assistance, including remote printing, address book, and file transfer. With a paid membership, you'll get remote access, wake-on-LAN, custom branding, and more.
But even the basic version will be enough to do most remote tasks. That's why this tool deserves its title as one of the best free remote desktops for Mac.
5. Remote Desktop Manager by Devolutions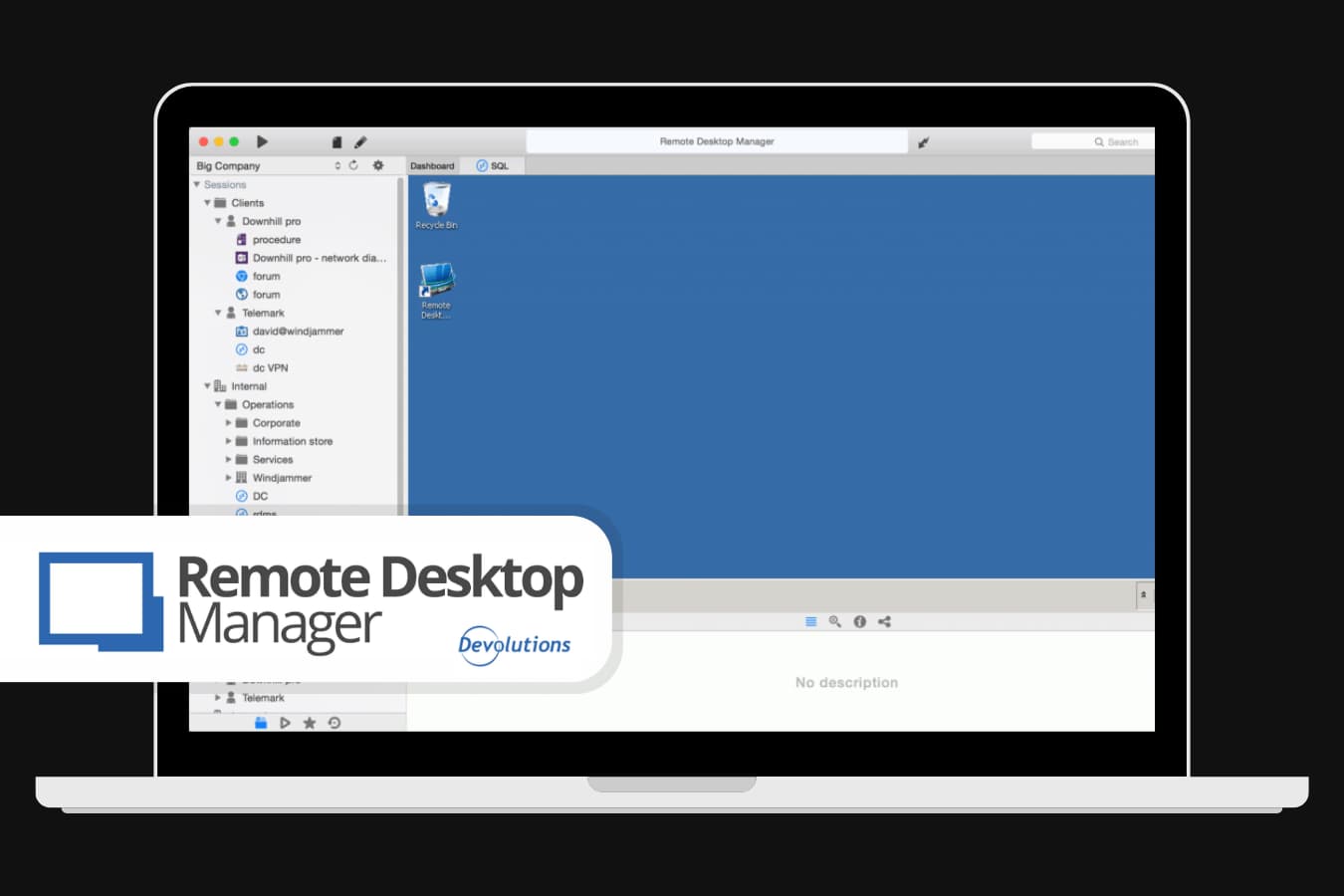 It is a tool that allows you to set up and manage multiple remote connections simultaneously in the free version. It also gives you a full password manager via shared password vaults.
Administrative password sharing permits all admins to securely manage shared accounts and passwords. Private user vaults securely store private credentials of every user. So, Remote Desktop Manager by Devolutions will be one of the best free remote desktop software for Macs for households with at least one shared computer for the family. This usually happens when younger generations want to teach their elderly relatives basic computer skills.
☝ Pay Attention:
The paid Enterprise version suits businesses of every size. It supports integration with popular password managers, allows role-based control and two-factor authentication, and provides multiple vaults and data sources.
6. DWService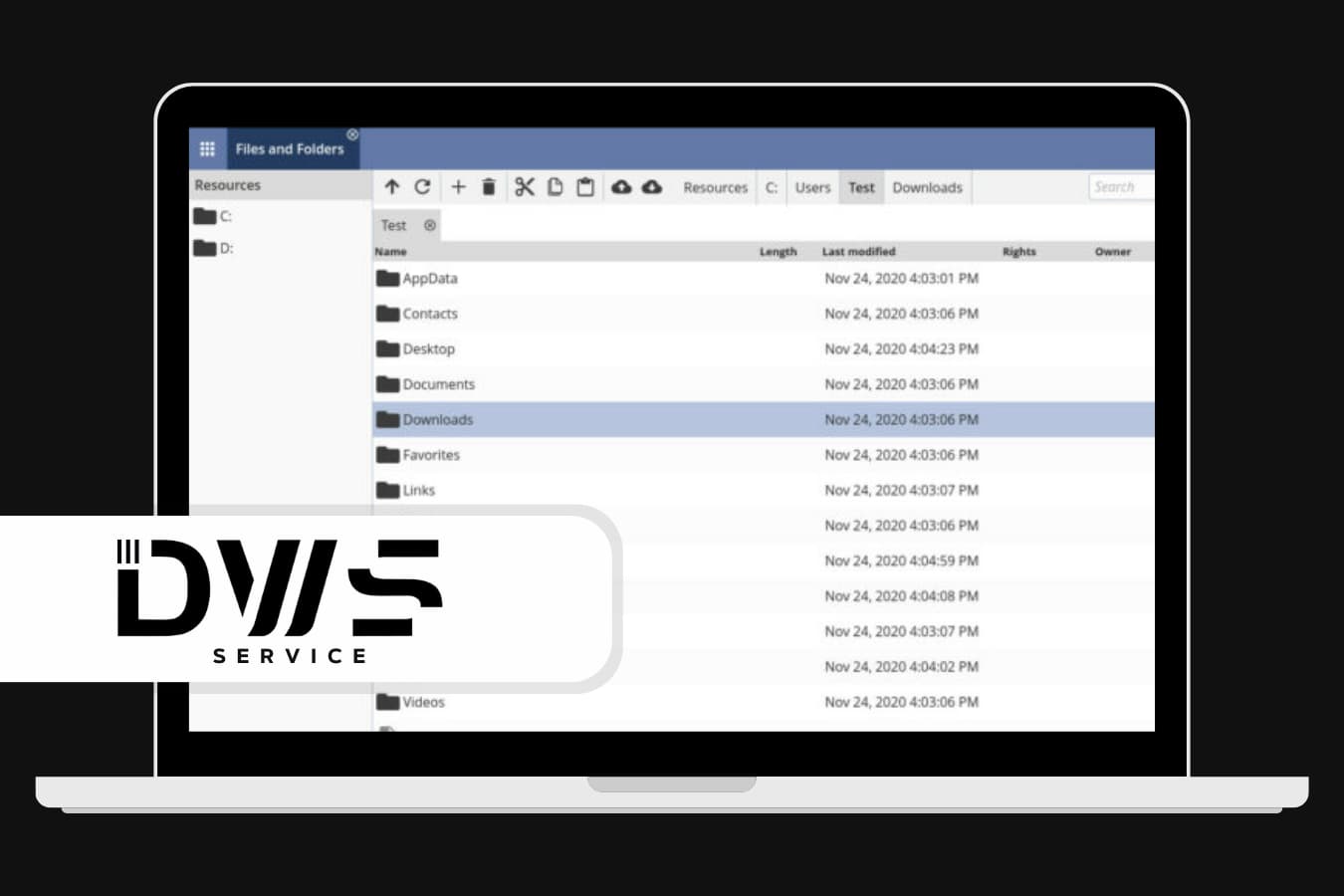 It's an open-source application for computers and mobiles. Moreover, you can access other computers from the browser, which makes DWServise one of the best free Mac remote desktop solutions.
You just need to have the app on the client's device and share credentials (login and password) with another user. Later, they can enter it on the app or the DWService website. The second user will get the same features and access level in both situations.
☝ Pay Attention:
In the free version, you are limited to the 6 Mbps bandwidth, which will be enough for basic tasks and managing the file system of the connected device. The majority of DWService sub-tools work even in the free version, including resource monitor, terminal sessions, log watches, and displaying everything that happens on the client's screen.
7. GetScreen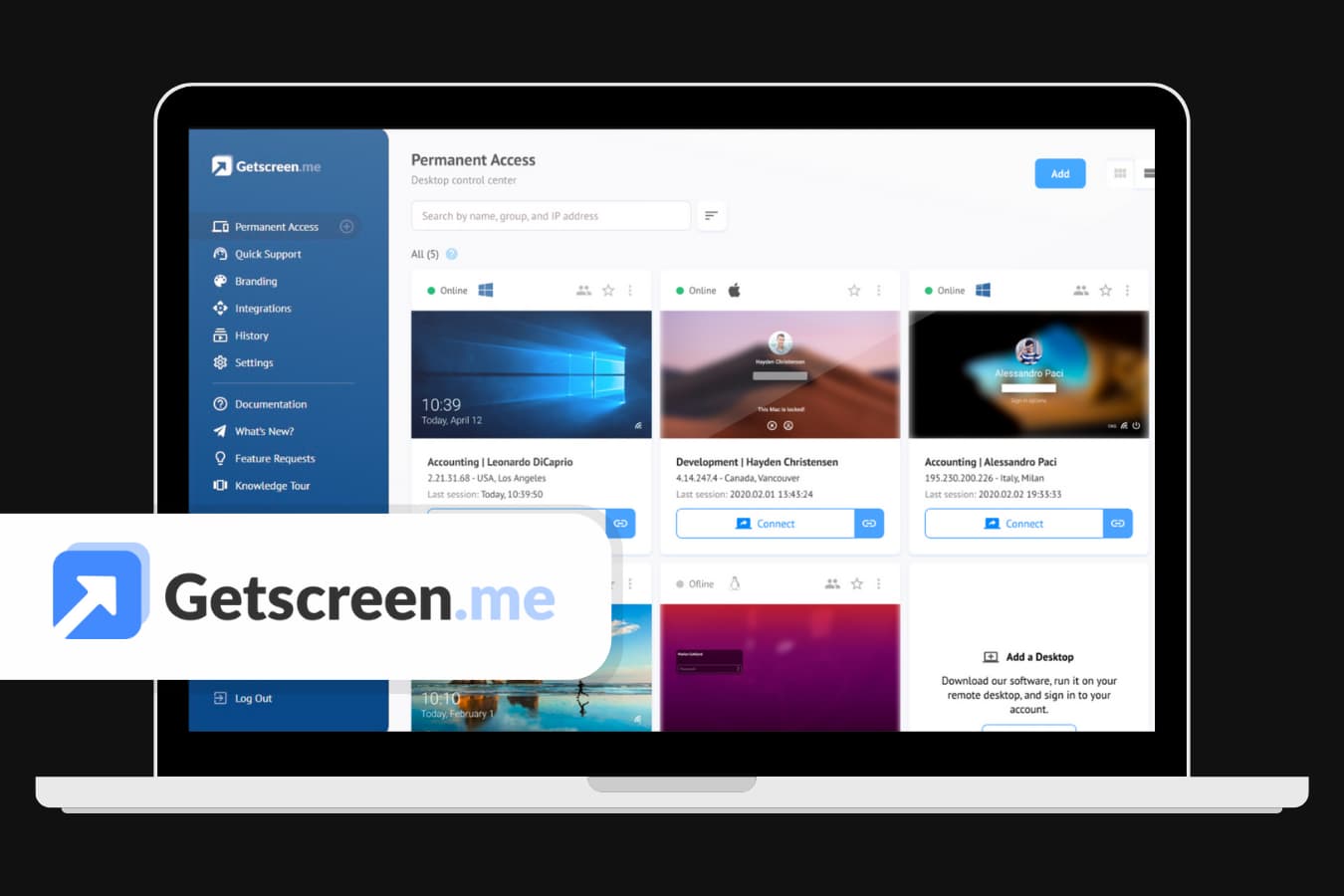 This is another free Mac remote desktop with direct access from the browser. You don't even need to have the app to manage a remote device. The connection algorithm is similar to the previous tool: the client launches the app and shares credentials with another user, who enters this data in the GetScreen app or site.
☝ Pay Attention:
In the free version, you will get basic remote access features, like a contact book, link personalization, system commands, and share access. If you want to get wake-to-LAN, black screen, video recordings, and other advanced features, consider paid membership.
Table of comparison
To make things easier for you, we have thoroughly examined the data obtained during our comprehensive evaluation of free remote desktop tools for MacOS.
Best Remote Desktop for Mac for Work and Business
In the previous part, we've reviewed Mac's free remote desktop for personal usage. Those solutions may be great for situations where you only need them periodically. If you want to use remote access tools for business purposes, we recommend you the following services.
1. GoToMyPC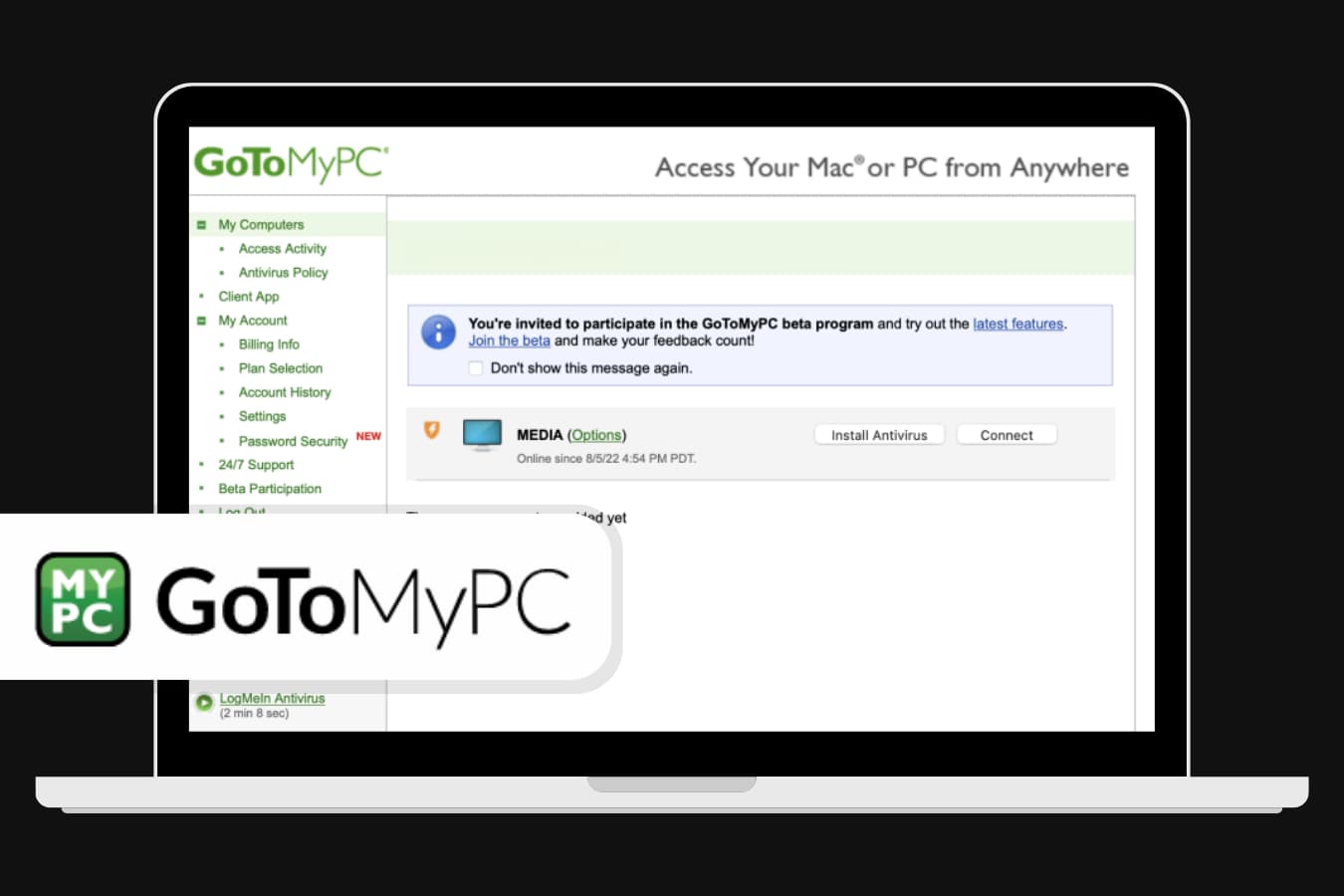 This is a great remote desktop tool for Mac and Windows. This tool has one of the minimal lag times due to highly compressed data transferred between devices. It has all crucial features like guest invites, screen sharing, remote printing, drag-and-drop file transfer, and more.
GoToMyPC For Mac is suitable for home users, small businesses, and corporations as it sets up everything automatically. As a result, GoToMyPC is a common choice among companies and corporations that allow employees to work from home.
💸 Price:
Personal users could choose the Personal plan with basic remote desktop features. It will cost them $35/month for a device. Small companies should pick Pro Plan, which costs $33 for a computer per month. It unlocks far more remote management opportunities, including admin accounts, monitor usage, and comprehensive reports. You can connect from 2 to 50 devices there.
☝ Pay Attention:
Medium and big companies will mostly like to sign a Corporate plan with unlimited computers to connect, wake-on-LAN, single sign-on, remote deployment, and many more features to explore. Its pricing starts from $28.00/month for a single computer. You should connect at least five devices in that plan.
2. RemotePC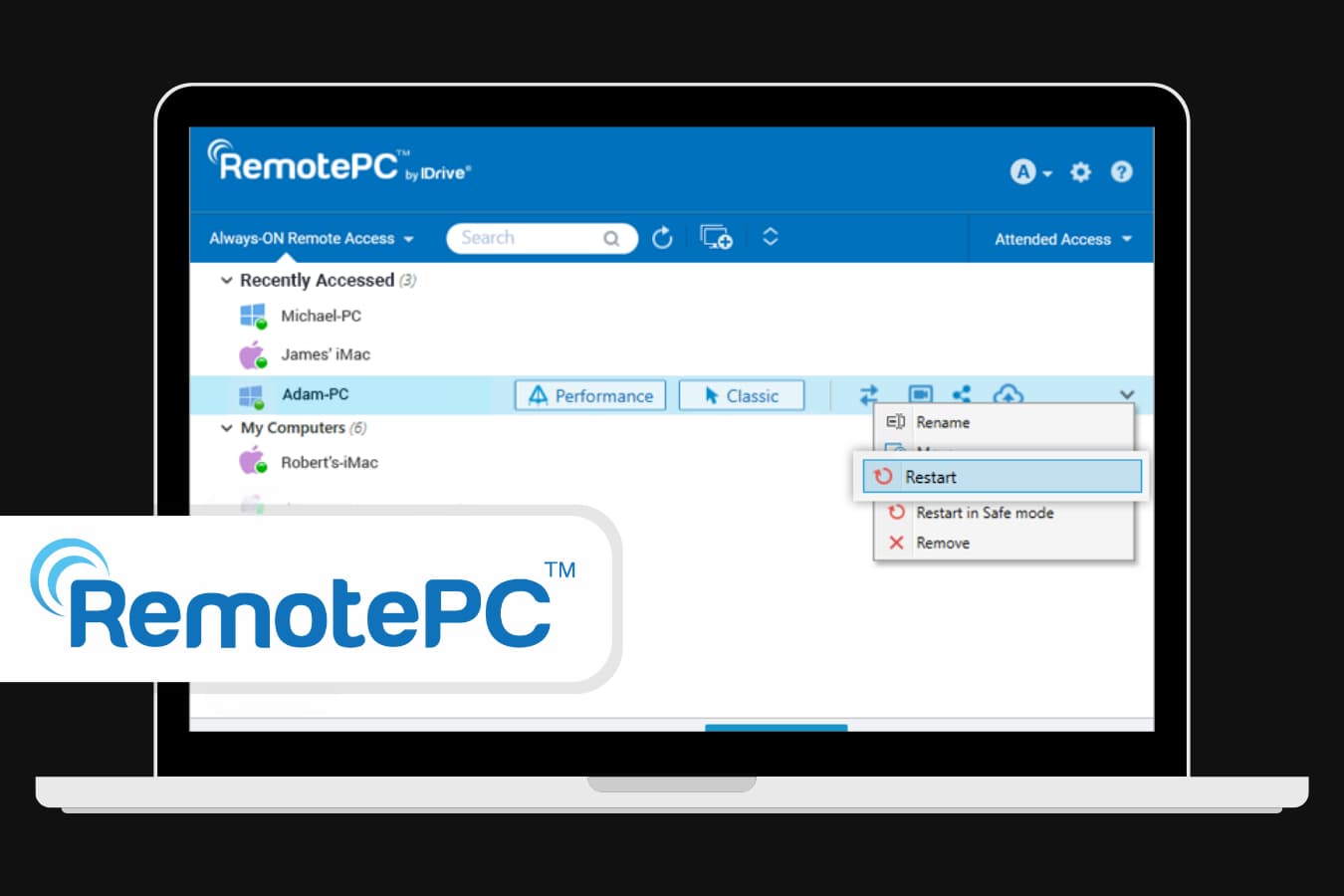 One of the most popular remote Windows tools finally gets a macOS version! It allows you to connect to other Windows PCs, Macs, and mobile phones within minutes. You can connect to other devices both from the app and web browser.
☝ Pay Attention:
RemotePC supports always-on remote access, drag-and-drop remote access, remote printing, and reboot in the basic version. You can choose the performance quality by toggling between Better Quality or Better Speed.
💸 Price:
This tool has the most affordable price on the list: the basic Consumer plan costs $24.50 a year, but you can get it for $18.40 on sale. More advanced plans will cost you from $50 to $600 yearly. New users can get a 50% off discount and test their chosen membership in a 7-day trial.
3. Zoho Assist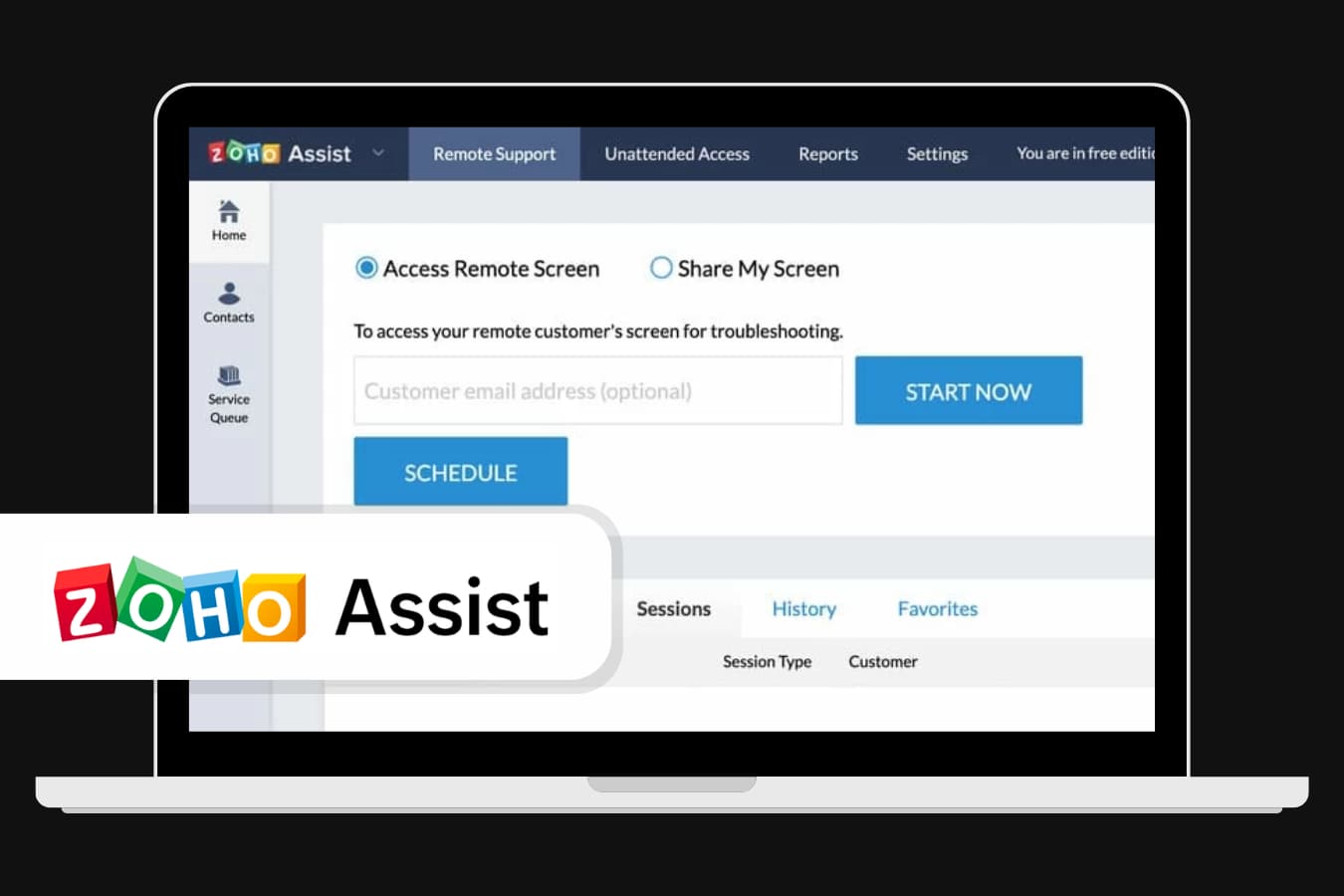 Zoho Assist has a user-friendly interface that is easy to navigate on any device. Your connection will be protected with advanced security measures. They include two-factor authentication, 256-bit SSL encryption, and an action log viewer.
☝ Pay Attention:
Secure remote desktop with multi-monitor navigation, session transfer, screen capture, and multiple concurrent sessions even in the basic version. In more advanced variants it supports mobile apps remote access, screen sharing, session recording, custom domain mapping, bulk deployment, and many more.
💸 Price:
There is even a free plan with limited features. You can test any paid subscription under the 15-day trial option before providing credit card information to the service. Paid plans start at $10 per month
4. LogMeIn Pro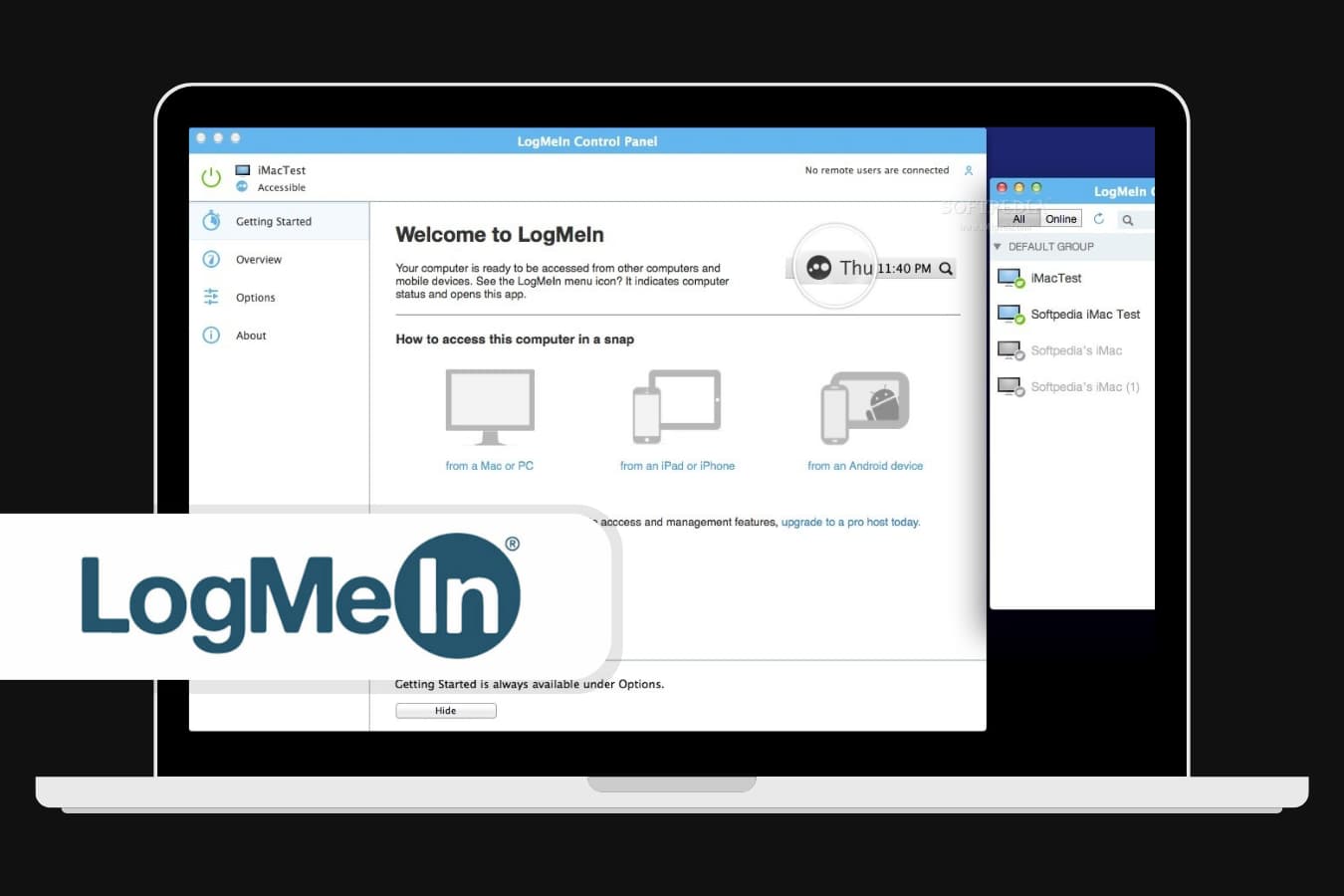 It's a powerful remote desktop solution that works greatly for individuals and businesses. LogMeIn Pro has a remote control, password management, multi-monitor display, and 1 TB storage in all plans.
💸 Price:
This service is pricey compared to other options. Individual plans start at $30/month, small companies can get Power Users plan for $70/month for 5 computers, medium size companies can sign into the Small Businesses plan for $129/month for 10 computers.
5. Jump Desktop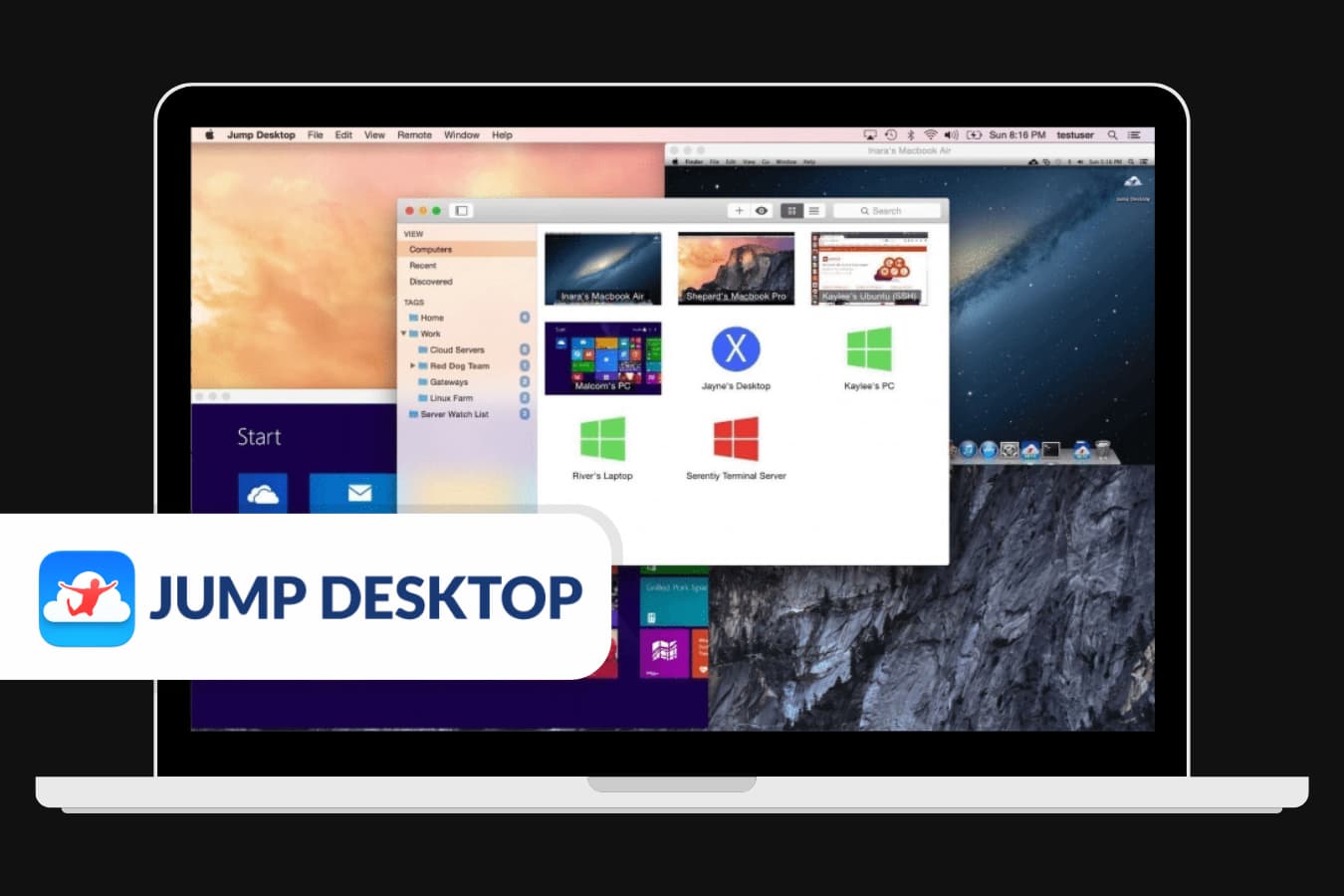 Jump Desktop is a great remote desktop tool that works on MacOS and even iPhone and iPad! It's easy to install and operate. It supports open standards. You don't need to install additional software to connect your device if you already have an active RDP or VNC configuration.
☝ Pay Attention:
Built-in SSH and TLS/SSL support protect your connection from possible attacks. It supports audio streaming, printer and folder sharing, multi-monitors, touch redirection, RD Gateway, and international keyboards. You can use your favorite MacOS shortcuts on a remote Windows computer. It's a unique feature that provides an even more seamless workflow than other remote clients. Collaborative screen sharing allows you to invite multiple users to connect to a single computer.
💸 Price:
Jump Desktop is a budget-friendly solution. It will cost you $9,99/month ($7.99 if billed annually) for the Pro version and $19.99/month ($15.99, respectively) for the advanced Enterprise option.
6. Splashtop Personal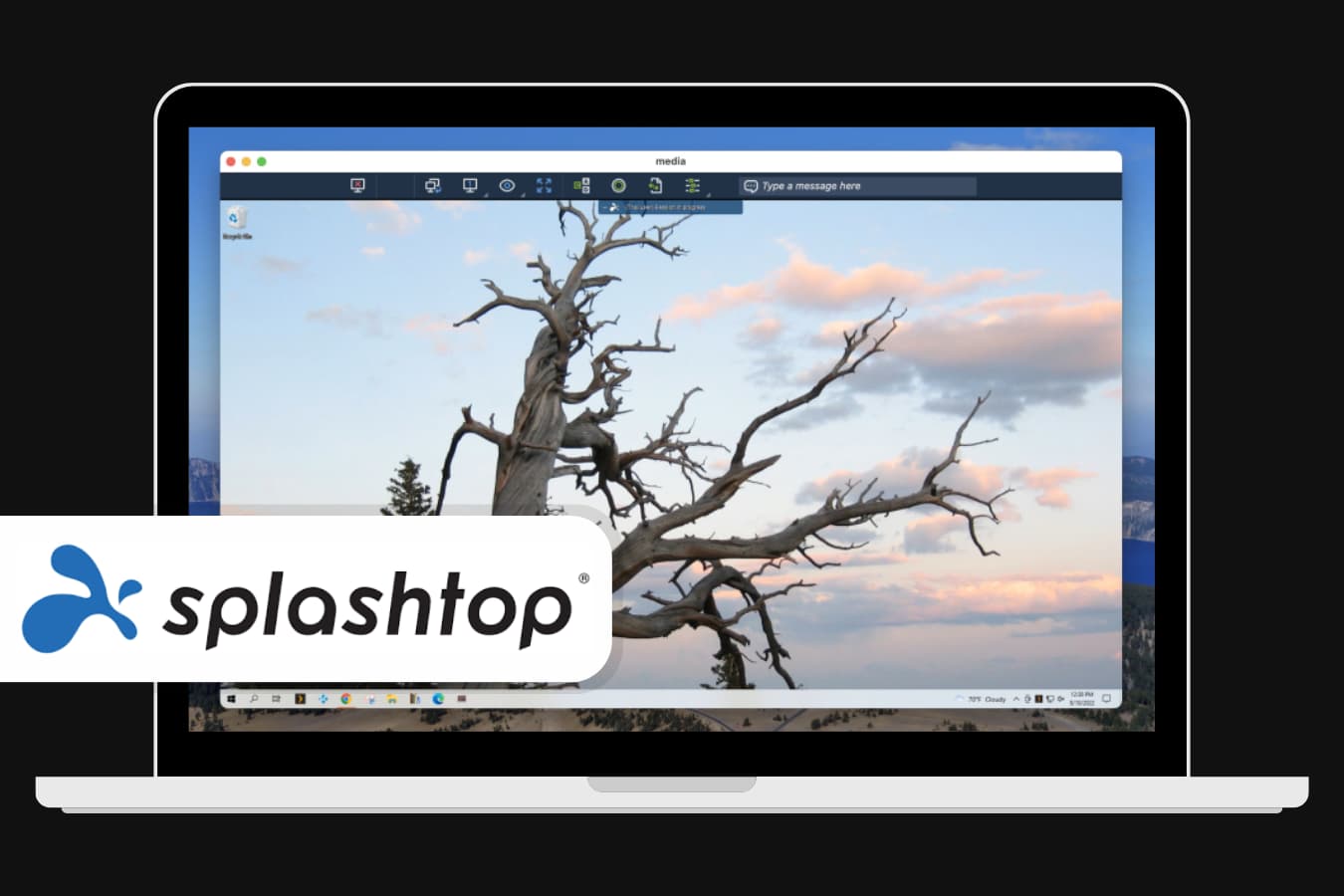 Reliable and efficient remote desktop solution for personal and business usage. Splashtop has 4 different products for different purposes.
💸 Price:
Individuals and small teams will like Splashtop Business Access with three plans: Solo for 1 remote PC and $5/month, Pro for up to 10 computers under a single license only for $9/month, and Performance for $12/month.
They all have advanced security, and you can specify the access level of each team member. They all allow unlimited file transfer and remote printing.
☝ Pay Attention:
Multi-monitor support in Pro and Performance plans allows you to spread each remote monitor into a separate window to arrange for your local setup. They also have wake-on-LAN and remote reboot features. Performance mode would be perfect for those who often work with photos, video, or music. It even has a microphone passthrough function, allowing you seamlessly use recording software on the remote device.
7. SupRemo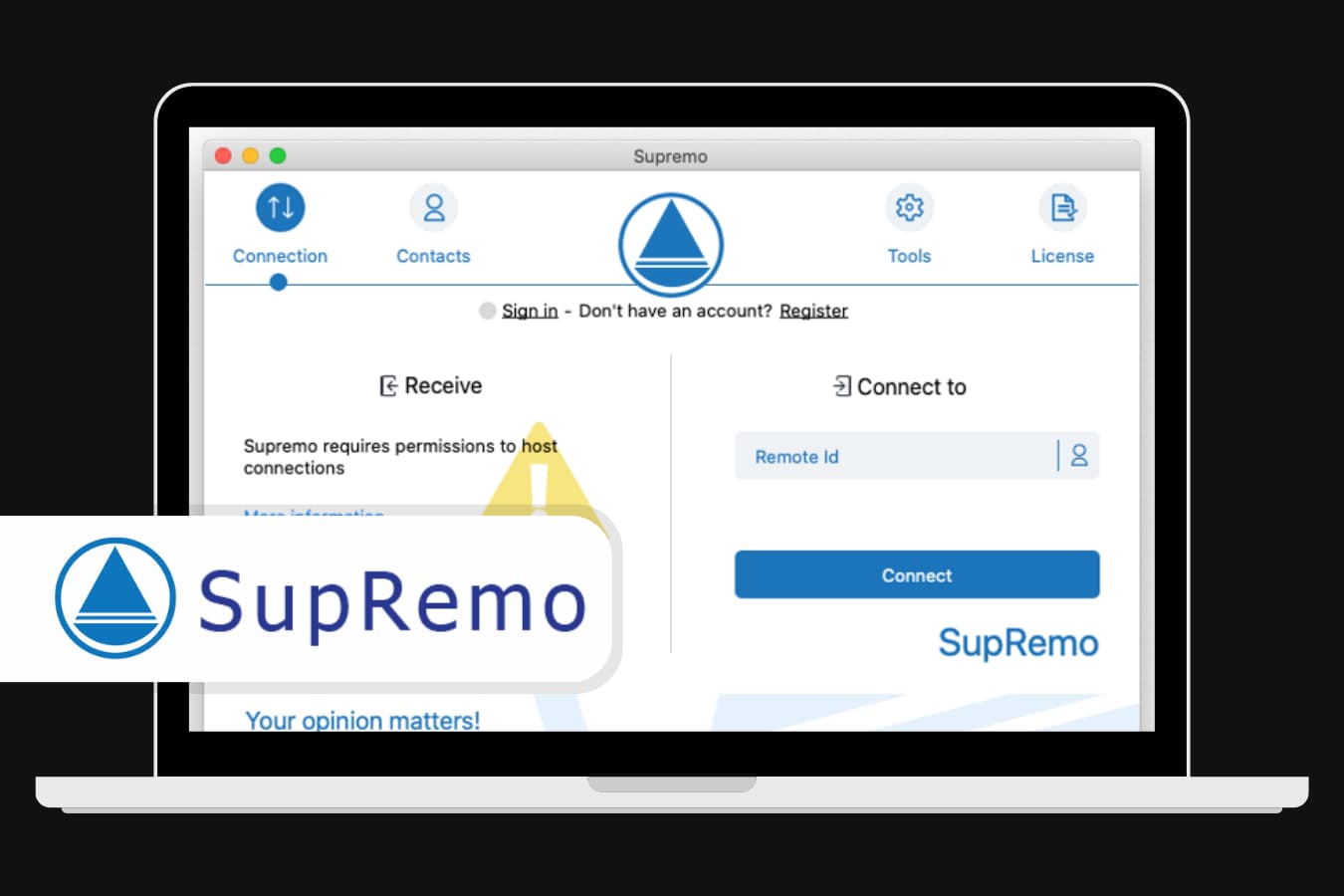 It is a very easy-to-use remote desktop app for all common desktop and mobile platforms, including MacOS and Linux. SupRemo has an unlimited number of enabled device users, remote endpoints, and address books in every plan. One thing worth noting is the number of concurrent connections.
☝ Pay Attention:
In the basic Solo plan, there is just one connection. In Business and Professional, you can have up to 100 concurrent sessions. It has multi-monitor support, chat, file transfer, and remote printing in each subscription. Pro users will get automatic and massive installation, license usage control, remote management, and device health monitoring.
💸 Price:
As for mid-2023, this service doesn't have a free version, but it offers you a 21-day trial where you can test every premium feature. Solo membership price starts from $8/month, a Business subscription will cost you $15, and Professional pricing starts from $32/month. Both advanced plans have 3 concurrent connections in basic pricing. Each additional concurrent session will cost you $5/month.
8. Apple Remote Desktop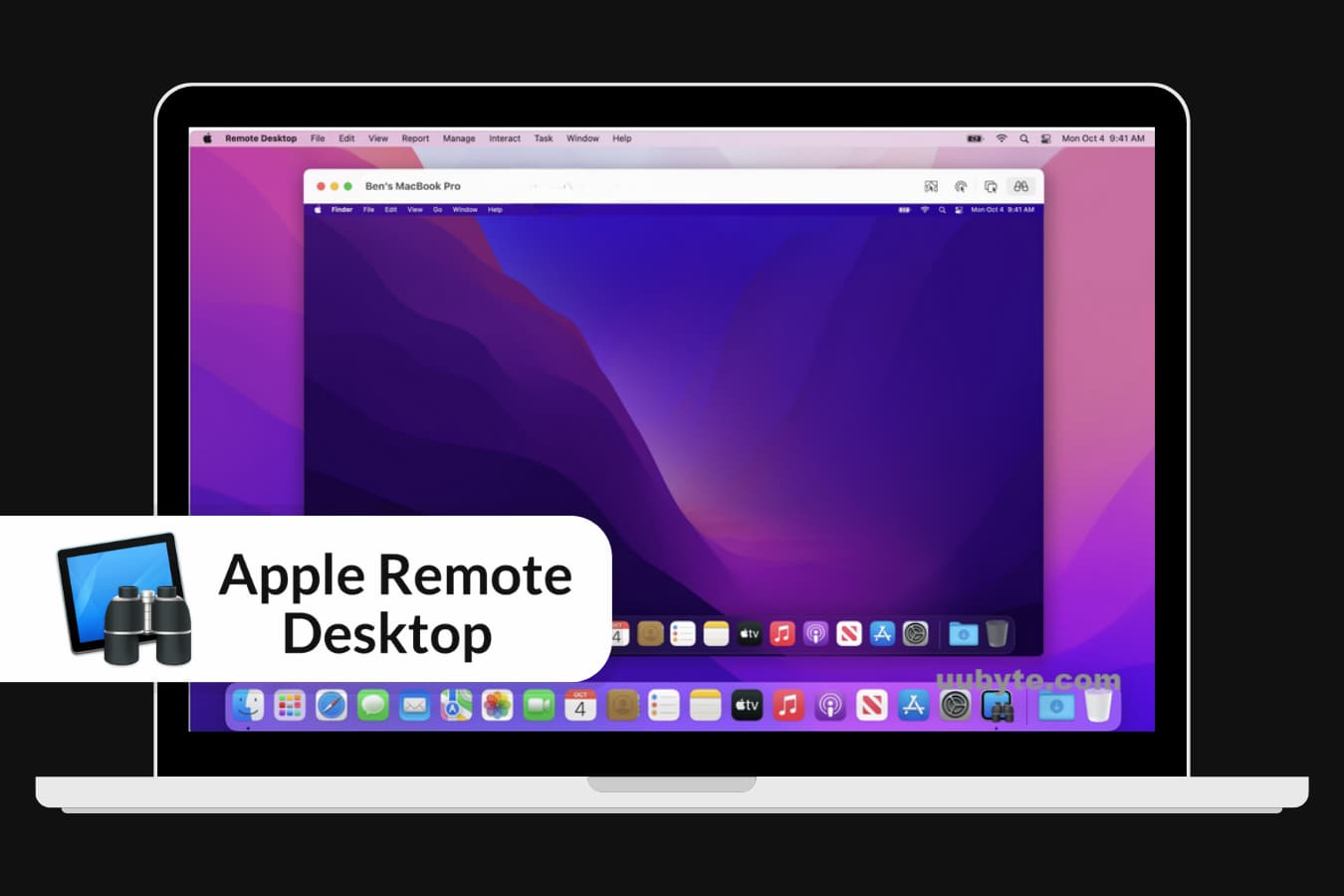 Apple Remote Desktop is the native RDP tool for MacOS devices. You can manage MacOS and iOS devices from it. Unfortunately, there is no Android or Windows version, so you can't get remote access to your MacOS computer from those devices.
But due to its short list of available devices, this tool provides an almost infinite amount of remote control tools. You can access any files or apps as if you were sitting right in front of a remote device, including pushing UNIX commands and updating any app and program on the remote computer.
☝ Pay Attention:
Curtain Mode prevents end-users from viewing the screen while you control their devices. It's a beneficial solution for open-space offices where you want to keep information private.
Advanced report tools gather info on 200+ Mac hardware attributes and allow you to use a Task Server to assemble inventory reports, even from mobile systems not connected to the network.
💸 Price:
Apple Remote Desktop costs $79.99. It's pricey, but it's a one-time purchase. You don't need to re-buy it once a year.
9. Screens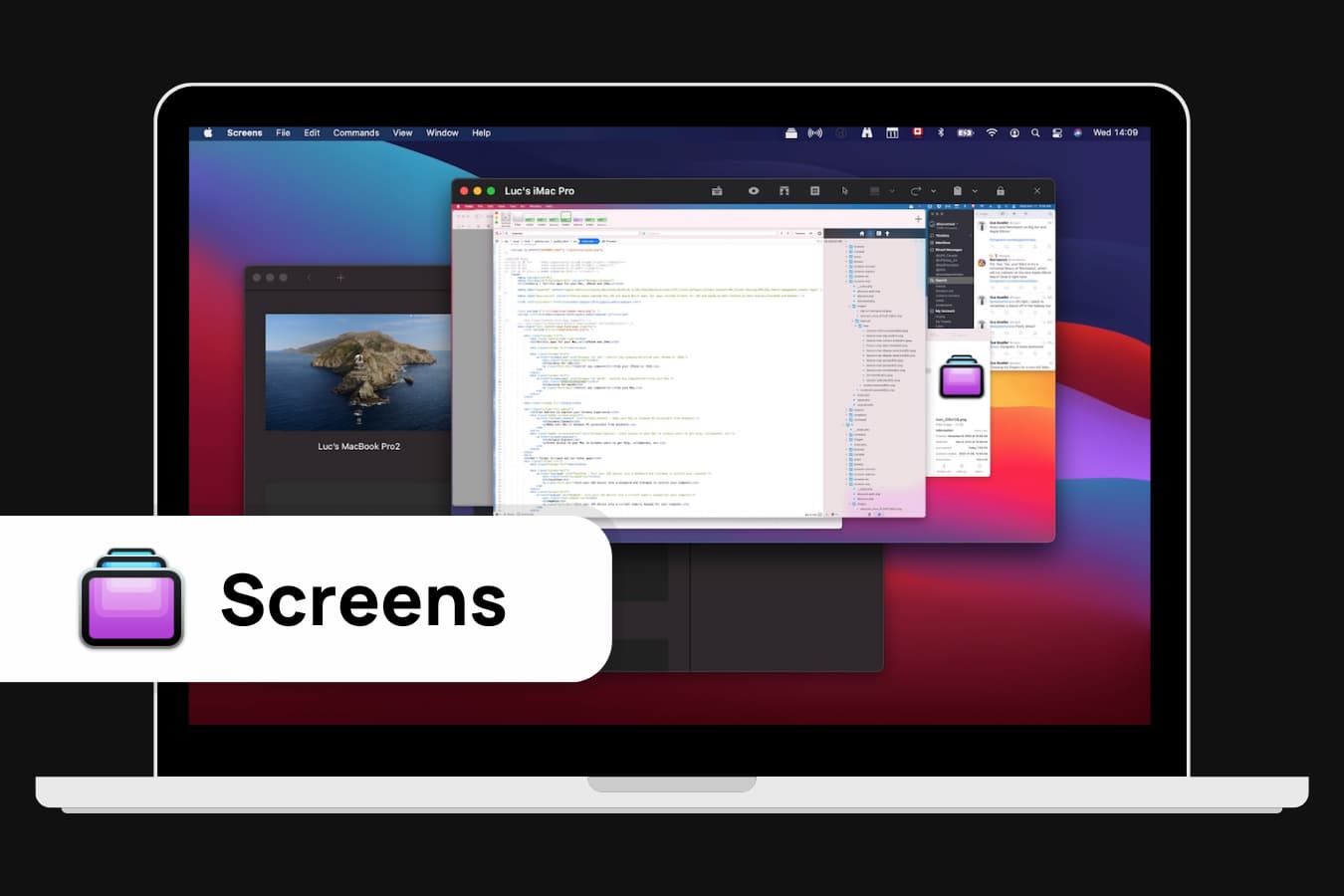 As the name gives a hint, Screens allows remote desktop assistance via a systems graphic interface. You can connect from your MacOS device to any other Mac, Windows, or Linux computer.
☝ Pay Attention:
You can use the same keyboard and trackpad shortcuts that you were used to on your MacOS. Moreover, you can turn your iPhone or iPad into an external trackpad.
With the Clipboard Sharing feature, you can exchange images, videos, rich text, URLs, and many more between two devices.Rather than being a standalone app, Screens comes with a collection of apps with the Setapp subscription and thus may even be one of the best value-for-money products on our list.
💸 Price:
It's a budget-friendly solution. Its price starts at $9.99 per month with the basic Setapp membership. Each extra device will cost you $2.49/month.
10. NoMachine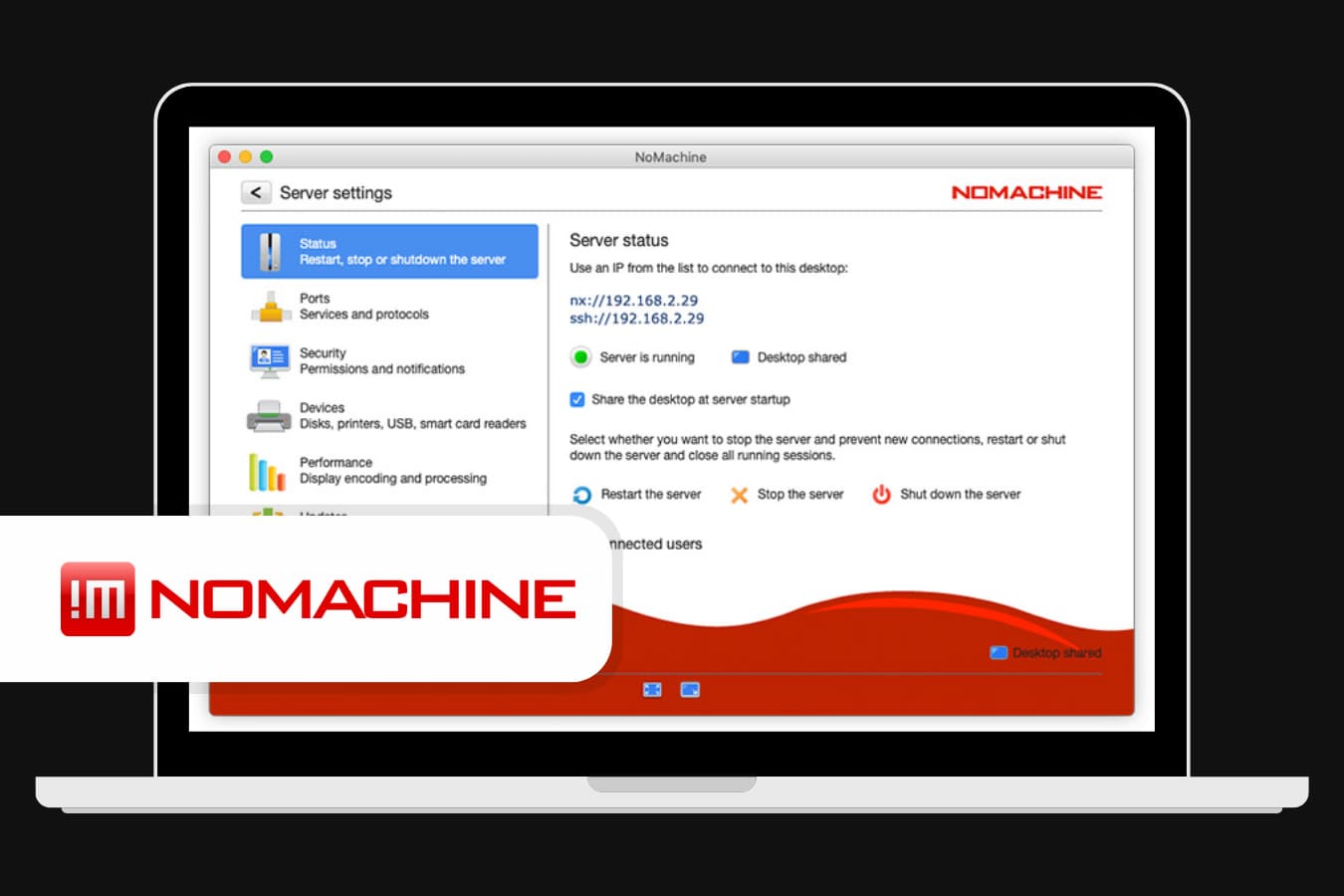 NoMachine is a great remote desktop solution that works with computers, phones, and servers. It has full multi-media support and user-friendly file sharing and remote printing interfaces. Guest sharing allows you to authorize guests to access in one click. With browser access, you can operate a remote computer from your favorite web browser.
☝ Pay Attention:
The screen recording feature is available in any plan, including non-commercial free. You can even turn on the automatic session recording, so you don't need to do it manually anytime you join the remote session.
💸 Price:
This application is free for basic personal purposes. It has more advanced business plans for big teams, terminals, and cloud servers. Their prices range from $44.50 to almost $4 500 per year. However, if you are looking for a basic remote solution, the free version suits your needs.
Table of comparison
Following an in-depth analysis of various remote desktop software for business on Mac, we have compiled a significant amount of valuable insights and data. Presented below is a summarized account of the major findings resulting from our comprehensive examination:
How to Use Screen Sharing to Enable Remote Desktop Connection
If you don't want to load third-party RDP, we understand you. That's why we want to share this trick with you. Modern MacOS computers have a built-in Screen Share option that could act like a VNC server, which you can use for basic remote connection actions. Use this instruction to enable this feature:
Click on the Apple logo on the top left part of the screen.
Pick System Preferences.
Find the General tab and hit the Sharing button. It looks like a pedestrian road sign.
Find the Screen Sharing toggle (usually among the firsts) and turn it on. If you want to enable file and printer sharing or other basic RDP functions, turn on relevant toggles too.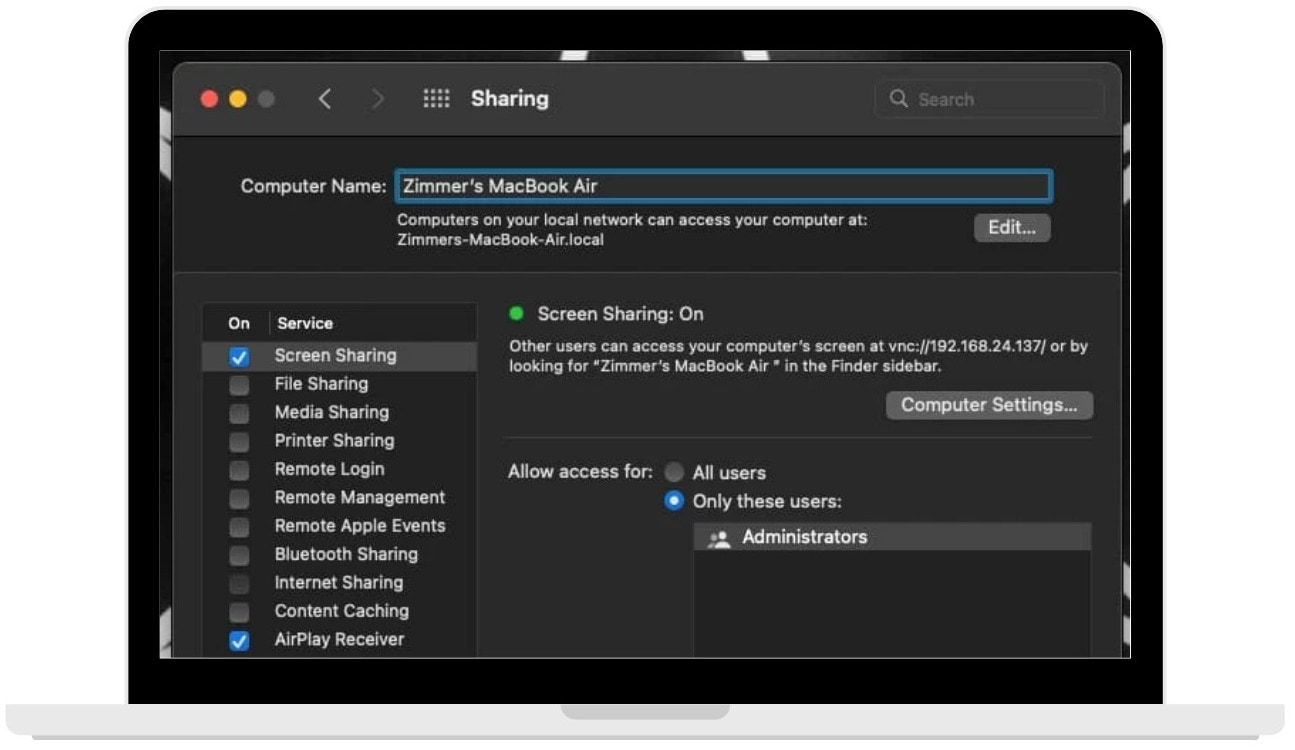 If you want to connect one Mac to another, stick to this guide:
Open Finder.
View the Shared section (located on the sidebar).
Pick the computer you want to access.
Choose Share Screen.
For those without a Mac (or who'd rather use an alternative VNC client), use the IP address displayed to connect. You should note that IP addresses (like on the screenshot) are internal IP addresses allowing a Mac to be found on a local network. So, you can't access this PC via a standard internet connection. There is nothing to worry about. No one will hack your computer that way. Use this instruction to set a connection:
Click on the Computer Settings button.
Create a secure password. If you refuse to create, your Mac will launch a remote connection pop-up every time you initiate a connection. So it will be easier to remember this password.
Confirm your intentions by choosing OK.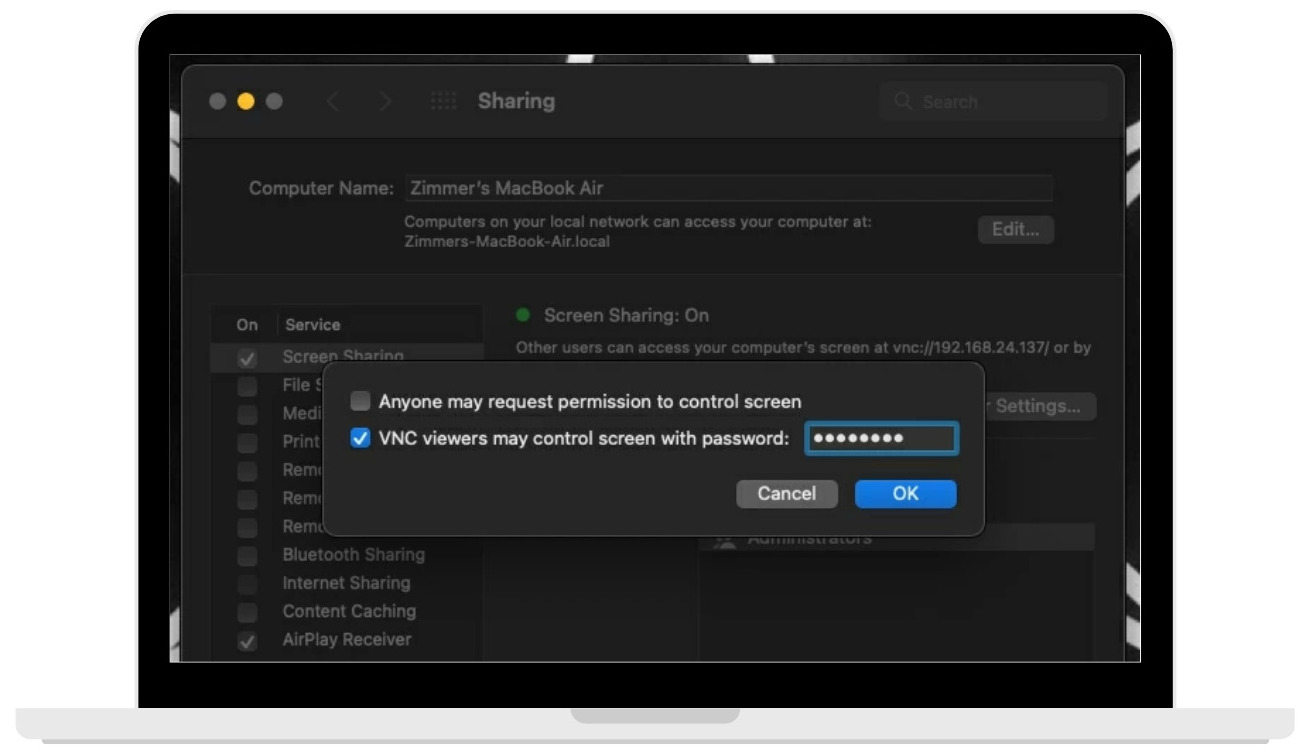 Criteria to choose the best remote access software
Remote desktops are highly popular for personal and business usage. And it's quite complicated to find a suitable option. Considering that most options are paid or partially paid, you don't have a lot of places to experiment. So it would be better to determine the main criteria for the RDP tool:
OS support. If you are looking for a tool that allows you to use Windows on MacOS, it's useless to try Apple Remote Desktop or another tool that doesn't run on the chosen system. Many remote tools don't support Android devices.
Usability. Some interfaces are more intuitive than others. Look at tool reviews on YouTube to get a better understanding of the tools' interface.
Functionality. Look for the tool that fixes most of your needs at the most reasonable price.
Support. Some tools have only online support, while others provide a hotline. Choose the service with fast and quality customer support.
Wrapping up
As you see, there are many free and paid remote desktop tools for MacOS. While choosing, take a closer look at suitable systems and the price of the selected tool. You can find many free or affordable apps that have the same features as the expensive ones.
We recommend you test a trial version at least in 2-3 tools to find what application will suit you more. Look for a tool that supports as many OSs as possible. Everything in our world is constantly changing, and maybe tomorrow you will need a remote control for a different system, so it would be better to soften the blow and choose a multi-OS tool in advance.
And we at HelpWire wish you good luck finding the perfect RDP Mac tool!