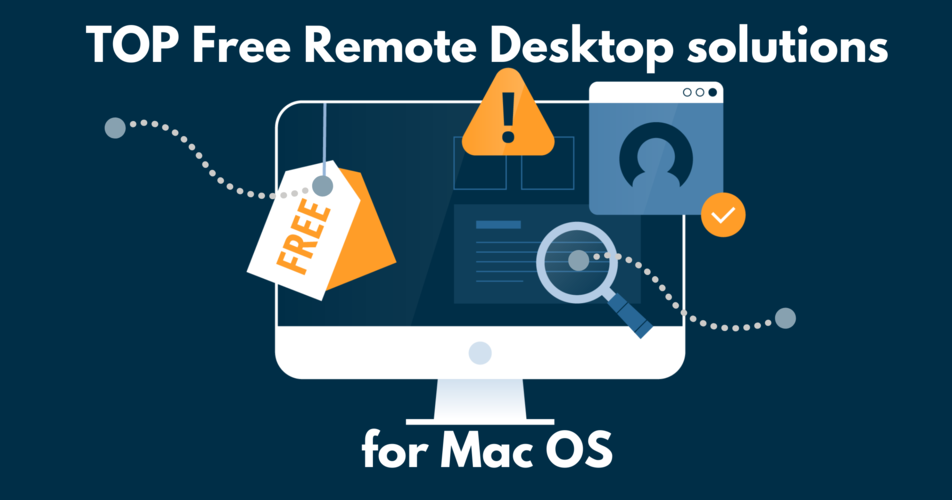 10 Best Free Mac Remote Desktop Software
With modern technologies, you can easily collaborate with colleagues over a distance, help with troubleshooting from anywhere in the world, and much more. Getting remote access to devices is easier than ever with free remote desktop software for Mac. Such programs make it as easy as possible to access a remote system, letting you control one or more devices via a network connection. Once you have accessed the device remotely, you can manage it as if it were nearby.
There are so many programs available today, so choosing the one to fully meet your needs can be a daunting task. With that in mind, we've compiled a list of some of the best free remote access utilities out there. Keep reading.
1. Chrome Remote Desktop
If you use Chrome and are looking for a free Mac remote desktop software, Chrome Remote Desktop is worth considering. It is cross-platform and works as an extension, meaning the tool can be used on any device supporting Chrome. Apps for Android and iOS are also available to provide remote access to devices through smartphones.
With Chrome Remote Desktop, you can either control your personal or work computer over a distance, or access someone else's system to provide remote technical support. For Chrome Remote Desktop to work, ensure the Chrome browser is installed on both computers and sign into your Google account. You also need to install and configure the Remote Access extension on all computers that you want to access.
The tool is fairly easy-to-use, you don't need to be tech-savvy to set up and run Chrome Remote Desktop on your computer. On top of that, this app offers useful features, including unattended access and multi-monitor support. However, the tool lacks drag-and-drop file transfer, remote printing and live chat, making it less efficient in some cases.
2. Microsoft Remote Desktop
Microsoft Remote Desktop is a utility that lets you quickly connect and control a remote office PC from anywhere. Working in apps, managing files and accessing network resources: you can do anything on the remote PC as if it was a physical PC.
MRD is compatible with Mac, Windows, and has clients for iOS and Android mobile devices, so you can use it on almost any device. To connect to your PC from Mac, you need to enable the remote desktop on the PC being accessed, install and run the Microsoft Remote Desktop application on Mac, and then enter the IP address and login credentials. A more detailed guide on how to use Microsoft Remote Desktop client for Mac can be found here. Besides, the tool features a sleek interface, secure connection and audio/video streaming.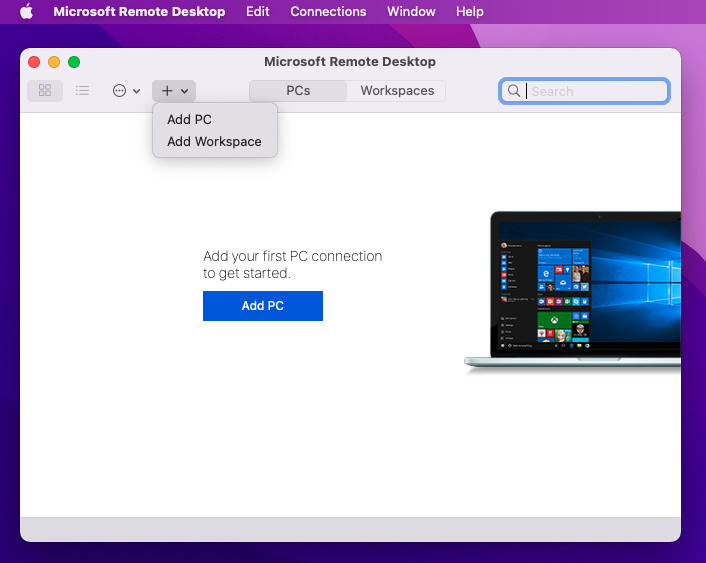 3. AnyDesk
Launched in 2014, AnyDesk is a proprietary remote desktop software. As the name suggests, AnyDesk provides remote control from anywhere, anytime. Although the tool is available both for individuals and branched companies, it is free only for personal use. Any Desk runs across all common platforms – Windows, Linux and macOS, Android and iOS.
To connect remotely, launch AnyDesk on both computers, ask the client for a personal ID (it is required to set up a connection), and then enter it in the field. Once the client receives a request and confirms the connection, you will be able to take control of the remote desk.
AnyDesk has a built-in address book feature that keeps track of connections and contacts and allows the user to see the online status of those connections. There is also a drag and drop feature to transfer files and documents between devices. Among other things, AnyDesk is much faster compared to other similar products, offers unattended access, remote printing, as well as enables online collaboration and session recordings.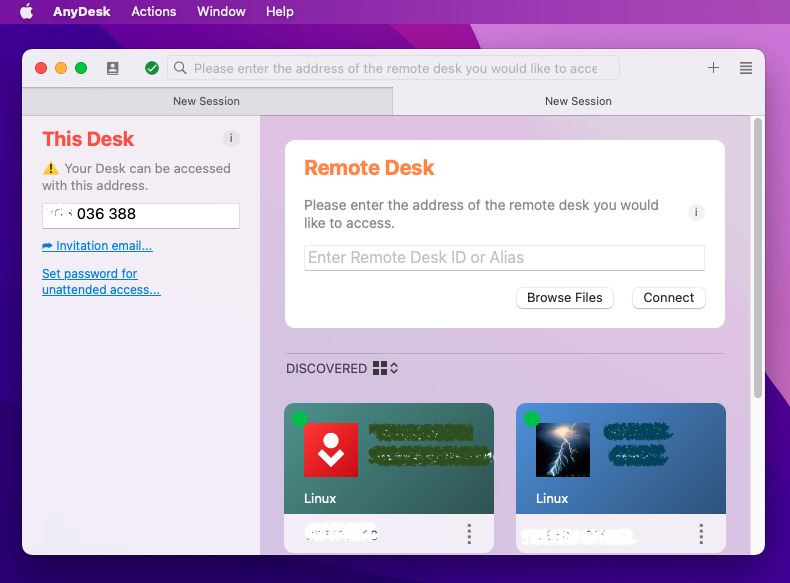 4. TeamViewer
Next on our list of free Mac remote desktop software is TeamViewer. This is perhaps one of the most popular programs used to organize remote access. TeamViewer owes its popularity to multi-platform support, ease of use, and plenty of features that increase productivity and efficiency.
TeamViewer is a convenient cross-platform solution for remote access to any computer, be it an office PC or your own laptop. You can access iOS or Mac OS devices from Windows and vice versa. Controlling a remote computer with this tool is very easy, even if you have never used such software. The setup involves the following steps: you need to install TeamViewer app on both devices and create a TeamViewer account to link your computers together.
For personal use, the free version is sufficient. Of course, it lacks all the bells and whistles of the premium version and includes ads, but still, you can get the most out of features like remote printing, file sharing.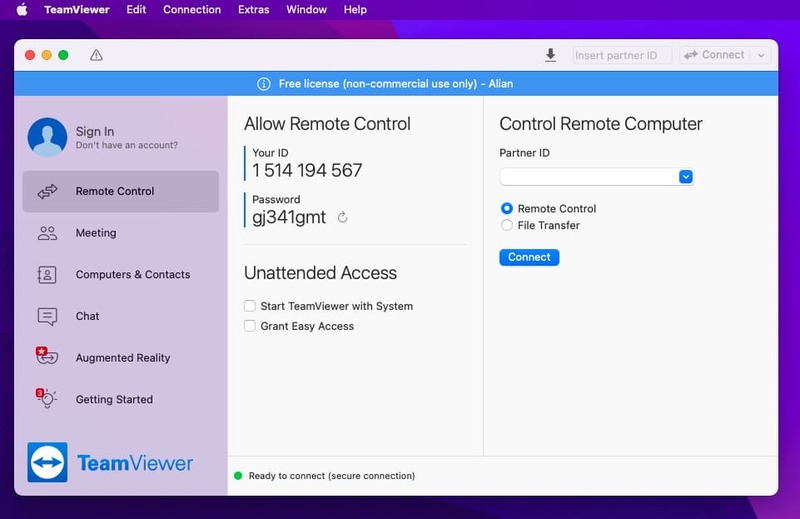 | | |
| --- | --- |
| | |
| Free version (for non-commercial purposes only); | To get more features, you'll need to upgrade to premium versions which are quite pricey; |
| Feature-rich and user-friendly; | It's difficult to share the screen in sleep mode. |
| Provides multi-level security; | |
| Serves as both a remote access app and an online meeting platform. | |
5. Splashtop Personal
Splashtop Personal is another good option for people who are looking for a reliable and efficient remote desktop solution for personal use. It grants you simple and fast remote access and allows users to easily connect devices with different operating systems. Windows, Mac, Android, iOS supported.
To provide a great experience and ensure security, Splashtop's software is supported by a range of powerful security integrations. Its cloud infrastructure is hosted on AWS. Splashtop also comes with a number of features that vary depending on the plan you're using. For example, with a Pro subscription, you can manage users in teams, record the screen, share your desktop via a web link, and chat. The good thing is that Splashtop even allows viewing multiple remote monitors simultaneously.
The installation process involves creating the account, downloading the Splashtop Business app on the machines you plan to remote from, and installing Splashtop Streamer on the computers you want to remotely access and manage. By following these steps, you will be able to use Splashtop anytime to start a remote desktop connection.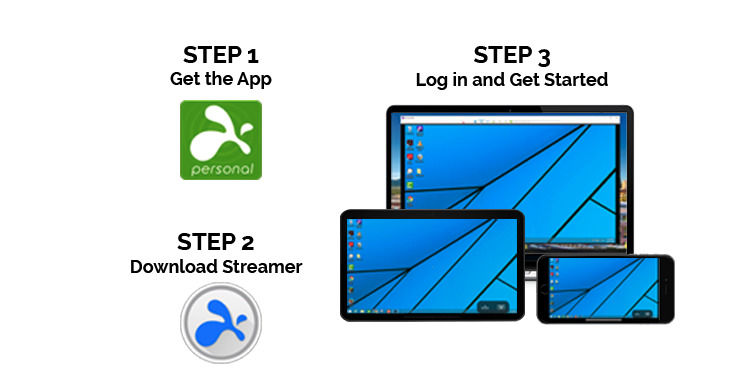 6. SupRemo
When it comes to free remote access to Mac, SupRemo is worth mentioning. It is a very easy-to-use remote desktop app that enables connection to another computer without complex installations. All you need to do is download the file and save it in the "Applications" on your Mac. Supporting the main operating systems, SupRemo lets you access Mac from PC and vice versa, as well as using your mobile devices to establish connections.
A customizable interface, built-in chat, and a file transfer utility are among the features offered by SupRemo. The program also allows multiple users to connect to one computer, which can be useful when holding presentations or seminars.
SupRemo is free for personal and non-continuous use, and offers the first 21 days for free. For professional purposes and continuous use, pricing options start at $6 (connection/month). At the same time, licenses can be purchased annually or quarterly, and the number of devices on which a license can be activated is not limited. The license can be used by any number of users.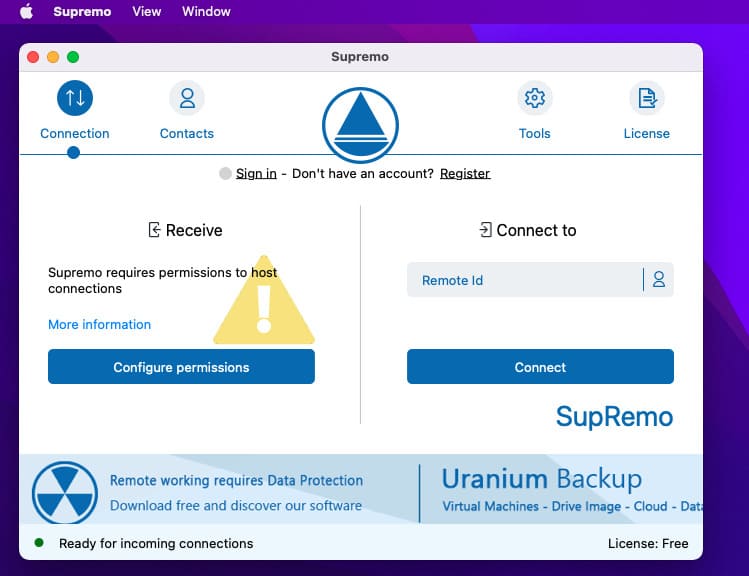 7. NoMachine
NoMachine provides screen sharing and remote access solutions for individuals and large companies. The software is based on its proprietary NX technology and supports all popular operating systems (Windows, Linux, macOS, iOS, and Android). Check the list of the best Android remote desktop solutions in 2023.
The app is available free of charge for non-commercial users. With this free Mac remote desktop client, you can easily access files from your computer, unless it's in commercial scenarios. The free version also lets users share the screen and has no restrictions on the content that can be shared between the devices.
For business and commercial customers, a wide choice of paid subscriptions is available. There are so many plan options, and prices vary as well, ranging from $44.50 up to thousands of dollars per year, so choosing the right one can be confusing. The features available in a paid NoMachine subscription depend on the plan you are subscribed to. Actually, these features are sector-specific.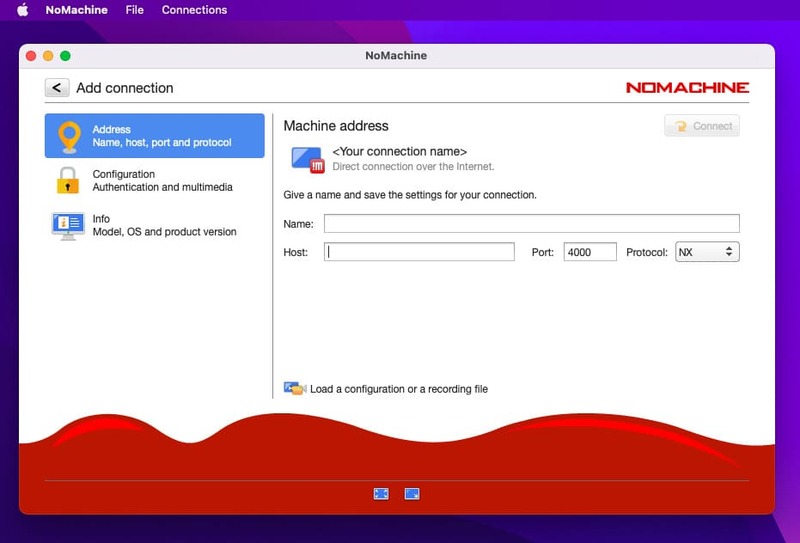 8. Remote Desktop Manager by Devolutions
Remote Desktop Manager (RDM) by Devolutions allows you to set up multiple remote connections that are shared among users in a centralized repository. This enables simultaneous launch and fast switching between computers. By using RDM, you can set up a network for remote access, exchange files with a remote computer, unlock user accounts and reset passwords.
With fully integrated options for teams and password management tools, Remote Desktop Manager enables IT departments to deliver security, speed, and excellent performance across the organization. The tool has a user-friendly, customizable interface and is quite flexible to be used in most scenarios. There are Free and Enterprise editions available. While the Free edition is perfect for individual users, the Enterprise edition is more suitable for IT professionals who need to share remote connections with their team.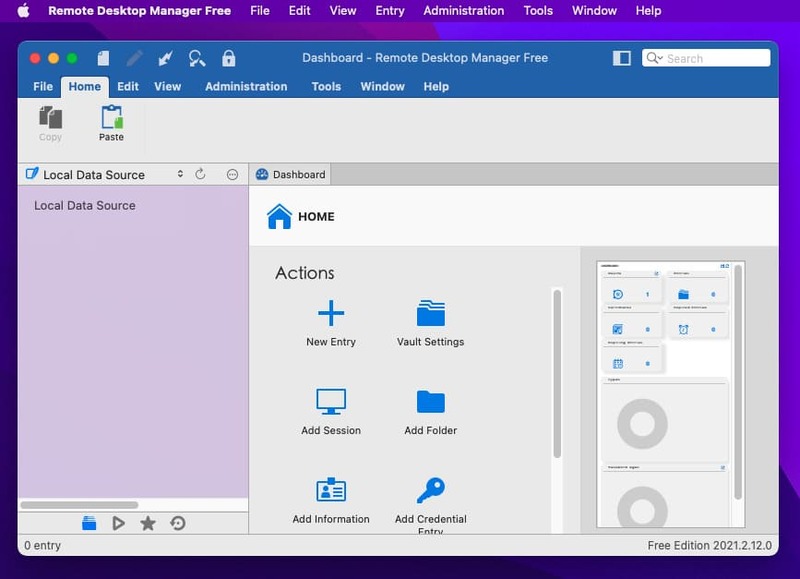 9. GetScreen
The main feature of GetScreen is that it works through the browser. You don't need to install any software, but this is just for a one-time desktop connection. If you are going to use GetScreen on a long term basis, the client should be installed.
For remote work, you need to follow these easy steps: download and run the agent on the computer you want to access, then you will be given a connection link. Use that link to access your desktop from any browser.
The program is compatible with all major operating systems – Windows, Linux, macOS. Plus there is a mobile version of the client for connecting to remote computers. GetScreen has a free version, however, only two devices can be linked to an account. If you need to connect more desktops, you have to subscribe to one of the plans. Getscreen's key features include session recording, plugin/extension support, Agent SDK, and HTTP API integration.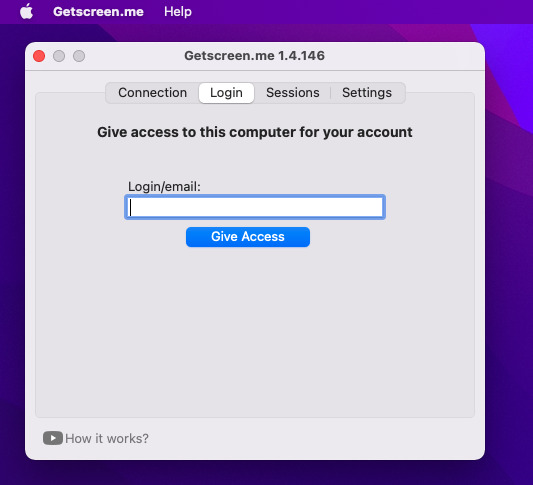 10. DWService
DWService is a free and open-source product that lets you access remote systems via a browser. To access the system from another MacBook through a web interface, you need to install a DWService client app on a remote system. DWService is also compatible with Windows and Linux.
You can use the application in two modes – by installing the agent on a remote computer or in quick-access mode without any configuration. Here's how it works: when installing the DWService agent on a remote computer, you are provided with options and you can customize various things. Instead, you can select "Run without install" after starting the downloaded agent program. In this case, a temporary user ID and password will be created. You can then use them to remotely access the computer via DWService.
The web-based remote access comes with a clear-cut interface and allows you to take control of the screen, keyboard, and mouse of a remote computer. You can also have complete control over the remote machine's file system: organize shared access to folders for other users and define permissions, upload and download any file, monitor the remote system status. In addition, file transfers and command-line access are available.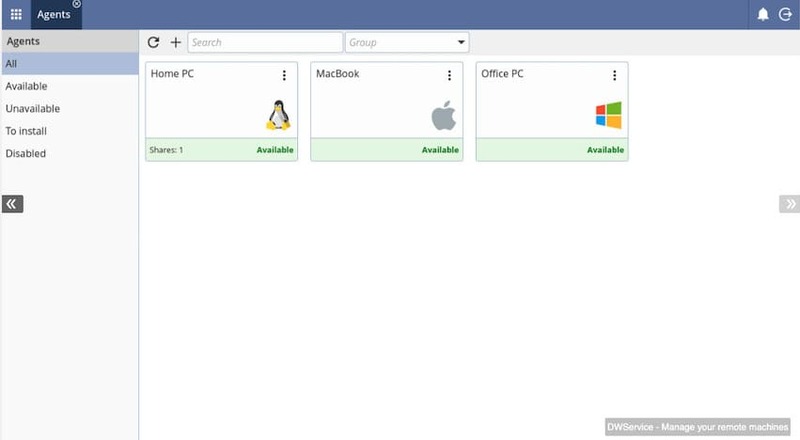 How to use Screen Sharing to enable remote desktop connection Mac capabilities
Macs have built-in Screen Sharing options—acting as a VNC server sprinkled with some bonus features. This default option allows operators to use standard VNC clients for accessing a Mac… and VNC clients are offered on all operating systems/platforms.
Follow the steps below to enable screen sharing:
Step 1:

Click the

Apple

icon (located in the top menu ribbon)



Step 2:

Choose

System Preferences





Step 3:

Within the

System Preferences

window, hit the

Sharing

icon



Step 4:

Turn on

Screen Sharing

by enabling the checkbox
Note: The control panel will explain how users can connect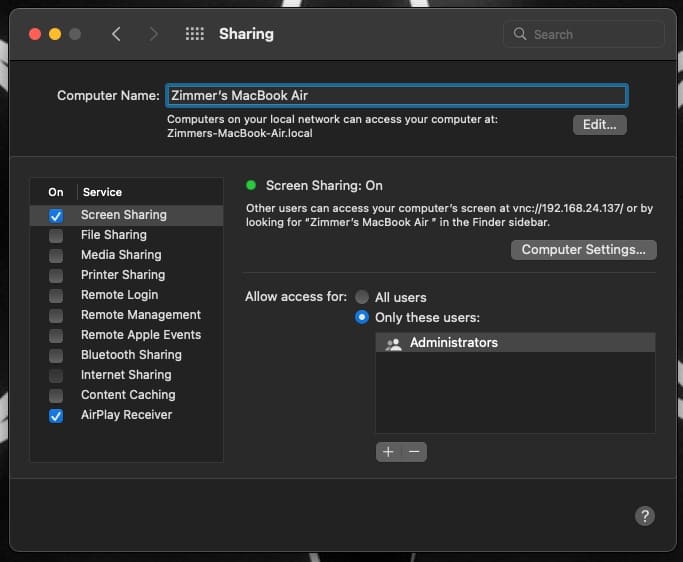 For those with multiple Macs on a local network:
Step 1:

Open the

Finder





Step 2:

View the

Shared

section (located on the sidebar)



Step 3:

Choose the computer you want to access



Step 4:

Hit

Share Screen
For those without a Mac (or who'd rather use an alternative VNC client), use the IP address displayed to connect. Users should note that IP addresses (like the one displayed in the above screenshot) are internal IP addresses allowing a Mac to be found on a local network—meaning it can't be accessed via an internet connection without port forwarding.
Set a password for remote access on Mac by following the steps below:
Step 1:

Click on

Computer Settings

button



Step 2:

Create a password (if you don't create a password, your Mac will open a pop-up box asking you to confirm each time you want to initiate a remote connection)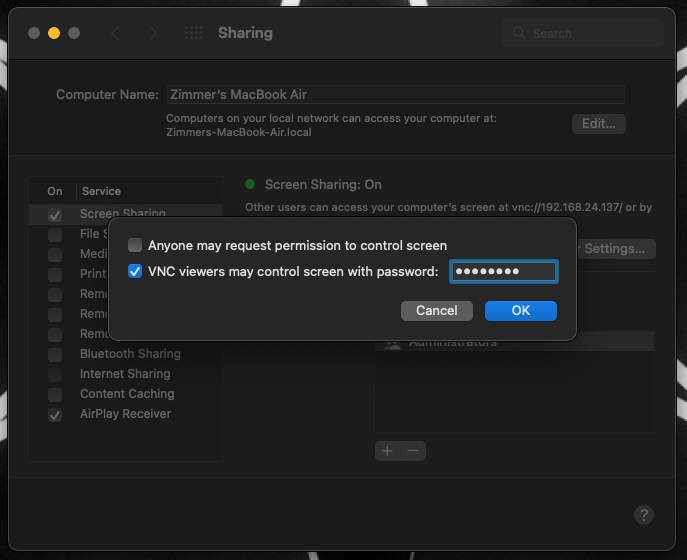 Criteria to choose the best remote access software
Remote desktop apps are very popular among users and companies due to all the possibilities they offer. There are so many options on the market, and in order to choose the right one for your business needs and goals, it is recommended to consider a few important points:
Platform and OS support

. The best remote software should provide access and control from any device and support all major operating systems.



Security

. Make sure that the solution you choose guarantees complete security. This is of great importance. Pay attention to the supported encryption technologies, storage of confidential data, types of authorization on the local and remote computers.



Usability

. Undoubtedly, the interface should be clear and user-friendly. The functionality should be easy to understand for everyone, even non-tech people.



Functionality

. The key features to look out for include: file transfer, remote printing, multiple monitor access, unattended access.



Support

. You may need assistance when setting up or using the tool. Therefore, it is very important that you can count on quality support.
Table of comparison: Top remote access software for free