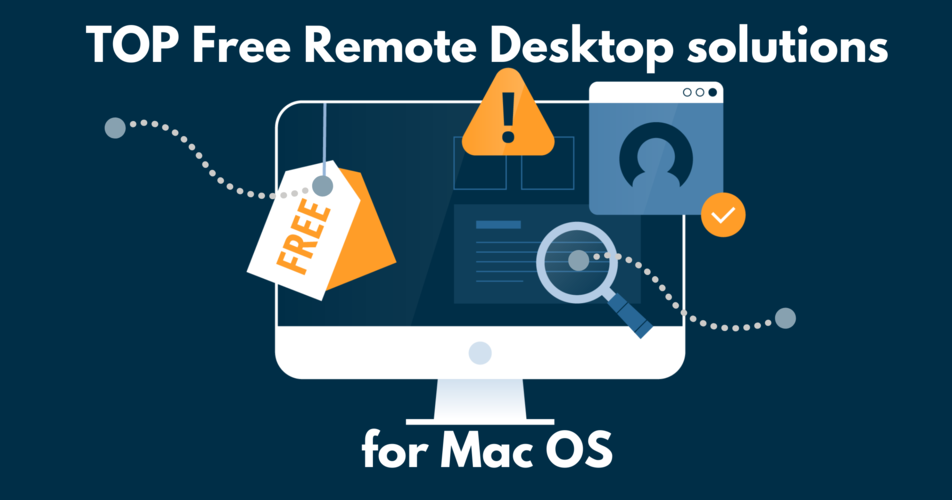 How to get Mac Remote Desktop for free
Establishing Remote Desktop connection Mac capabilities is an easy task thanks to Apple. For $80, users can download Remote Desktop from the Mac App Store. While not one of the most expensive macOS/iOS apps on the market, it's still a big investment for anyone learning how to access a Mac remotely.
The great news is that users don't have to pay a dime to connect remotely with a Mac computer… because there are a plethora of free remote desktop connection Mac options, and one of them is already built directly into a Mac machine by default.
All of the Apple remote desktop free solutions below allow users to connect and manage a Mac desktop from another computer on a local network—or from the other side of the globe.
Remote Desktop software (the easiest method)
For those who require a routine remote desktop Mac connection, it is recommended to implement a flexible and easy-to-use remote access software. When trying to remotely connect two Mac desktops together, a mobile device to a Mac computer (like an iPhone, macbook, or an iPad), or connecting a Mac to a Windows PC, remote desktop software is the simplest remote desktop connection Mac free method.
Remote access tools give users extensive options for managing their remote Mac devices—such as convenient sharing capabilities for files and folds. You can even utilize screen sharing and remote admin capabilities on a Mac from iPhones, iPads, laptops, Windows PCs—and any other device.
Top remote access software (like Teamviewer, Zoho, AnyDesk, RDP, and LogMeIn) allow for simple and convenient remote connections to Mac, Windows, Linux, and mobile devices.
These tools let users:
•

Transfer and share resources

•

Copy from clipboards

•

Access a printer

•

Connect to servers

•

Configure desktop resolutions

•

Manage Mac systems

•

Screen share

•

And more…
Apps like Jump Desktop, Royal TSX, and Apple Remote Desktop are other notable remote desktop apps for Mac. Apple Remote Desktop is, however, is mainly marketed toward larger organizations with big networks and remote teams.
What's great about remote desktop apps (including Teamviewer, Zoho, AnyDesk, and RDP), is that users do not need any technical expertise to use them. In fact, even the most inexperienced beginners can quickly and easily use a remote desktop connection Mac software.
Check out our guide below to review the best free Mac remote desktop software.
How to use Screen Sharing to enable remote desktop connection Mac capabilities
Macs have built-in Screen Sharing options—acting as a VNC server sprinkled with some bonus features. This default option allows operators to use standard VNC clients for accessing a Mac… and VNC clients are offered on all operating systems/platforms.
Follow the steps below to enable screen sharing:
Step 1:

Click the

Apple

icon (located in the top menu ribbon)



Step 2:

Choose

System Preferences





Step 3:

Within the

System Preferences

window, hit the

Sharing

icon



Step 4:

Turn on

Screen Sharing

by enabling the checkbox
Note: The control panel will explain how users can connect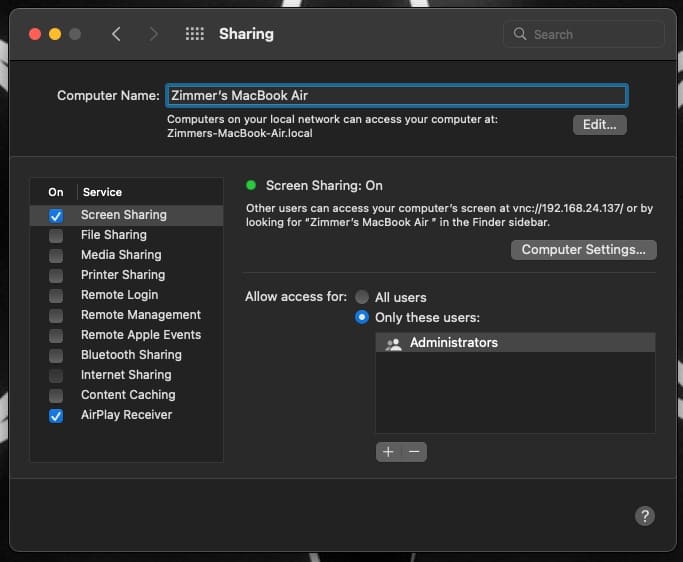 For those with multiple Macs on a local network:
Step 1:

Open the

Finder





Step 2:

View the

Shared

section (located on the sidebar)



Step 3:

Choose the computer you want to access



Step 4:

Hit

Share Screen
For those without a Mac (or who'd rather use an alternative VNC client), use the IP address displayed to connect. Users should note that IP addresses (like the one displayed in the above screenshot) are internal IP addresses allowing a Mac to be found on a local network—meaning it can't be accessed via an internet connection without port forwarding.
Set a password for remote access on Mac by following the steps below:
Step 1:

Click on

Computer Settings

button



Step 2:

Create a password (if you don't create a password, your Mac will open a pop-up box asking you to confirm each time you want to initiate a remote connection)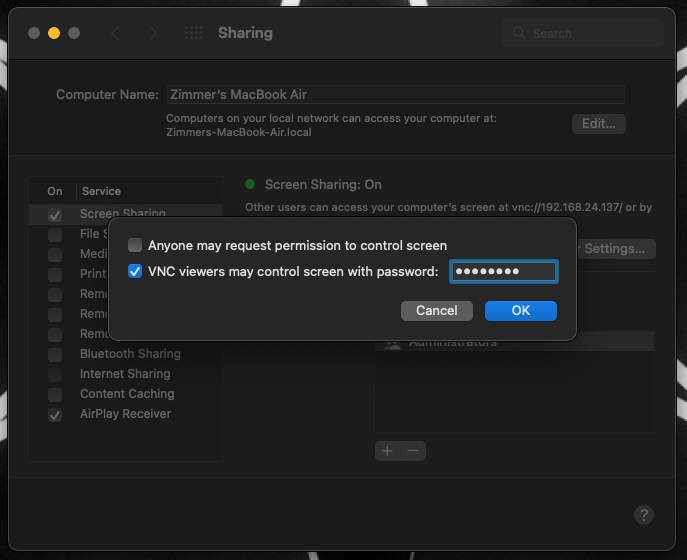 How to access a mac remotely using TeamViewer
While the popular remote access app, LogMeIn, has discontinued the free version of their remote desktop tool, TeamViewer (a widely beloved software) still provides its remote access feature for free. TeamViewer is available for all major platforms including: Windows, Mac, Linux, iOS, iPadOS, Android—and even supports Windows Phone.
You can find the Mac version of TeamViewer on their website, offering the option for a full download and TeamViewer Host (an app that acts like a system service, optimized for anytime access.)
TeamViewer users have the option to utilize the app in numerous ways. They can set up a password so the machine is always ready for immediate remote connection, or start and run TeamViewer from a Mac with temporary logins.
TeamViewer is especially beloved due to it not requiring any port forwarding or server configuration troubleshooting.
The free remote desktop connection Mac-compatible app: Chrome Remote Desktop
For Chrome users, the Chrome Remote Desktop extension is definitely worth trying out. Developed by Google, it functions just as effectively on Mac as it does on Windows.
Here's how to use Chrome Remote Desktop on Mac:
Step 1:

Install the CRD extension



Step 2:

Open the extension in a new tab



Step 3:

Follow the easy set-up steps



Step 4:

Hit the

Share

button (once you hit share, you'll receive a temporary access code—see screenshot below)



Step 5:

Install and set up the Chrome Remote Desktop extension on the other computer (be it a Mac, Linux, or Windows)



Step 6:

Establish a remote desktop connection
Note 1: Chrome Remote Desktop not only works for desktops, but can be downloaded on mobile devices, as well.
Note 2: If users prefer to access their Macs over the internet, they can configure the CRD extension to utilize a continuous password. Chrome Remote Desktop also doesn't require users to forward ports or wrestle with alternative set-up processes.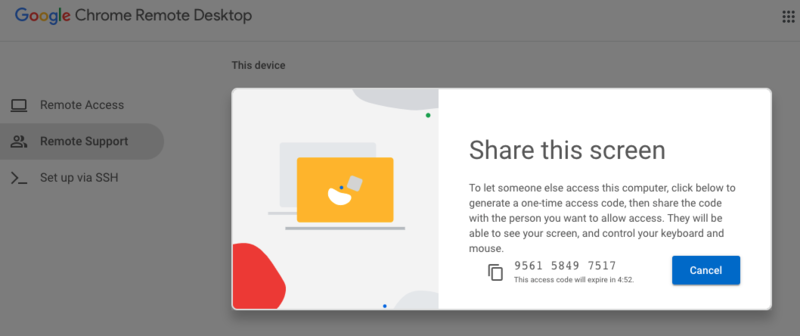 FAQ
How do I access my iCloud remotely?
Instead of connecting with another computer, users can save files to their iCloud to access them from any device.
Please note:
Users must be logged into their iCloud account (and have an iCloud subscription) on the Mac to do this
Users
cannot
share screens via iCloud, but it's great for accessing files and folders (or whatever else can be stored on a Mac device) on a whim.
Follow the steps below to remotely access files on Mac and Windows devices with iCloud:
Step 1:

Navigate to

System Preferences

and select

iCloud





Step 2:

Ensure

Documents and Folders

is checked (users can also enable

Optimize Mac Storage

to ensure older files are transferred to iCloud if your Mac runs out of hard drive space)



Step 3:

Follow, review, and accept any following prompts



Step 4:

Once terms and agreements are accepted, you can access folders, files, and documents from any Mac device signed into your iCloud account
Note:
Files can also be accessed by Windows PCs when using a web browser
Configuring non-macOS clients using VNC software
Users can configure non-macOS clients for viewing with Remote Desktop:
Step 1:

Install the VNC Server



Step 2:

Assign the desired VNC password on the client machine



Step 3:

Ensure the VNC port (TCP 5900) is open on the client computer's firewall (review the documents that came with the client machine's OS, VNC, and firewall for more detailed instructions and information)



Step 4:

In

Remote Desktop Preferences

, ensure that "Encrypt all network data" is not selected in the

Security

pane
Note:
Encrypted network data restricts the user from being able to control VNC clients. This is because Remote Desktop isn't capable of opening required SSH tunnels to the other machine. If users attempt to control computers using VNC software, they'll encounter a warning stating that keystrokes are not encrypted.
Step 5:

Using the client computer's IP Address, add the client to the list "

All Computers

" in Remote Desktop



Step 6:

In the Remote Desktop authentication dialog box, type the client's VNC password